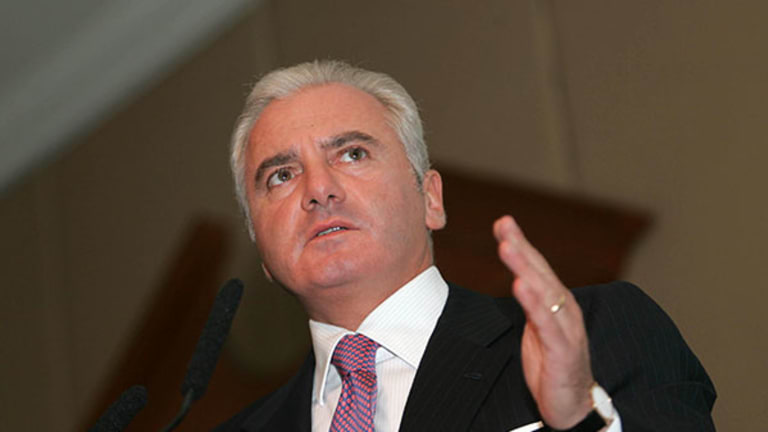 Oil Prices Stuck in 'Gray Zone' for Years and Could Fall Further, Expert Says
Former industry executive and current Harvard professor, Leonardo Maugeri, in 2012 predicted the recent drop in oil prices. Now he sees little hope for a rebound.
NEW YORK (TheStreet) -- The oil industry has painted itself into a corner and as a result oil prices will likely be stuck between $75 and $90 a barrel for several years -- or they could even collapse below $60 a barrel.
That's the opinion of Leonardo Maugeri, the Harvard professor who in 2012 predicted the fall in oil prices that has occurred since June, more or less along the timetable he foresaw. Maugeri is currently the senior officiate with the Geopolitics of Energy Project at Harvard's Kennedy School. Previously he worked for 17 years in the industry as a top manager at Italy's Eni, serving as vice president and as chairman of Eni's petrochemical unit, Polimeri Europa.
"This period of low prices could last for a few years as a result of inertia in the spending in oil-producing countries," Maugeri said in a phone interview with TheStreet on Thursday.
In 2012, Maugeri authored a study, "Oil, the Next Revolution," in which he noted a growing overcapacity and pressures holding back the growth of demand. He predicted those forces would combine to produce a collapse in the price of oil globally.
In that document, he offered the hope that if it hit prior to 2015 the duration and effect of such a collapse would probably be short. Now, however, he sees little hope that prices can rise quickly from the current "gray zone" of $75 to $90.
"It's a little too late," he said. "I do think that a rebound is possible only if there is a real collapse -- below $60 a barrel."
A major political crisis in an oil-producing country could also serve to take capacity offline, possibly boosting prices in response, he said. "But otherwise, I don't see any reason for a change," he said.
Brent crude was priced at just under $83 a barrel Thursday, and the U.S.-based West Texas Intermediate was at $78.68. Prices have tumbled since June, with WTI down 26% from its 52-week high of $107.
Capacity vs. Production
The reason Wall Street failed to see the drop in prices coming and are now looking for an increase in oil prices, Maugeri said, has to do with analysts' focus on actual production, as opposed to capacity. Historically, oil prices have responded to the potential for oil production -- the total capacity available -- more readily than rises and falls in production, Maugeri said.
"Actual production can be reduced by geopolitical tensions or international sanctions," he said. Likewise, countries and companies can simply decide "not to produce, not to overflow the market. But that production capacity is there.
"If a country like Libya stabilizes, then that production capacity will return on the market," Maugeri said. Because such decisions can happen quickly, capacity represents "the real potential at any moment in the market."
"Everyone always spoke about actual production," he said. "If you don't consider the capacity, you never see the market as it really is."
"If companies want to stop the spending, particularly when they work in a foreign country, they have to work with the government," Maugeri said. "It's really creaky, you know. You can decide to stop production in the U.S. and in Canada. But these are the exceptions. You can stop spending overnight here."
The Causes of Weak Demand
Maugeri sees the weak growth in demand caused "partially by economic crisis but partially energy efficiency legislation."
"In the U.S. now, 1.5 to 2 million barrels a day is being cut off by energy efficiency legislation," he said. According to the U.S. Energy Information Association, the U.S. consumed an average 18 million barrels of oil per day in 2013. In Europe, such efficiency measures have been more severe and other factors have played in -- an aging population drives less, for instance.
For the foreseeable future, the push for greater efficiency is likely the way public pressure for carbon reduction will hit the oil industry, Maugeri said. The cap-and-trade system adopted in Europe is perceived by the industry as impacting it in a "very distant and hypothetical future" and resulted in the price of carbon actually falling. A carbon tax would be much more immediate and relevant to the industry, but except in isolated countries, adoption on a wide scale seems unlikely.
In Europe, the U.S. and even China and Asian countries, however, government requirements for greater energy efficiency are going to continue to increase.
"So, that's why I don't see reasons for a significant rebound of demand," Maugeri said.
-- Written by Carlton Wilkinson in New York