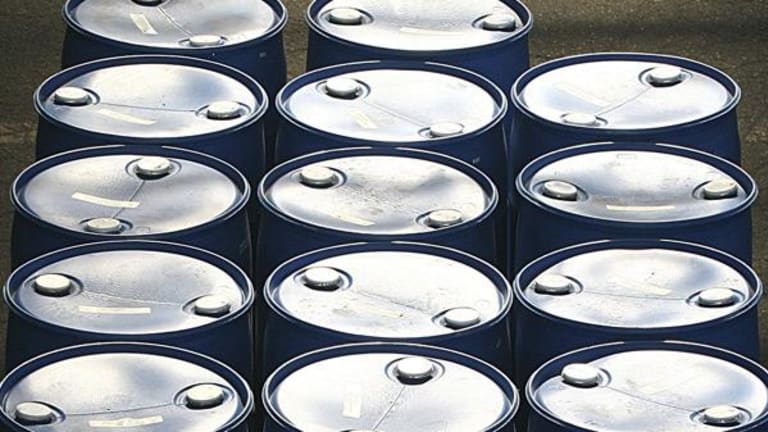 Oil Prices Steady as U.S. Crude Inventories Build Ahead of OPEC Cuts
Domestic crude inventories increased for the second week in a row as the Organization of Petroleum Exporting Countries readies for output cuts.
Oil prices were holding steady as U.S. crude stockpiles unexpectedly increased ahead of the anticipated OPEC production cuts, which are slated to begin on Jan. 1, 2017.
U.S. benchmark West Texas Intermediate for February delivery was close to flat, trading at around $54.02 a barrel, while Brent crude futures were rising by nearly 0.3% to $56.39 a barrel at 11 a.m. ET.
The U.S. Energy Information Administration (EIA) said U.S. crude inventories increased by 614,000 barrels for the week ending Dec. 23. The build pushed stockpiles up to 486.1 million barrels, meaning domestic inventories are still near the upper limit of the average range for this time of year. Analysts had been anticipating a decline of 2.1 million barrels.
The EIA data differs the American Petroleum Institute's (API) weekly report that showed a larger-than-expected build of 4.2 million barrels. The bearish report halted the recent oil rally late Wednesday.
Crude oil imports declined to 8.2 million barrels per day last week. Over the four weeks, imports averaged 8.1 million barrels per day, which represents a 2.4% jump from the same period last year.
Refinery inputs decreased by 101,000 barrels per day to 16.6 million barrels per day last week. Refineries operated at 91% of their operable capacity last week, the EIA reported.
Meanwhile, motor gasoline inventories fell by 1.6 million barrels last week, but stockpiles are in the upper half of the average range. Distillate supplies fell by 1.9 million barrels.
Immediately following the report, shares of U.S. oil majors ConocoPhillips (COP) - Get Report and Chevron (CVX) - Get Report were holding relatively flat to slightly down during the trading session.
The build in domestic oil inventories comes just three days ahead of the OPEC cuts.
The cartel and 11 non-OPEC producers, including Russia, agreed to curb production by about 1.8 million barrels a day, for at least the first six months of the new year. OPEC's leading producer, Saudi Arabia, is implementing the biggest cut, reducing production by 486,000 barrels a day. Meanwhile, Russia has said it will trim its output by 300,000 barrels a day.
While news of the agreement and the anticipated rebalancing of the currently oversupplied oil market has moved prices to the mid-$50 range, there is still worry that OPEC member nations will not adhere to the cuts, especially considering OPEC's long history of cheating.
"Given the strained government balance sheets and considerable unity, we feel the agreement should last into the second half of 2017," says Coker Palmer Institutional.
A committee of OPEC and non-OPEC producers agreed to meet in January to discuss compliance with the production agreement, says Kuwait's oil minister Essam Al-Marzouq.
While OPEC cuts its output, U.S. oil producers, however, are expected to increase shale production. Research analysts with Coker Palmer Institutional say U.S. shale is needed to provide 30% to 40% of world demand growth of approximately 1.3 million barrels a day.
Traders will get a better idea of how U.S. companies are responding to OPEC from the Baker Hughes (BHI) rig count on Friday, which is seen as an important barometer for drilling activity across the U.S. and North America. Last week, U.S. oil producers brought 13 rigs online, while gas producers added 3 rigs. Texas' lucrative Permian Basin saw the biggest increase in rigs, climbing by four, which brought the total up to 262 rigs -- the most in any major domestic basin.
"I think the marketplace may place more importance on the U.S. rig count this week, with crude trading in the low to mid $50s, than on actual supplies," saysTheStreet contributor Stephen "Sarge" Guilfoyle.
Employees of TheStreet are restricted from trading individual securities.