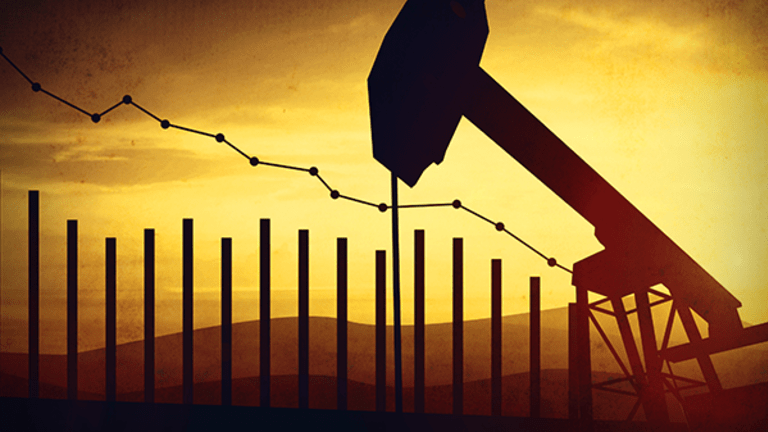 Oil Prices Crash as Shell, Exxon Halt Production, Gulf Coast Refiners Evacuate
Crude futures were testing morning lows shortly after 8 a.m. Thursday, despite relatively positive inventory data out of both Singapore and the U.S. suggesting the global commodity glut is subsiding.
Oil prices were crashing Thursday as Gulf Coast refineries that process more than 5 million barrels of oil per day brace themselves for Hurricane Harvey.
If Harvey fulfills forecasters' expectations, it could be the largest storm to hit Texas' southeastern coast in more than a decade. West Texas Intermediate crude futures were down 81 cents, to $47.60 a barrel, around 4 p.m. Thursday, while Brent crude futures fell 41 cents, to $52.07 a barrel. WTI settled Thursday's trading session on the New York Mercantile Exchange down 91 cents, or 2.1%, at $47.43 a barrel.
Crude flows into Texas ports, already dampened by crude export cuts to the U.S. by OPEC leader Saudi Arabia, will be reduced severely over the next few days, according to analysts at investment bank and research firm Seaport Global Securities LLC, as Royal Dutch Shell (RDS.A) has shut down its Perdido floating oil platform in the Gulf of Mexico ahead of Harvey, which may become a hurricane by Friday, according to National Hurricane Center.
Exxon Mobil Corp. (XOM) - Get Exxon Mobil Corporation Report also has reduced production flow to its Hoover platform in the Gulf, and other operators in the region, including Anadarko Petroleum Corp. APC and Kinder Morgan Inc. (KMI) - Get Kinder Morgan Inc (KMI) Report , are said to be evacuating personnel and shutting down facilities. 
The Gulf of Mexico is one of the most important regions for energy resources and infrastructure, according to the EIA, but it is U.S. refinery output that stands to be most affected by Hurricane Harvey Friday, rather than domestic crude oil production.
Gulf of Mexico federal offshore oil production accounts for 17% of total U.S. crude oil production and federal offshore natural gas production in the Gulf accounts for 5% of total U.S. dry gas production. But more than 45% of total U.S. petroleum refining capacity is located along the Gulf coast, as well as 51% of total U.S. natural gas processing plant capacity.
Overall, the news of Harvey's likely landfall near Corpus Christi, Texas, on Friday has drowned out a relatively positive week for commodities.
Singapore inventory data coming out early Thursday morning showed total crude stockpiles dropped 1.9% week over week to 52 million barrels, while light distillates dropped over 10% week over week. 
Singapore's data lines up with positive inventory numbers out of the U.S. Energy Information Administration, which reported Wednesday that domestic crude stockpiles were reduced by 3.3 million barrels over the last week, roughly in line with analysts' estimates. Nevertheless,
The Singapore inventory data, which helps track crude oil flows from the largest U.S. crude storage facility in Cushing, Okla., to Asia, seems to confirm the trend that global stockpiles have peaked in March of this year when Singapore inventories were 58.4 million barrels and U.S. inventories were at 536 million barrels, Seaport analysts reported Thursday. 
However, the rerouting of barrels of oil supplied by the Organization of the Petroleum Exporting Countries to Asia, primarily by de facto leader Saudi Arabia, remains a concern for some industry followers, including Jeff Quigley, director of energy markets at consulting and analytics firm Stratas Advisors.
As Quigley previously told TheStreet, it is yet to be determined how great an impact this rerouting of supply is having on manipulating inventory levels in the U.S. The industry watcher has attributed the fall in U.S. imports of Saudi crude to export cuts by OPEC's largest producer and a lightening crude slate for many Gulf Coast refiners in response to potential sanctions on Venezuala by the Trump administration. 
U.S. refiners Valero Energy Corp. (VLO) - Get Valero Energy Corporation Report and Marathon Petroleum Corp. (MPC) - Get Marathon Petroleum Corporation (MPC) Report both said earlier this month they plan to process more light and sweet crudes in the third quarter in an effort to move away from the heavy, sour crude oils supplied by Venezuala and other OPEC members.
Still, Quigley admitted that crude inventories are dropping across the entire Organisation for Economic Co-operation and Development, which counts the United States, Canada and the United Kingdom among its 35 members. 
--This story has been updated from its original publish at 8:30 a.m.
Don't miss these top stories on TheStreet:
Why Revolutionary Cryptocurrency Ripple Is Exploding Onto the Scene
We Are Astonished by How Far Uber Has Deviated From Its Original Master Plan