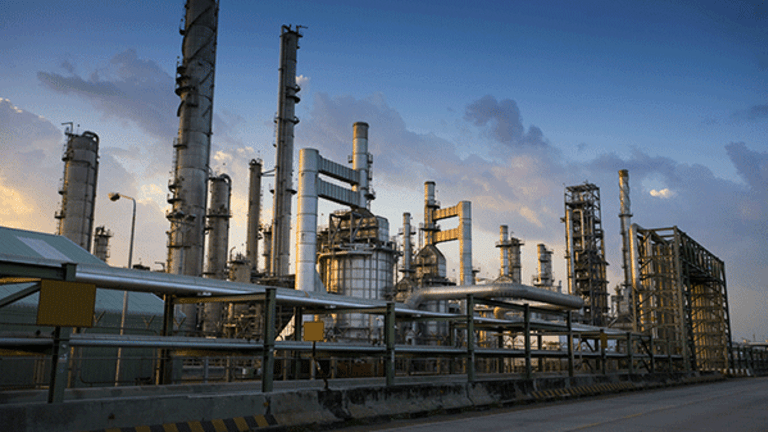 Oil Prices Slide as Rig Count Climbs
Trading Advantage's Scott Bauer believes it will be difficult for oil prices to break that $55 per barrel mark.
Oil prices are declining by more than 1% on Monday morning as data released Friday from oil services company Baker Hughes (BHI) showed a rise in U.S. drilling activity. This outweighed reports that OPEC and non-OPEC producers were on the path to reach output cut targets that were set in December.
Oil prices declined in the fourth quarter of 2014 as booming production outweighed demand. Prices had hit highs of more than $100 per barrel before the drop and have been struggling to get back there. This morning, Brent crude was trading at $54.73 per barrel and WTI crude was trading at $52.30 per barrel.
BloombergTV's Bloomberg Daybreak: Americas hosted Trading Advantage's Scott Bauer from the CME on this morning's show. Bauer gave his thoughts on today's oil trade.
"You look at this whole oil market and you look at the news coming out, and there's such a divergence of what we thought might happen just a few weeks ago," Bauer said. "You actually have Russia and Saudi Arabia following what came out of OPEC. They're cutting back, but our rig count is up, we're at the biggest production that we've been here in almost three years or so."
This divergence is what Bauer says is keeping the pressure on oil prices at the moment. Anchor Alix Steel noted that along with oil, the dollar is also down. She asked Bauer to explain what that tells him and if that gives him more pause to the downside.
"It does," he responded. "If I had to put some probabilities on it here just based on some technical, I'd say we certainly break $50 before we break $55. And in fact, I'm looking kind of at the $48 level right here."
Steel noted that producer short positions are the most since 2007, showing that investors are in the market and hedging, so they will sell oil no matter what. She asked Bauer if the plan should be shorting now and then buying when it breaks that $48 to $50 range.
"Absolutely," he responded. "I think you do want to have a stop to the upside here. Probably not far away here. But again, I think $55 is going to be real tough to get through. I think on any sort of rally here the shorts are coming in, I'm coming in and that 448 level is really what I'm looking for to cover."