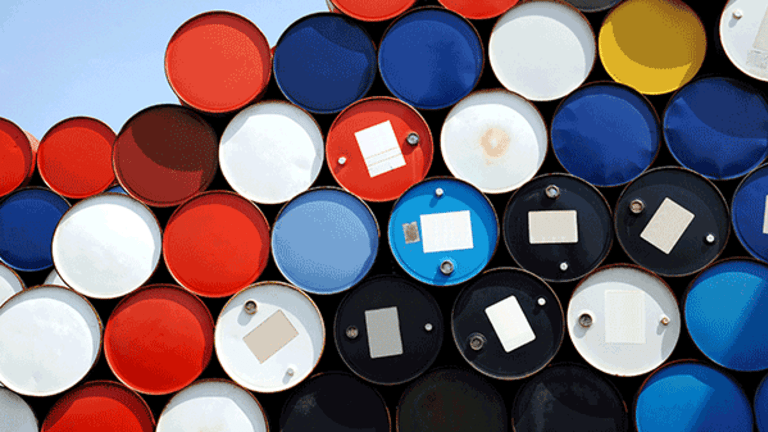 Oil Prices Fall on Surprise U.S. Crude Inventory Build
Crude oil prices are falling as the U.S. Energy Information Administration reported a surprise increase in inventories.
Crude oil prices were sliding back on Wednesday after the U.S. Energy Information Administration reported a surprise build in domestic crude inventories.
U.S. benchmark West Texas Intermediate for February delivery was down by 0.4% to $53.08, while Brent crude futures fell 0.6%, trading at around $55.02 at 10:45 a.m. ET.
The EIA said U.S. crude inventories increased by 2.3 million barrels for the week ending Dec. 16. With stockpiles up to 485.4 million barrels, domestic inventories are still at the upper limit of the average range for this time of year.
Analysts had been anticipating a decline of 2.5 million barrels. The EIA's data counters the American Petroleum Institute's weekly report that showed a larger-than-expected draw of 4.15 million barrels, which had pushed oil prices higher earlier Wednesday. This week's increase in inventories concludes a month-long decline in stockpiles. 
Crude oil imports increased to 8.5 million barrels per day last week. Over the past month, imports averaged 7.9 million barrels per day, which represents a 0.9% jump from the same period last year.
Refinery inputs increased by 184,000 barrels per day to 16.7 million barrels per day last week. Refineries operated at 91.5% of their operable capacity last week, the EIA reported.
Meanwhile, motor gasoline inventories declined by 1.3 million barrels last week, but stockpiles are still well above the upper limit of the average range, while distillate supplies fell by 2.4 million barrels.
Immediately following the report, U.S. oil majors like Chevron (CVX) - Get Report and ExxonMobil (XOM) - Get Report were both up by 0.7% and 0.2%, respectively. Traders were closely watching these two stocks as any jump could help push the Dow Jones Industrial Average past the 20,000 milestone. However, the inventory build could will likely limit the movement in the Dow energy stocks on Wednesday.
Employees of TheStreet are restricted from trading individual securities.