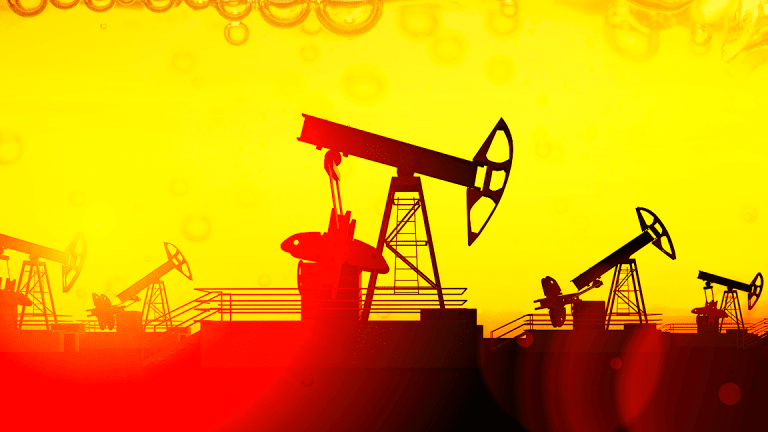 Oil Prices Are Closing In on One Hot Week
Oil rigs climb by 12 to 759, while gas rigs decline by one to 188, bringing the overall total U.S. rig count to 947.
Oil prices rose after the number of active drilling rigs in the U.S. increased by 11 this past week, Baker Hughes (BHGE) - Get Report said Friday, Jan. 26.
U.S. oil producers added 12 rigs, almost all in the prolific Permian Basin of west Texas, for a total of 759 oil rigs. Gas rigs, meanwhile, declined by one to 188, bringing the overall total U.S. rig count to 947. There are 193 more oil rigs than there were during the same period last year; gas rigs have increased by 43 year over year.
U.S. benchmark West Texas Intermediate contracts for March delivery rose 0.8% to $66.07, while Brent crude futures, the global benchmark, rose 0.2% to $70.56 at 1 p.m. EST on Friday. WTI crude has risen about 5% this week.
Oil prices, particularly Brent prices, have rallied sharply in recent weeks.
"The run-up in crude oil prices has come together with a pretty sharp depreciation in both the [U.S. Dollar Index] DXY and the trade-weighted [U.S. Dollar] USD," Bank of America Merrill Lynch wrote in a Jan. 26 research note. "Loose fiscal policy in the U.S., a recovery in growth in Europe and an acceleration in [emerging markets] growth have all combined to push the dollar lower and oil prices higher."
Bank of America Merrill Lynch sees Brent front-month prices capped below $80 a barrel.
To be sure, President Donald Trump said Thursday that the U.S. dollar will strengthen over time, a shift from comments he made last April that the dollar was "getting too strong."
"The dollar is going to get stronger and stronger, and ultimately, I want to see a strong dollar," Trump told CNBC while in Davos, Switzerland. "Our country is becoming so economically strong again and strong in other ways, too."
More of What's Trending on TheStreet: