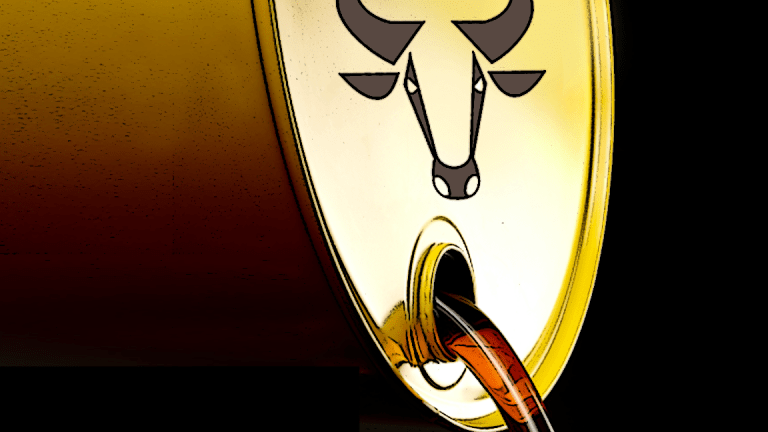 5 Top Trades With Oil Prices in Full Rally Mode
The recent rally in oil prices has lifted some oilfield service names, and Jefferies analysts see upside in select North American land stocks.
Oil prices rose to the highest levels since mid-2015 amid protests in Iran and a major winter storm in the U.S. that  raised concerns about supply disruptions.
U.S. benchmark West Texas Intermediate crude contracts for February delivery rose about 0.3% to $61.80, as Brent crude, the global benchmark, held relatively flat at $67.85 at 11 a.m. EST on Thursday.
Anti-government protests in Iran have persisted for a week, killing at least 20 people. Demonstrators have taken to the streets in cities across Iran to express their anger over rising food prices and the country's stunted economy. Considering that Iran is the Organization of Petroleum Exporting Countries' (OPEC) third-biggest producer, the protests ignited concerns that the civil unrest could produce supply disruptions.
But the head of Iran's Revolutionary Guards declared on Wednesday the defeat of the "sedition" in the country. Streets in the capital Tehran were calm Thursday, USA Today reported, but the situation in the rest of the country wasn't immediately clear.
Equity research analysts at Pareto Securities AS wrote in a Jan. 4 note that there is no indication of decreasing output from Iran.
Meanwhile, the east coast of the U.S. is in the midst of a brutal winter storm, with much of the Northeast facing blizzard conditions. The storm further supported crude prices on the basis that the freezing temperatures could boost short-term demand for heating oil.
Jefferies analysts, including Brad Handler, noted that the recent rally in oil prices -- up 15% since Oct. 26, 2017 -- has lifted the PHLX Oil Service Sector Index (OSX) by about 18%. The index rose 0.7% on Thursday to $155.34 at 11 a.m.
Given that the Jefferies' energy team has a positive bias for oil prices in 2018, the analysts see upside in select oilfield services shares, namely North American (NAM) land stocks. On Dec. 20, the team raised its 2018 Brent forecast to $63 a barrel and upped its WTI forecast to $59 a barrel. 
The firm's top picks are Keane Group Inc. (FRAC) - Get Keane Group, Inc. Report , C&J Energy Services Inc. (CJ) - Get C&J Energy Services, Inc. Report , Halliburton Co. (HAL) - Get Halliburton Company (HAL) Report , Precision Drilling Corp. (PDS) - Get Precision Drilling Corporation Report and U.S. Silica Holdings Inc. (SLCA) - Get U.S. Silica Holdings, Inc. Report .
Halliburton and U.S. Silica shares rose by 1% and 2.1%, respectively. The other top picks were lower.
Handler wrote in a Jan. 4 research note that Halliburton is the best-positioned company in diversified services due to "its leading position in pressure pumping and a little opportunity as it rolls out a new US Onshore-focused directional drilling suite early in 2018."
U.S. Silica was the top pick in OFS' sand segment as the Jefferies analyst team expects growth in demand.
Halliburton and U.S. Silica were also Credit Suisse's top picks for the oil services and equipment industry. 
C&J Energy and Keane, meanwhile, are the most attractive picks for the completions services and equipment segment, according to Jefferies. The analysts "suspect CJ and FRAC can deliver more pricing realization than expected, (organic) growth prospects are likely stronger than the little they have articulated recently and think their equipment is likely in better shape than investors fear."
More of What's Trending on TheStreet:
2018 Resolutions? Learn About Bitcoin and Max Out Your 401k