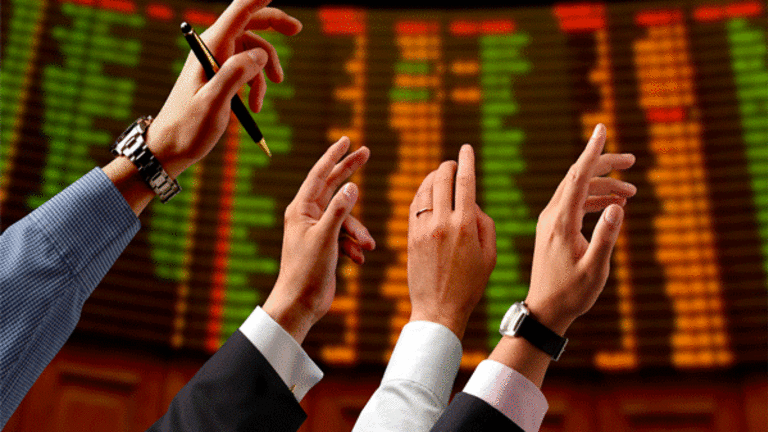 Oil Prices May Rally on a U.S. Default
If the U.S. defaults on its debt, oil prices could actually rally, according to analysts.
NEW YORK (TheStreet) -- If the U.S. does indeed default on its debt or suffer a credit rating downgrade, oil prices could rally on ensuing Federal Reserve and investment diversification actions, analysts agree.
In either of those cases, "you're going to see the Fed react to that very swiftly and aggressively," says PFGBest senior energy analyst Phil Flynn. "Initially everyone will freak out and say 'oh my gosh ... demand destruction' " in the world's No. 1 oil-consuming nation, but then reverse their views upon another round of government stimulus or quantitative easing III, which would bring an influx of hot, speculative money into the commodity markets, Flynn explains.
Summit Energy analyst Matt Smith agrees with Flynn to a lesser degree, saying that another round of quantitative easing would cause investors to immediately consider commodities as an inflation hedge, given that it would support dollar weakness and heighten inflation expectations. But "I think the view is tempered by the negative realities of quantitative easing."
To Smith, quantitative easing is a "necessary evil" -- a bandage -- rather than a long-term solution to the health of the general U.S. economy, which, of course, is required for strong oil demand.
Most analysts whom
TheStreet
spoke with agree that a U.S. credit downgrade is more likely to happen than an actual default because, as Mirus Futures chief market analyst Kurt Kinker explains, bringing down the overall level of U.S. debt would "would require big cuts in spending. I don't think that's likely to happen ... it would be difficult for politicians to make the cuts."
A default on the other hand would likely be prevented; most analysts believe that Democrat and Republican lawmakers will eventually reach a deal to raise the country's $14.3 trillion borrowing limit, even if it's past the Aug. 2 deadline.
Flynn of PFGBest believes that a downgrade would also be bullish for oil, encouraging an inflow of money away from U.S. debt and into higher-yielding emerging markets debt; then they would invest the proceeds from their emerging markets investments in oil. Flynn said a good example of this is China's recent diversification away from U.S. debt and into European debt and commodities.
Smith agrees that a U.S. credit downgrade could spur diversification into oil, but points out the longer-term ramifications of such a downgrade: a lack of confidence and therefore investment in the world's largest oil-consuming nation, which could have a detrimental effect on the U.S. economy -- hence, oil demand.
A U.S. default or credit downgrade may cause oil prices to rally or sink depending on which facet and drivers of the oil markets the analyst focuses on more. But Citi Futures Perspective energy analyst Tim Evans takes a look at another oil market driver possibility: deep spending cuts.
He says that even if there weren't a U.S. downgrade or default -- even if U.S. lawmakers on all sides came to an agreement on deep spending cuts that would bring down overall debt in the long-term -- oil prices could drop.
"I'm more concerned that U.S.
oil demand will fall short of expectations. Cutting spending -- whether its government, business, or consumers doing the cutting -- is a reduction in aggregate demand," said Evans. "Spending cuts would be a drag on the economy for years to come" with a serious risk that businesses won't pick up the spending slack from government cuts.
The United Kingdom, he said, is a good example of what he's worried about. "Britain adopted austerity measures a year ago and they just posted a 0.2% GDP
gross domestic product gain for Q2
second quarter. Too much budget-balancing too soon could create a repeat of the 1937 U.S. recession he said.
Kinker of Mirus Futures meanwhile believes that the Federal Reserve is unlikely to implement another round of quantitative easing, given the widespread questions about the effectiveness of the previous rounds of stimulus programs, and will likely use a tool "that they never used before" to lift the economy.
As the Aug. 2 deadline for raising the U.S. debt ceiling approaches, "the pressure
on oil prices will continue to ratchet up," said Smith of Summit Energy, noting that he expects to see a selloff in crude under the influence of a general flight from risk if a compromise for raising the debt ceiling by Aug. 2 isn't reached -- though the move lower would likely be tempered by weakness in the dollar. Smith believes the next test to the downside would be $94 for West Texas Intermediate light sweet crude oil and around $110 for Brent crude oil.
Evans of Citi Futures Perspective said even without a default, spending cuts or economic slowing, the Brent market is overvalued by about $20 to $25 a barrel, so Brent could fall by an amount similar to its drop in 2008 to $80 to $85 a barrel level when a bearish economic scenario is added in.
Oil Price Information Service's chief oil analyst Tom Kloza said if the debt ceiling wasn't an issue, he'd expect that oil prices would be headed for more modest levels in the August to September period, then begin a climb towards "the highest prices of our lifetime" as more investment and speculative money flows into oil between the fourth quarter of 2011 and first quarter of 2012 -- based a pattern that becomes more pronounced year after year -- and the Arab revolutions and emerging market demand lift prices.
Oil and gas stocks settled lower Wednesday on U.S. debt ceiling concerns and
Chesapeake Energy
(CHK) - Get Report
fell 2.1% to close at $33.40,
Range Resources
(RRC) - Get Report
inched 0.5% lower to $64.30,
EOG Resources
(EOG) - Get Report
tumbled 2.4% to $104.07,
Forest Oil
(FST)
lost 2.8% to $25.69,
Carrizo Oil & Gas
(CRZO) - Get Report
surrendered 3.5% to $38.71,
Occidental Petroleum
(OXY) - Get Report
tumbled 3.3% to $101.40 and
Double Eagle Petroleum
(DBLE)
was lower by 0.7% to $10.70.
-- Written by Andrea Tse in New York.
>To contact the writer of this article, click here:
Andrea Tse
.
Readers Also Like:
Warren Buffett's Top 10 Dividend Stocks
Downgrade Could Cost U.S. $100 Billion a Year
Copyright 2011 TheStreet.com Inc. All rights reserved. This material may not be published, broadcast, rewritten, or redistributed.