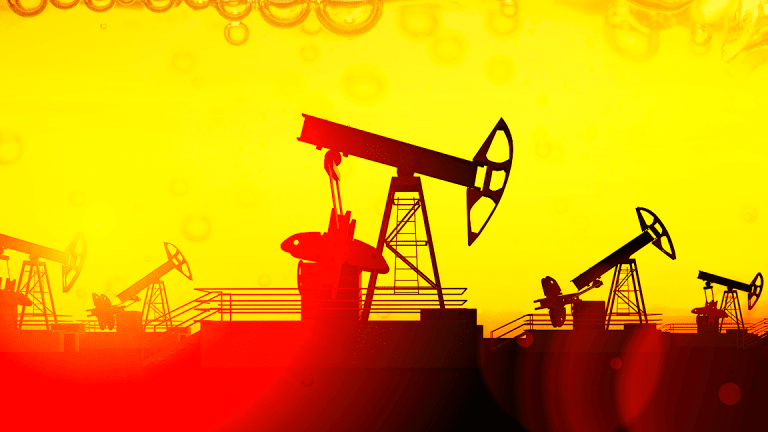 Oil Prices Are Having a Terrible Week, and Next Week May Not Be Any Better
U.S. oil producers brought 26 rigs online, while gas rigs climbed by three, bringing the overall total U.S. rig count to 975.
U.S. oil prices extended losses on Friday, Feb. 9, after U.S. oil and gas producer brought 29 rigs online this past week, Baker Hughes (BHGE) - Get Baker Hughes, a GE Company Class A Report said.
U.S. oil producers brought 26 rigs online for a total of 791. Gas rigs, meanwhile, climbed by three to 184, bringing the overall total U.S. rig count to 975.
The U.S. rig count is up 234 rigs from last year's count of 741. There are 200 more oil rigs than there were during the same period last year and gas rigs have increased by 35 year over year.
U.S. benchmark West Texas Intermediate contracts for March delivery fell 3.5% to $58.99, the first time since December that WTI crude slipped below $60 a barrel. Brent crude futures, the global benchmark, declined 3.3% to $62.65 at 1 p.m. ET on Friday.
While the WTI oil price rout pushed into its sixth day, prices should stabilize and may rally again, said Bruce Kamich, a technical analyst for TheStreet's sister publication, Real Money.
"I do not see the technical evidence to convince me that an important top has been put in on oil prices," Kamich said. "I would look for oil futures to start to stabilize in the short-term and rally in the second half of February."
Oil at $60 a barrel was a source of excitement at the NAPE Summit oil and conference on Thursday, Feb. 8, considering that oil prices plummeted to $26 a barrel in February 2016.
SM Energy Co.'s (SM) - Get SM Energy Company Report senior engineer of the Rocky Mountain Region, Jason Putnam, said $60 oil is a signal to the entire country that the U.S. oil and gas industry's outlook is finally looking bright again.
"Folks around here are certainly more chipper this year than they have been in recent years," Putnam told TheStreet's Tom Terrarosa on Thursday. "I think oil coming above $60 is a big part of it. There is just something psychologically significant about that mark."
That being said, U.S. oil producers won't start drilling everywhere because of $60 oil. Many producers, including SM Energy, focus most of their drilling efforts on West Texas' oil-rich Permian Basin, where 10 new rigs were brought online this past week for a total of 437 rigs.