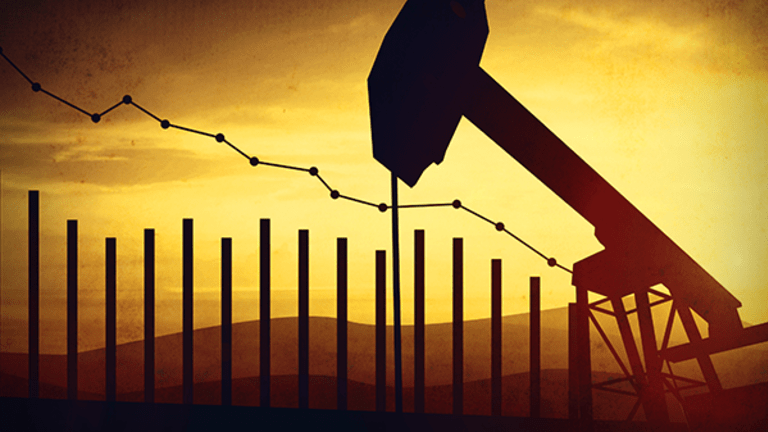 Publish date:
Oil Prices Climb Ahead of Crude Inventory Data
The U.S. Energy Information Administration's Wednesday inventory report could indicate the eighth consecutive drop in domestic stockpiles, a bullish sign for the commodity.
The U.S. Energy Information Administration's Wednesday inventory report could indicate the eighth consecutive drop in domestic stockpiles, a bullish sign for the commodity.
Oil prices were slightly in the greent Tuesday, Aug. 22, ahead of the release of the American Petroleum Institute's weekly oil inventory data, which is expected after markets close. The official release from the U.S. Energy Information Administration is scheduled for Wednesday morning, and a consensus of analysts expect a draw of 3.7 million barrels.
West Texas Intermediate contracts for September delivery, which expired Tuesday at 2:30 p.m., were trading around $47.50 per barrel, while global benchmark Brent crude futures were trading just below $52 a barrel. 
Over the past month, WTI crude has struggled to return to $50 a barrel, and U.S. exploration and production companies have suffered as a result. Moreover, a number of operational struggles have cut into U.S. producers' ability to generate cash, according to a recent blog post by Jeff Quigley, director of energy markets at consulting and analytics firm Stratas Advisors.
"Rising sand costs (though relief could be coming) combined with higher than expected gas output from liquids wells in the most productive parts of the Permian are hurting the stock prices of the most effective regional operators like Pioneer (down almost 20 % Since August 1st)," Quigley wrote last week. 
Indeed, at the end of trading Monday, Aug. 21, Pioneer Natural Resources Co. (PXD) - Get Report , one of the largest operators in the Permian Basin of west Texas, had fallen nearly 22% since beginning of the month. Pioneer announced earnings to begin the month and said its shale assets had higher-than-expected natural gas content.
Permian names on a whole have since traded down, even as these producers push output to record numbers.  
According to Stratas' Quigley, the recent news could be a key signal to the Organization of the Petroleum Countries that a deal extension past March 2018 is the right course of action, but it will require a slowdown in activity by U.S. producers. OPEC, which met Monday in Vienna, reportedly punted the extension decision down the road to its November meeting. 
"Rising completion costs in the shale patch have been a persistent concern since OPEC agreed to cut production in November, and these costs continue to call into question the ability of operators to break even at current prices," he wrote.
Stratas' logic for increasing chances of an OPEC extension rests on demand expectations ramping, which will reduce concerns that the market will be unable to absorb some incremental supply; domestic inventory levels continuing to fall; and operators further struggling to break even at current prices. 
"Ultimately, these early signs of operational weakness will need to manifest themselves in the form of falling production and even bankruptcies before OPEC is convinced that an extension will prevent further market share erosion to shale," Quigley wrote. "However, if production levels remain buoyed by capital infusion and greater cost cutting measures, OPEC will struggle to justify an extension of the existing deal."
In the interim, traders are grappling with how to trade the commodity, which Stratas expects to outperform E&Ps in the near-term. As Seaport Global Securities analysts noted this week, Commitments of Traders data from Aug. 18 indicated that hedge funds decreased their WTI net long position by 2%, though short positions also dropped by 2.6%. 
Meanwhile, Intercontinental Exchange data from Monday indicated that money managers increased their bullish net-long positions in Brent crude to most bullish since mid-April. SGS also noted the spread between WTI and Brent continues to hang around $4 per barrel as shale output suppresses WTI below $50 and demand for North Sea oil continues to pick up, evidenced by Total SA's (TOT) - Get Report $4.75 billion acquisiton of AP Moller - Maersk A/S' oil and gas unit. 
Don't miss these top stories on TheStreet:
This Is Where McDonald's Is Closing a Lot of Restaurants
Amazon, Netflix, Tesla Crash Into Correction Territory -- Now What?
Apple iPhone 8's 'Crown Jewel' Has Everything to Do With Your Face
Goldman Sachs Gets Approval to Trade Stocks in This Kingdom