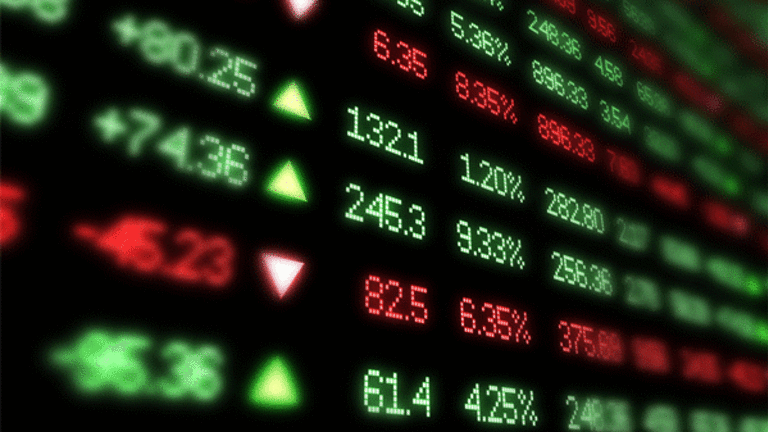 Oil Price Euphoria Unlikely to Last
The euphoria that gripped the oil markets Tuesday -- on news that leaders are putting together a concrete plan for saving the eurozone -- will be promptly snuffed out.

NEW YORK (TheStreet) -- The euphoria that gripped oil markets Tuesday -- on news that leaders are putting together a concrete plan for saving the eurozone -- is likely to be promptly snuffed out.
West Texas Intermediate light sweet crude oil for November delivery was popping $3.64 to $83.88 a barrel on the reports, and the December Brent crude contract was up $2.49 to $104.99.
"I would characterize oil's gains today as fragile," says Kingsview Financial trader Mathew Zeman.
"We could fall like a rock if there is any sign that this big bailout bonanza might not happen," adds PFGBest's senior energy analyst Phil Flynn.
Meanwhile, Citi futures perspective analyst Tim Evans doesn't think it will take emphatically bearish news to bring the market back "down to earth."
"A bit of fresh European dithering over what to do with Greek debt or a sobering Thursday gross domestic product report would be enough to do it," he said.
Although weak Department of Energy inventory data for last week could impact oil market sentiment, Evans thinks that the drivers for the day-ahead will more likely be macroeconomic in nature, given the recent history of oil prices chasing after the latest swing in the S&P 500.
"Today is a fresh round of 'risk on' trade, but investors should stop and think , or they're going to find themselves with plenty of risk -- but not in a good way," says Evans.
A working plan among European officials to calm the eurozone's debt crisis
investor confidence on Tuesday, with the markets looking past a weak U.S. consumer confidence report.
Instead they focused on news that officials may be discussing levering up the eurozone rescue fund -- the European Financial Stability Facility -- by allowing it to borrow funds from the European Central Bank.
"It's indeed nice to see some leadership," says Zeman. "However, we have seen multiple steps taken before and have seen plenty of tough rhetoric -- and thus far the problem still seems out of control."
Borrowing costs for Portugal, Italy, Greece and Spain continue to spiral out of control and show potential for further worsening.
Tradition Energy's senior market research director Addison Armstrong says in addition to the markets' overly enthusiastic response about the prospects for Europe today, other oil price drivers Tuesday include "one, the oil market was technically oversold coming into the week and became even more so in early Monday trading; two, after last week's sharp sell-off, there is substantial profit-taking; three, it is the end of the quarter on Friday -- plus many traders will be out of the market for a religious holiday on Thursday and Friday, and that has brought forward by a couple of days some of the position-squaring that is common when a quarter comes to an end."
Zeman says that bargain hunters began coming back into the oil market at $80, and adds that dollar weakness also played a role in Tuesday's strength.
At this point though, he bets that it's unlikely that prices can move up beyond the prior $80 to $90 trading range.
On Tuesday, Canaccord Genuity analysts continued to worry about a long-term decline in oil prices and that a sustained decline could put their earnings estimates at risk, especially for North American- land focused oilfield services providers.
They are now reducing their target prices -- factoring a recessionary downside scenario for the service companies they cover -- while still favoring going long the stocks as long as oil prices don't fall below $50 a barrel for a prolonged period of time.
Canaccord Genuity analysts lowered 12 to 18-month price targets for a number of companies while pointing out their upside potential:
Baker Hughes
(BHI)
to $59 from $90 with 15% upside potential;
Halliburton
(HAL) - Get Free Report
to $46 from $67 with 35% upside potential;
Schlumberger
(SLB) - Get Free Report
to $73 from $104 with 16% upside potential;
Weatherford International
(WFT) - Get Free Report
to $18 from $29 with 35% upside potential;
Basic Energy Services
(BAS) - Get Free Report
to $28 from $47 with 103% upside potential;
Noble
(NE) - Get Free Report
to $40 from $55 with 24% upside potential and
Ensco International
undefined
to $68 from $82 with 52% upside potential.
-- Written by Andrea Tse in New York.
>To contact the writer of this article, click here:
Andrea Tse
.
Copyright 2011 TheStreet.com Inc. All rights reserved. This material may not be published, broadcast, rewritten, or redistributed.