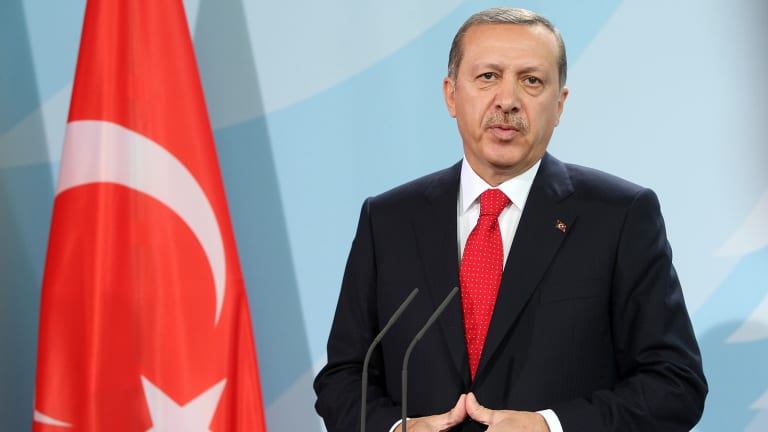 Oil Prices Are Near a 2-Year High, But Bulls Just Got a Small Dose of Bad News
Brent Crude prices hit their highest point since July 2015 following Turkey's threat to end exports from Iraqi Kurdistan and bullish comments from traders and analysts.
Oil prices took a breather early Tuesday after hitting two-year highs at the opening of European trading on fears that Turkey could turn off pipelines out of the Kurdistan region and following bullish supply and demand predictions from traders and analysts.
Brent Crude futures for delivery in November traded at $58.84 a barrel, down $0.18 cents, after touching a high of $59.49 soon after the opening of European trading. The last time oil traded above $59 was in July 2015. US benchmark West Texas Intermediate futures also for November were at $52.13, down $0.19.
Turkey's President Tayyip Erdogan on Monday said he could close the pipeline running out of the Kurdish region of Northern Iraq in response to a non-binding independence referendum that was held on Monday. The pipeline to the Turkish port of Ceyhan pumps about 500,000 to 600,000 barrels of oil per day and is the main transport route for the Kurdish regions oil exports.
"Let's see through which channels the northern Iraqi regional government will send its oil, or where it will sell it," Erdogan said in a speech in Istanbul. "We have the tap. The moment we close the tap, then it's done."
Turkey has been battling, both politically and militarily, against the formation of an independent Kurdistan for decades and fears that a Kurdish state carved out of Iraq would encourage an independence movement amongst the ethnic Kurds living within its borders. Iraq's government has also voiced strong opposition to both the referendum and the prospect of an independent Iraqi Kurdistan which, in theory, could spread from the Turkish border to the outskirts of Baghdad and includes the oil rich Kirkuk province.
Elsewhere, oil prices also received a lift from analysts and traders meeting at an oil conference in Singapore.
"We are nearing the end of 'lower for longer' oil, Trafigura's co-head of Group Market Risk Ben Luckock told the S&P Global Platts APPEC conference. Trafigura, the world's No.3 independent oil trader, said production from mature wells could dip by as much as 9 million barrels a day by 2019, while demand was likely to grow over the same period, driven notably by increased consumption in India.
Russia's Gazprom also painted a bullish picture of demand and supply at the APPEC conference. "We see the market over the next six months going well above $60" due to "surprisingly good demand," said Adi Imsirovic, head of oil trading at Gazprom Marketing and Trading.
More of What's Trending on TheStreet: