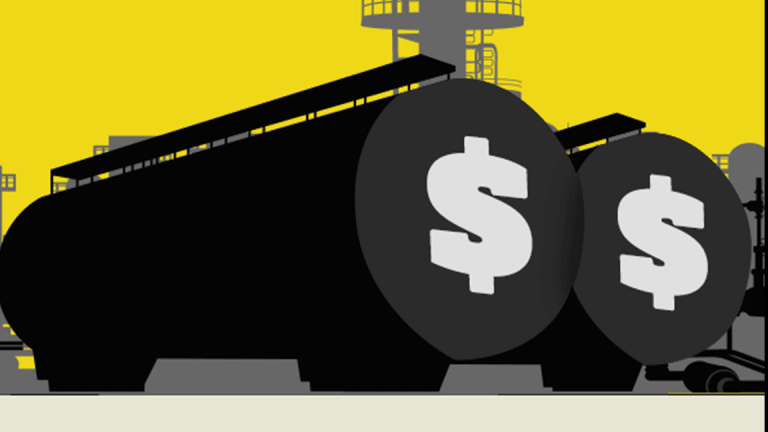 Oil Futures Might Not Rise Above Mid-$50s
Futures expert Carley Garner sees technical resistance between $55 and $56.
Futures expert Carley Garner sees technical resistance between $55 and $56.
West Texas Intermediate crude oil futures are trading in the mid-$50s per barrel, but they might not go much higher, commodities trader Carley Garner says.
"Technically, there's some resistance in the mid-$50s, between $55 and $56," Garner, a futures and options trader at DeCarley Trading and a columnist for TheStreet's Real Money Pro premium site, said at TheStreet's Financial Success Strategies.
WTI oil futures for December 2017 delivery settled at $54.30 on Wednesday, and Garner noted that most traders have already priced in the latest information from the Organization of Petroleum Exporting Countries (OPEC).
Jeff Kilburg, chief executive officer of KKM Financial, added that "you've got to give credit to OPEC and OPEC members. They pound that microphone in a very strategic manner. They started their campaign about production cuts when you saw [oil] break through $48." 
Kilburg said that while there's global demand for crude oil out there, there's "talk about this $55-to-$58 level being the ceiling because of supply concerns" -- namely, too much supply.
But traders should also keep in mind the upcoming Saudi Aramco initial public offering, which Aramco's CEO recently said is "on track" for 2018. The Saudi national oil-and-gas company, which is reportedly worth at least $2 trillion, plans to list 5% of the company on the market.
"This is their crown jewel, [and] they need crude oil above $52, $53 to really get some wind in that sail," Kilburg said. "So I think [oil] is stuck in this range here, but I think it has to go back and test at $50 level again before the year's over."
Garner noted that oil is regarded as more volatile than other commodities, largely because contracts expire monthly. Most other commodities have only three or four expirations a year.
"Crude-oil futures have a tendency to follow the direction of the trend near expiration dates," Garner said in an interview with TheStreet following this weekend's event. She added that the reason for the increased trading volume is due to traders scrambling to get into the next contract month.
"If we're still up in the low- to mid-$50s two weeks from now, we'll probably get a big spike up," the expert said, adding that the spike would flush all the weak shorts out. "Then from there, I think we'd have a good chance of turning around. But that level could be $56 [or] $57 before coming off."
Garner's advice to investors, particularly someone new to futures trading, is to look "for cheap out-of-the-money calls and puts," as well as cheap options.
More of What's Trending on TheStreet: