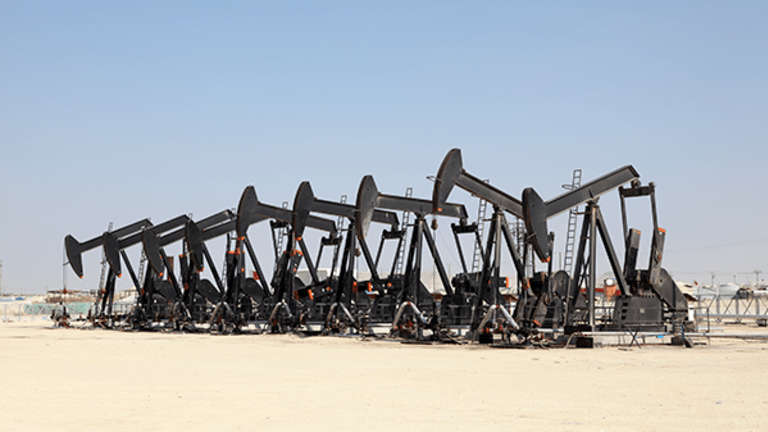 Oil Futures Traders Wonder: Could Oil Fall To $26 Per Barrel Next Year?
One veteran oil analyst says crude oil prices are headed way down in 2017. Others aren't so sure.
Oil ETFs are trending downward, and one oil analyst is saying "I told you so."
Larry Edelson, a veteran commodities analyst and the editor of Real Wealth Report and Supercycle Trader, says in a recent research post that crude oil prices are down 14% from an October 19 high, and it's no secret why.
"Plunging crude oil prices and a severe loss in credibility has OPEC playing defense and concocting a new strategy," says Edelson, who earlier predicted the OPEC oil production deal announced last month was "doomed to fail."
"It's becoming increasingly important for Russia, Saudi Arabia, Iran and Iraq to sharpen their pencils and hash out a deal at the November 30 OPEC meeting," he notes. "And still, that may not be enough to maintain relevance and engineer higher crude oil prices."
With oil demand low for OPEC nations, Edelson is calling for a big low in oil prices early in 2017. "My forecast remains bearish crude oil, with a low not in place until early next year ... probably, believe it or not, below $26," he says.
Certainly, the long-term trend has been a downward one for oil. The short term hasn't been so great, either. The benchmark United States Oil (OIL) - Get BARCLAYS BANK PLC TRACKER ZERT 18/04/41(BARCLAYS CAP SE) Report exchange-traded fund traded off 1% on Friday, and is down over 9% year to date. The VelocityShares 3x Long Crude Oil ETN (UWTI) fell by 5% in Friday trading.
Additionally, oil futures fell 2% last week on the negative OPEC production news, but rallied Monday after Democratic U.S. presidential candidate Hillary Clinton was cleared of any wrongdoing regarding her handling of classified government material, just ahead of the U.S. election on Tuesday. Also on Monday, Russia agreed to participate in OPEC's oil production curb, and an earthquake severely damaged a key Oklahoma-based crude-storage hub, alarming commodities traders about supply conditions.
As always with oil markets, there are plenty of other price-impacting factors, in play, as well.
"The global market for oil has stabilized in the $40-$50 range, driven by a significant reduction in US production from over 9.6MM barrels per day to the current level of approximately 8.5MM barrels per day," says Jay Hatfield, president of Infrastructure Capital Advisors and portfolio manager of the InfraCap MLP ETF  (AMZA) - Get InfraCap MLP ETF Report , which invests in the U.S. midstream MLP market. "Also, demand has continued to grow by the normal 1% to 2% global annual rate, stimulated by lower prices. Global supply and demand are in rough balance, but there is a significant overhang of excess inventory. In addition, when oil prices ran to $50 per barrel, US producers raised equity capital and put on additional rigs, which helped to cap prices at the $50 level."
Hatfield disagrees with oil bears, even though he says oil investors are headed into the "shoulder season" for demand for energy, and he expects prices to test the lower end of his firm's pricing range over the next couple of months.
"We're forecasting that oil prices remain stable in 2016 in the $40-50 range for the reasons discussed above, and that prices rally to the $50-70 range in 2017 as global offshore production starts to decline in response to an enormous cutback in capital expenditures by the major oil companies," Hatfield states. "This decline is likely to produce a small shortage of supply relative to demand and eliminate the excess inventory of oil, which will allow the price to increase to the higher range indicated."
Others note that oil hasn't traded below $27 per barrel since November 2001 - yet, in the years leading up to that time, price drops in the low $20s weren't unheard of - that was the case in 1998 into early 1999. "The market survived and prospered for years thereafter, and some of the factors that have led to today's oversupply and the resulting drop in prices were born in that boom," says Ted Gavin, managing director and founding partner of the bankruptcy consulting firm Gavin/Solmonese. "A market adjustment to the chronic oversupply brought forth by development of the Bakken and other factors should have been expected, and prices should come back when the herd is culled of the weaker producers and supply eases."
Nobody will make money at $26 per barrel, Gavin adds. "Those who are healthy enough to live on cash reserves and take on debt until the market turns will be the ones who make it through the trough in the market," he says.
Even regular retail investors see a downside on oil prices, given current market conditions.
"Oil can hit $26 dollars in 2017," says A.J. Saleem, an oil investor based in Houston, Tx. "The simple forces of supply and demand impact the oil price currently, and with the recent run due to OPEC speculation, the supply glut is worsening. Unless there is an actual supply cut, oil should retest their lows at or around $26 dollars."