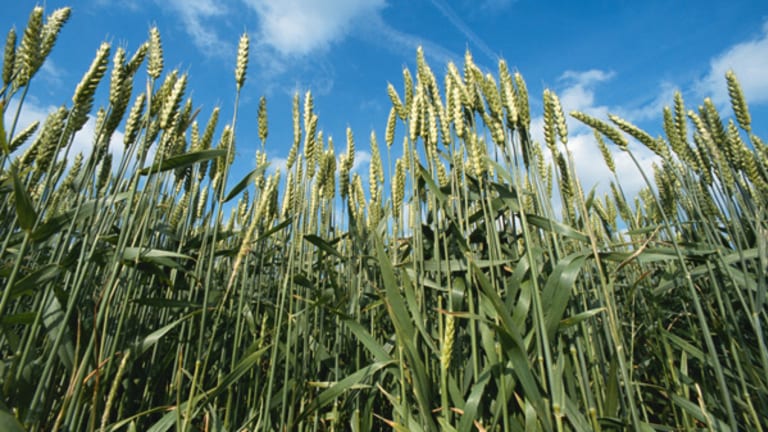 Margin Hike Threatens Gold Prices
With gold suffering $20-$50 price swings daily, the CME might gearing up to raise the margin requirements.
NEW YORK (
) -- High
need to watch their backs because margin hikes could be right around the corner.
With gold prices seeing $20-$50 swings daily, the CME could be tempted to increase the amount of money it takes to buy an 100 ounce gold futures contract -- a technique often employed to stem volatility.
Silver was the latest victim of margin hikes and is still recovering. The CME raised margins five times between April 26th and May 9th a massive 68% which eventually resulted in silver losing almost 30% of its value in less than 3 weeks. If the same fate were to befall gold, prices could tank to $1,400 an ounce.
The CME has raised margin requirements for gold twice this year, once in January and once in early August, by 11% and 22% respectively. The moves did little to stem gold's rally. A week after the margin hikes in January gold was down just 2% and a week after the August hike gold was up 1.5%.
But this time may be different for gold. As shown in the chart above from MFGlobal, gold's average true range is 40, a level not seen since the end of 2008. The last time the CME underwent a series of margin hikes for gold was between December 2009 and February 2010 when it raised requirements 50% that was when gold's average range was in the mid to high 20s.
Phil Streible, senior market strategist at MFGlobal, says "if we get these higher price swings for a few days I would anticipate a margin hike." Mihir Dange, founder of Arbitrage, agrees "it is possible ...
If we see gold
move more 5%-6% we could see margin requirements go up."
The Shanghai Gold Exchange beat the CME to the punch and raised margins Tuesday by 1%. The last time the exchange increased rates was August 8th, three days later the CME hiked requirements by 22%.
Not all experts think a margin hike is imminent. Anthony Neglia, president of Tower Trading, says "it's an algorithmic program it's not a bunch of guys sitting around a table." Neglia does say if gold hits $1,950 or above there could be a 15%-20% margin hike. It depends "on how we get there ... how fast and how hard then the margin requirement may kick in."
George Gero, senior vice president at RBC Capital Markets, doesn't think that gold has been hugely volatile. "Previous longs from lower prices have big equity and don't need money now," which means they won't sell their gold providing some relief from pending volatility.
Even if the CME raises rates the impact for gold should be relatively minimal. Margin hikes over the last few years have resulted in a $1,618 increase from 2009 to present whereas silver has increased almost $13,000. Gero says "the previous raises did not impact
gold more than $50."
Neglia thinks that any margin hike won't have an effect. "The longs that we have involved here were involved at much better prices." Neglia also argues that strong longs, like central banks, won't be tempted to sell. The only ones effected would be the "mutual funds or the small mom and pop" investors.
Nevertheless if the CME raises rates, the "weak" longs, in essence the investors who have recently piled into gold to not miss the run past $1,900 might be spooked enough to flee giving prices to opportunity for a much needed pullback.
Related Articles:
Do Gold Prices Have Room to Rise?
--
Written by Alix Steel in
New York.
>To contact the writer of this article, click here:
Alix Steel
.
Disclosure: TheStreet's editorial policy prohibits staff editors and reporters from holding positions in any individual stocks.