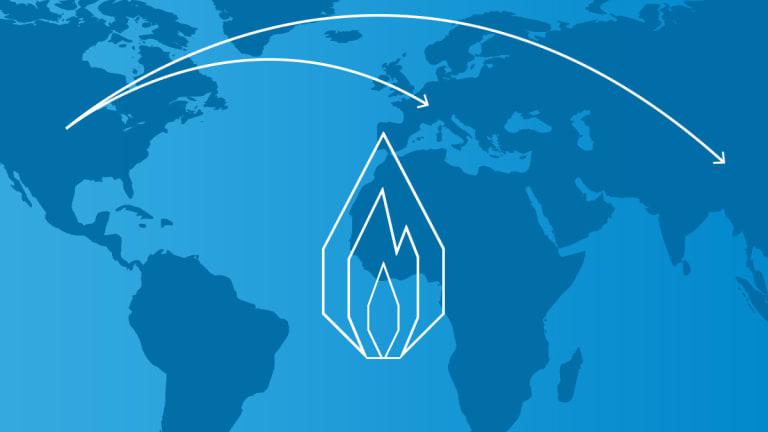 LNG and the Importance of the Henry Hub Benchmark
U.S. natural gas futures are transforming into a global pricing benchmark, due to a combination of growing international demand and a surge in shipments of American gas. (Sponsored. Written by Russell Blinch.)
Unlike solid forms of energy coaxed from the earth -- such as crude oil and coal -- the odorless vapor known as natural gas is positively invisible.
So it follows, bits of technical and market adaptations are needed to ensure the natural gas can be profitably shipped and priced, especially on a global scale.
Firstly, advances in science over the decades have led to an ingenious way to liquify the gas. The commodity has been freed from the pipeline and it now traverses oceans, feeding far flung markets, thanks to a process where the fuel is supercooled to minus 260 degrees Fahrenheit, which shrinks its volume 600 times.
This liquified natural gas, or LNG, requires substantial investment in plants, port infrastructure and in shipping, which has brought pricing into sharp focus over the past few years as demand surges for the fuel.
So a second piece of alchemy was needed on how to price the fuel. Some industry players believe the answer to this mystery lies deep in the Bayou -- near a staggering assemblage of pipelines known as Henry Hub, named for its location in the Henry Hamlet of Erath, Louisiana. It is a major interconnection point for nine interstate and four intrastate pipelines.
Henry Hub, a distribution point on a natural gas system owned by Sabine Pipe Line LLC, serves as the delivery point for natural gas futures traded on CME Group's NYMEX exchange. The contract is the third-largest physical commodity futures contract in the world by volume.
Henry Hub in Erath, Louisiana
Increasingly Henry Hub is transforming into a global benchmark, due to a combination of growing international demand and a surge in shipments of American gas that has been unearthed by the continent's booming shale oil and gas plays.
Weaving a Global Market
For many American and international players, the logical evolution is that natural gas markets can be woven into an interconnected global market, not unlike that of crude which moves around the world anchored by key benchmarks, such as the NYMEX WTI Light Sweet Crude Oil futures.
"The way U.S. LNG is contracted is shaking up traditional business practices by bringing flexibility and negotiating leverage to the buyers," says Tim Boersma, Director of Global Natural Gas Markets at Columbia University's Center on Global Energy Policy.
Texas-based Cheniere Energy Inc. (LNG) - Get Cheniere Energy, Inc. Report is credited with nudging the Henry Hub benchmark into the international realm when it signed the first export contract of U.S. LNG in 2011. Prior to the landmark deal, almost all of LNG was tied to the price of crude.
And in February, Cheniere signed the first ever long term contract to supply LNG to China, 1.2 million tonnes per annum for 25 years - at a price linked to the Henry Hub benchmark.
Dr. Boersma says that the growth in LNG shipments increasingly connects what have historically been mostly regional markets.
"The transformation of the global gas market has also put pressure on traditional pricing mechanisms, which were mostly linked to oil. Buyers now want more of their gas priced on the basis of gas-on-gas competition."
Henry Hub is the world's most actively traded natural gas futures contract, according to CME Group data. Daily volumes averaged nearly 500,000 contracts during the first quarter of 2018, in part due to a record 676,000 contracts traded on average each day during the month of January. Open interest remains near multi-year highs despite persistently low volatility.
American exporters in particular want Henry Hub contracts to become an international price setter as a way of locking in returns. These companies that look to supply distant countries face greater risk if they sell to prices linked to the vagaries of the oil price.
Global LNG imports will hit a new record this year, fueled by 7.2 percent growth, according to a March forecast from Bloomberg New Energy Finance. LNG demand will continue to surge through the next decade, driven by China, and rising power generation in South and Southeast Asia, according to the forecast.
LNG demand will rise to 305 million metric tonnes per annum (MMtpa) this year from 285 MMtpa in 2017. Bloomberg notes that while the growth is strong, it is down from a 9.6 percent increase in 2017.
Spencer Dale, chief economist for BP PLC, recently told the Wall Street Journal that economics suggest that U.S. gas prices "will act as a natural anchor," for the global market.
Shale Boom Drives Fundamentals
Mahin Siddiqui, a Middle Eastern energy analyst at Gulf Intelligence, agrees. She wrote in a recent article that the Henry Hub benchmark creates a "pragmatic pricing structure" that is more reflective of supply and demand for gas. "Simply put, it gives a fairer LNG price. LNG buyers see Henry Hub as a stable and affordable benchmark."
Shale gas production is a big driver behind the growth in LNG, which is led by the United States, but is also underway in Canada, China, Argentina and possibly other areas.
More U.S. LNG facilities will be expanding capacity in the near future, including Dominion Energy's (D) - Get Dominion Energy Inc Report Cove Point terminal in Maryland and the Elba Island facility in Georgia. The Energy Information Administration (EIA) projects these and other projects to grow U.S. exports from 3 billion cubic feet per day (Bcf/d) in 2018 to 4.8 Bcf/d in 2019.
Cheniere has predicted the share of Henry Hub-indexed contracts will rise to 30 percent by 2025 as more American LNG export plants come online.
"We have seen interest around the world in accessing Henry Hub indexed natural gas because it comes from a stable source, it is affordable and U.S. LNG has the most flexible contract terms in the market," Jack Fusco, Chief Executive of Cheniere, told the WSJ. "The world is becoming more knowledgeable and comfortable with Henry Hub."
The U.S. is seeing higher than normal drawdowns of natural gas already, in large part due to LNG expansion. In fact, the U.S. became a net exporter of natural gas in 2017. Expanding capacity, and growing demand for Henry Hub-linked LNG shows that trend is likely to continue.
Written by Russell Blinch. Read more from the author here.
Read more stories like this on OpenMarkets. And for trader tools and resources visit: https://activetrader.cmegroup.com
Read more stories like this on OpenMarkets. And for trader tools and resources visit: https://activetrader.cmegroup.com