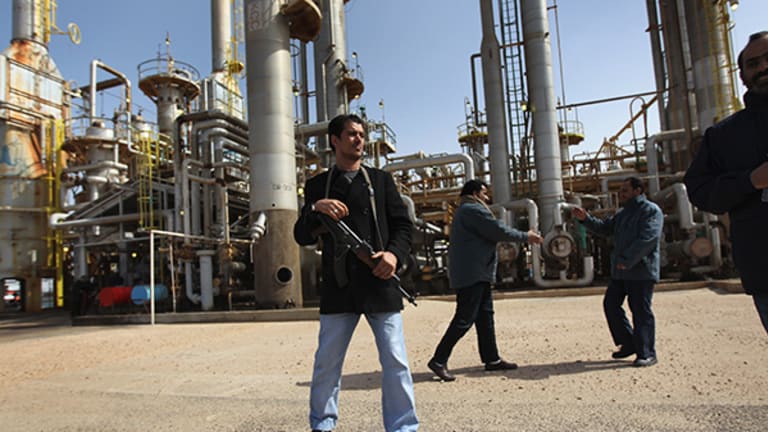 Libya Can Loosen Putin's Energy Grip on Europe
Libya is becoming an unlikely player to loosen Russia's grip on Europe.
Libya is becoming an unlikely player to loosen Russia's grip on Europe.
NEW YORK (TheStreet) -- As Western powers continue attempts to diminish tensions between Ukraine and Russia, an unlikely player looms to help loosen President Vladimir Putin's grip on the region.
Libya, which the U.S. Energy Information Administration reports has 48.47 billion barrels of proven reserves, soon may resume production at three oil fields that the state-owned National Oil Corporation expects will increase production to 500,000 barrels per day (double the current amount) in the near future.
Oil analysts say such a supply boost by Libya would be bearish for Brent crude oil prices, but some are also pointing out that an unintended side effect is that it would allow the European Union more flexibility to levy harsher sanctions against Russia.
"At least it would ease the supply shortage somewhat and maybe lead to some harsher rhetoric from Europe," Carsten Fritsch, a commodities analyst at Commerzbank AG, said in a phone interview from Frankfurt.
Such a scenario isn't certain as Libya hasn't secured reliable oil production since rebels toppled Muammar Gaddafi's rule. The prospect of changes comes amid news that the state has reached an agreement with protesters in the west part of the country to bring major oil fields online.
But for unfettered oil production to have an impact on European trade, Libya also must end rebel blockades of Libya ports in the east -- Ras Lanuf and Es Sider -- Commerzbank AG said in a note.
"I think we're getting to the point where that would be bearish for oil and it would give [the EU] more flexibility," Phil Flynn, senior energy analyst at The PRICE Futures Group, said in a phone interview.
Natural gas giant Gazprom, majority owned by the Russian government, said that Ukraine owes it more than $22 billion. Company executives have threatened to cut off gas supplies to the country if Ukraine doesn't pay.
European nations depend on Russian natural gas, the majority of which flows through Ukraine to be delivered to the continent. Should Russia cut natural gas supplies, European nations would have to depend more on other energy resources, such as crude oil and coal.
"If Libya did become a more reliable supplier it would give more flexibility on levying sanctions on Gazprom and other entities," Flynn said.
The energy repercussions of Russia's involvement in Ukraine are familiar to European countries, and the possibility of Libya resuming mass oil production is one way the EU can avoid disruption.
"But that's a big if," independent commodities trader Matt Hoverman said.
>>Read More:
Jim Cramer's Stop Trading: Permian Basin Is 'Red Hot'
China Is Not Manipulating the Yuan
Dicker's Gas Price Outlook: Good for Refiners, Bad for Drivers
-- Written by Joe Deaux in New York.
>Contact by Email.