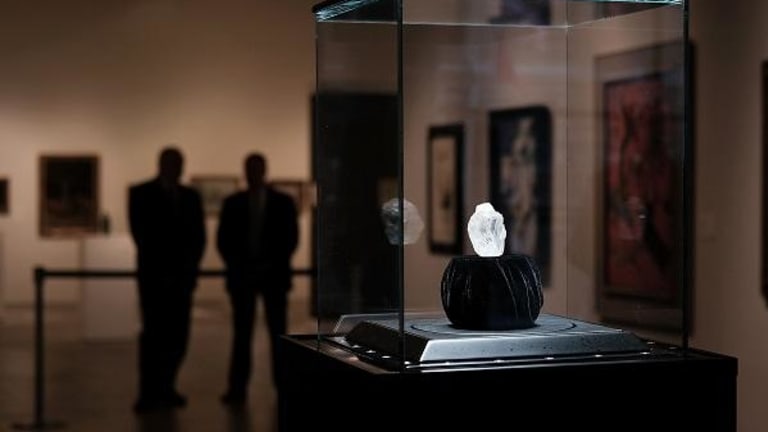 A 1,109 Carat Diamond Just Sold for $53 Million
The biggest diamond found in more than century has been sold to billionaire jeweller Laurence Graff for $53 million.
Shine on, you crazy diamond!
The world's largest uncut gem has been sold to billionaire jeweller Laurence Graff for $53 million, Vancouver-based Lucara Corp. said late Monday, ending the saga of the 1,109 carat stone -- the biggest find in at least a century -- that was recovered two years ago in the southern African republic of Botswana. 
"We are thrilled and honoured to become the new custodians of this incredible diamond," Graff said in a statement. "The stone will tell us its story, it will dictate how it wants to be cut, and we will take the utmost care to respect its exceptional properties. This is a momentous day in my career, and I am privileged to be given the opportunity to honour the magnificent natural beauty of the Lesedi La Rona."
Lucara had attempted to sell the Lesedi stone last year at London's Sotheby's auction house, but failed to find a buyer at the then-estimated price of $70 million.
"Meaning "Our Light" in Botswana's Tswana language, is the largest gem-quality rough diamond to have been discovered in over a century, and the largest gem-quality diamond in existence today," Sotheby's said in its promotional materials. "First formed between 2.5 to 3 billion years ago, the diamond is roughly the size of a tennis ball and is of exceptional transparency and quality according to the Gemmological Institute of America."
The Karowe mine in Botswana was where Lucara found the world's most expensive diamond, the 813-carat Constellation stone, which it sold to Nemesis International of Dubai for $63 million before it was handed off to Swiss luxury watchmaker De Grisogono last year. 
Watch More with TheStreet:
Jim Cramer Reveals What to Watch in Nike and Micron's Earnings
How Will Londoners Cope Without Uber?
Video: Kawasaki's $55,000 Ninja H2R is the Baddest, Meanest Motorcycle
Famed Travel TV Star Samantha Brown Reveals How to Snag Cheap Airfare