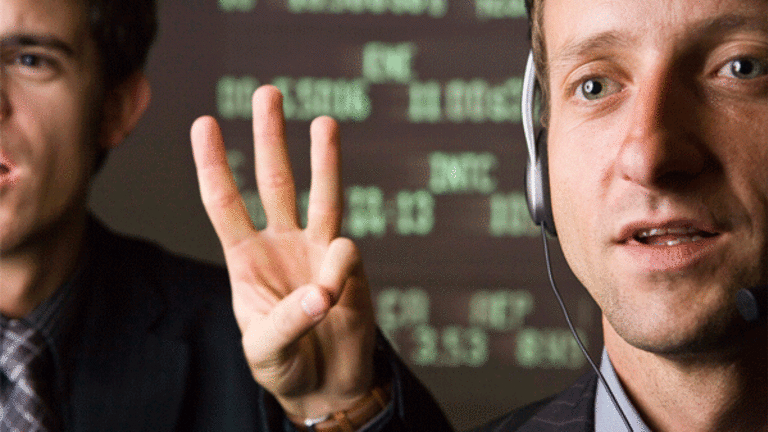 Modest Gold Buying Signals Mild Concern
Gold eked out another record settle Tuesday despite lackluster buying throughout the trading day.
Editor's note: As part of our partnership with PBS's Nightly Business Report, TheStreet's Alix Steel joined NBR (watch video and read transcript here) to discuss what record-high gold prices say about the debt-ceiling debate.
NEW YORK (TheStreet ) -- Investors have been buying gold and silver as protection against a U.S. default but the absence of an explosive rally Tuesday is a signal that traders expect disaster will be averted.
Gold for August delivery settled $4.60 higher to $1,616.80 an ounce at the Comex division of the New York Mercantile Exchange, a late-day bounce that pushed gold to a record settle. The
gold price has traded as high as $1,616.80 and as low as $1,607.80 while the spot gold price was up $2.80, according to Kitco's gold index.
added 33 cents to close at $40.69 an ounce. The
was losing 0.81% at $73.50, hitting a record low against the Swiss franc, while the euro was up 0.98% versus the dollar.
Despite the fact that gold prices settled at a record Tuesday, the buying action was restrained. Some investors jumped at the high price to take profits while other traders were distracted by options expiration on the Comex, which put some technical pressure on gold.
"Today you have to be cautious," warned Phil Streible, senior market strategist at Lind-Waldock, who said Tuesday's gold price was dominated by technical trading and that investors will need to wait for Wednesday to find real direction.
Investors had been piling into the metal as protection in case Washington cannot reach a deal to raise the debt ceiling by Aug. 2, but market watchers said gold would have been pushed up to $1,700 if a default was considered a realistic prospect, instead of stalling out at $1,600. That has many analysts predicting lower prices.
"Most likely a deal will get done
which should put pressure on the gold and silver market," said Streible, who thinks gold will find support at $1,580 and silver at $37.80 an ounce. Streible is putting his money where his mouth is and scaling out of some of his gold positions while buying put options for protection, which means he is betting on lower prices.
Streible does think that if House Speaker John Boehner's debt plan is chosen -- in which the debt ceiling will be raised in two steps pending more spending cuts -- gold could rally on continued uncertainty. Gold's direction "depends on what deal gets passed," he says.
Other experts seem to think that higher gold prices are a done deal. James Moore, research analyst at FastMarkets, said that as the dollar's dominance as a safe haven continues to erode gold will pick up its slack. "Dips
should be viewed as buying opportunities and the metal
will look towards $1,650," Moore said.
In the latest commitment of traders report for the week ended Tuesday, July 19, traders increased their gold long positions by almost 15,000 contracts and decreased their shorts by 6,700 which signals a bet on higher gold prices.
Jon Nadler, senior analyst at Kitco.com, argued that although net shorts were reduced that they are still 35% higher than a year earlier. "Net longs are three-week-old pile-ons," meaning that long traders could dump gold and run at the first sign of lower prices.
George Gero, senior vice president at RBC Capital Markets, seconds that caution. "All these recent buyers are headline and momentum driven," which means if the market sees a positive solution to the debt issues and gold sells off these traders will be the first to go.
Nadler believes there are two camps in the gold community right now. The first says gold is going higher. This camp thinks that if the debt ceiling is raised, the government will have to pump more money into the system, devalue the dollar and support higher gold prices. If the U.S. defaults, then gold will pop as a safe haven. The high end of the range is between $1,650 and $1,750 an ounce.
The other camp, of which Nadler is a member, thinks that either way gold prices will head lower with the bottom of the range between $1,250 and $1,350.
"If you have real spending cuts," Nadler said, "can't you argue that the economy will contract and if the economy contracts what are you doing pumping metals higher?" If the U.S. defaults, Nadler argues that all assets will take a hit of 20%-40% at the least. "If prices fall below $1,480 then it is turning into a bear market."
With gold prices high but not skyrocketing it seems like investors are dabbling into gold as protection but staying clear of prepping for ultimate disaster. The snag, of course, is what happens if lightning does strike and the U.S. loses its triple A credit rating? Will scared investors dump all assets or make a beeline for gold?
were mostly higher fighting against a weak equity market.
Kinross Gold
(KGC) - Get Report
was up 0.58% to $17.49 while
Yamana Gold
(AUY) - Get Report
was adding 1.39% at $13.65. Other gold stocks,
Agnico-Eagle
(AEM) - Get Report
and
Eldorado Gold
(EGO) - Get Report
were trading at $62.59 and $18.35, respectively.
--
Written by Alix Steel in
New York.
>To contact the writer of this article, click here:
Alix Steel
.
>To follow the writer on Twitter, go to
.
Disclosure: TheStreet's editorial policy prohibits staff editors and reporters from holding positions in any individual stocks.