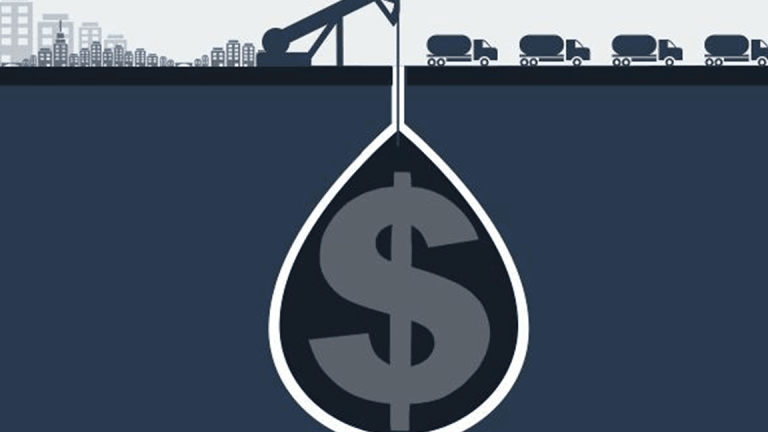 Brent Crude Oil Prices Soar on Pipeline Break as JPMorgan Touts Spread Trades
As Brent crude prices rise to their highest level since mid-2015, JPMorgan analysts identify some spread trades for 2018.
Brent crude prices rose to their highest since mid-2015, topping $65 a barrel as J.P. Morgan Chase & Co. analysts increased their price forecasts for next year and identified some spread trades for investors might consider in the oil market.
Prices for the global benchmark Brent crude oil for February 2018 delivery were up more than 1% to $65.45 at around 8:30 a.m. EST. Future contracts for West Texas Intermediate crude for January delivery rose about 0.8% to settle at $58.45 on Tuesday.
"We have revised up our average central scenario for Brent by $2 a barrel and WTI by 25 cents a barrel in 2018 to average $60 a barrel and $54.90 a barrel, respectively," analysts Abhishek Deshpande and David Martin wrote in a Dec. 8 research note. 
Brent crude prices soared on Tuesday after an unplanned shutdown of the U.K.'s biggest North Sea oil pipeline. The Forties Pipeline System, which is owned and operated by Ineos, suffered a hairline crack last week and was fully shut down overnight, the company said, halting the delivery of about 450,000 barrels of crude a day, some of which is used to create the Brent crude. The pipeline will be closed for a "matter of weeks."
Deshpande and Martin said that while they remain bearish on the first half of 2018, as they expect a surprise on the upside in U.S. production growth and suggest that a potentially milder winter could trigger a sell-off, the two analysts are bullish on the second half of the year.
The updated outlook comes after the Organization of Petroleum Exporting Countries' Nov. 30 deal to extend oil output cut into next year. OPEC, which is made up of 14 countries, and non-OPEC producers, led by Russia, are curbing supply by about 1.8 million barrels a day as part of a broader effort to boost oil prices. OPEC also capped the output of Nigeria and Libya, which had been exempt from previous cuts due to unrest in the region and lower-than-normal production, Reuters reported. OPEC member countries and Russia together produce about 40% of the world's oil.
"We expect Brent time spreads to strengthen on the back of OPEC-NOPEC supply cuts and strong demand growth," wrote Deshpande and Martin. Time spread refers to the price differential between two futures contracts.
Based on these beliefs, the J.P. Morgan Chase analysts recommended going long December 2018 ICE Brent and short December 2019 ICE Brent, expecting a spread of $3 a barrel.
While the analysts anticipate that the Brent futures structure may be weakened by the seasonal dip in demand in the first quarter of next year, they expect end-of-period Brent to be around $65 a barrel, offering "the potential for positive roll yield and upside potential to deferred Brent prices."
For the U.S. benchmark West Texas Intermediate (WTI), Deshpande and Martin suggest shorting the March to April 2018 WTI spread, targeting a loss of $0.015 a barrel.
"U.S. crude output is expected to rise in 2018 on the back of increased hedges, there is a high probability for U.S. producers to increase their CapEx plan for next year supported by OPEC's decision to extend cuts, and the restart of Keystone pipeline are all supportive of a weaker WTI time spread in the first half of 2018," the analysts said.
More of What's Trending on TheStreet: