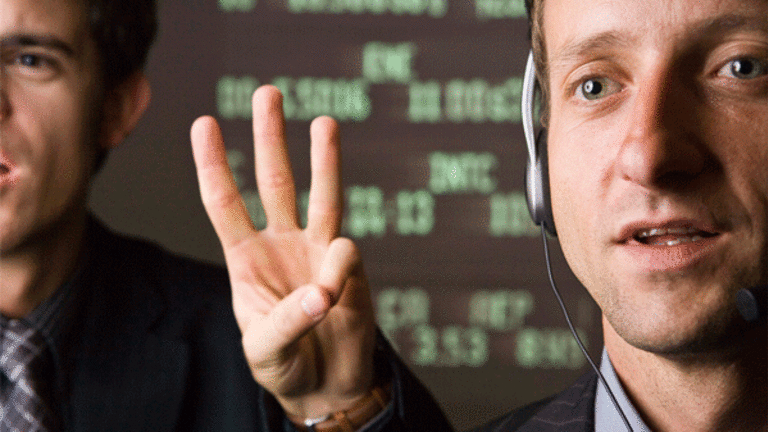 Jim Rogers: How to Play $2,000 Gold
Jim Rogers, the contrarian investor, talks about how high gold will go, how to trade the precious metal and whether mining stocks are a good play.
NEW YORK (
) -- Jim Rogers, the contrarian investor and author, says gold will hit $2,000 in the next five to 10 years.
In a continuation of a
conversation with Rogers, TheStreet.com TV spoke with the typically contrarian investor who talks about how high gold will go, how to trade the precious metal and whether mining stocks are a good play on rising gold prices.
Jim Rogers Talks Gold
With gold prices up 14% year to date, physically backed ETFs like
SPDR Gold Shares
(GLD) - Get SPDR Gold Shares Report
,
ETFS Gold Trust
(SGOL) - Get Aberdeen Standard Physical Gold Shares ETF Report
and
iShares Comex Gold Trust
(IAU) - Get iShares Gold Trust Report
are seeing heavy volume. Investor demand has driven the popular SPDR Gold Shares to add almost 50 tons of the precious metal since Sept. 1, boosting its market cap by $1.6 billion.
Silver stocks are also seeing big moves. Silver is up 40% year to date and is still trading 70% below its all-time high. Silver ETFs like
iShares Silver Trust
(SLV) - Get iShares Silver Trust Report
have posted year-to-date gains of almost 20% as investors seek value outside of gold.
Mining stocks like
Newmont Mining
(NEM) - Get Newmont Corporation Report
,
Barrick Gold
(ABX)
,
Freeport McMoRan Copper & Gold
(FCX) - Get Freeport-McMoRan, Inc. Report
and
AngloGold Ashanti
(AU) - Get AngloGold Ashanti Ltd. Report
, although not pure gold plays, have also been trading higher.
Market Vectors Gold Miners ETF
(GDX) - Get VanEck Gold Miners ETF Report
, a basket of large-cap miners, is up 11.61% year to date.
Following are some excerpts from
TheStreet's
interview with Rogers:
TheStreet: Aside from gold, what other precious metals do you own?
Jim Rogers: I own silver as well. I would suspect that if you were buying
gold or silver right now, silver would be a better buy. I mean, gold is making all-time highs,
but silver is 70% below its all-time high. Now, if my thesis is right about commodities -- that they're going to make new all-time highs -- obviously you would make that much more
money in silver than in gold.
What about palladium and platinum?
I own them all. I think probably now the better plays would be palladium and silver, but again, let me hit you over the head and say I am
the world's worst market-timer and trader. I think you would make more money with silver and palladium at this point, but I own all four
gold, silver, palladium, platinum.
What is the best portfolio right now?
If the world economy is going to get better, commodities are going to lead the way because there are shortages developing in all commodities. If the world economy is not going to get better, I promise you, stocks are not going to be a good place to be ... Commodities will be the better place to be because
governments are printing so much money. And if the world economy doesn't get better,
governments are going to print a lot more money. So if you're going to own something, you should own commodities or you should own currencies; that's another way that you can invest in what's going on in the world. Or you can buy a farm. I mean, farmers are going to be extremely rich in the next couple of decades. ... I am more bullish on agriculture than I am on gold, for instance. Many agriculture products are very depressed on a historic basis. I mean I own gold and silver. I own palladium and platinum, but I ... think I would make more money in agriculture in the next few years than I will in precious metals.
What should you buy?
Sectors that are down a lot are often the best place to look. Things like cotton and coffee are terribly depressed on an historic basis. I mean, sugar is making 28-year highs right now,
but it's still 70% below its all time high. Would I buy it today? No, but I own sugar. I'm not about to sell my sugar.
--
Written by Alix Steel in New York
.
Alix joined TheStreet.com TV in February 2007. Previously, she held positions in film and theater production, management, and legal administration. Alix has a degree in communications and theater from Northwestern University.