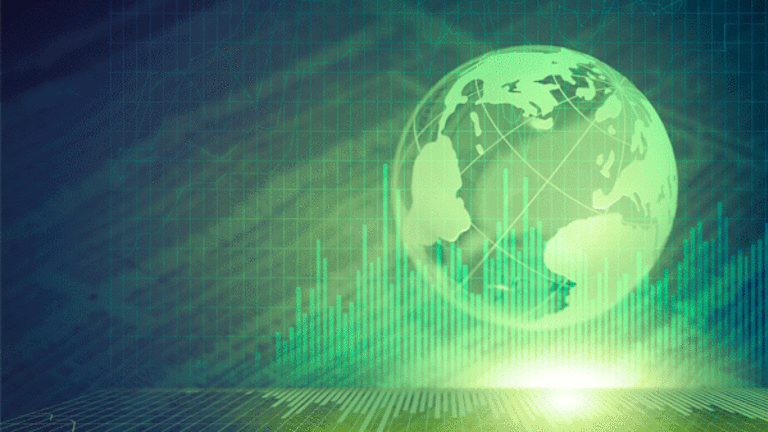 Jim Rogers Doubts the Dollar
Jim Rogers, renowned global investor and author, says gold will go higher and the dollar is on its way out.
NEW YORK (
) -- Jim Rogers, renowned global investor and author, says gold will go higher and the dollar is on its way out.
With gold prices hitting new highs, physically backed ETFs like
SPDR Gold Shares
(GLD) - Get SPDR Gold Shares Report
,
ETFS Gold Trust
(SGOL) - Get Aberdeen Standard Physical Gold Shares ETF Report
and
iShares Comex Gold Trust
(IAU) - Get iShares Gold Trust Report
are seeing heavy volume. Investor demand has driven the popular SPDR Gold Shares to add almost 50 tons of the precious metal since Sept. 1, boosting its market cap another $1.6 billion.
Gold mining stocks like
Newmont Mining
(NEM) - Get Newmont Corporation Report
,
Barrick Gold
(ABX)
,
Freeport McMoran Copper & Gold
(FCX) - Get Freeport-McMoRan, Inc. Report
and
AngloGold Ashanti
(AU) - Get AngloGold Ashanti Ltd. Report
, although not pure gold plays, have also been trading higher.
Market Vectors Gold Miners ETF
(GDX) - Get VanEck Gold Miners ETF Report
, a basket of large-cap miners, is up 11.61% year-to-date .
Rogers, typically a contrarian investor, has always been a buyer of commodities and a gold lover. What will he do now? Can the dollar keep losing value? Can gold really run much higher? What should your portfolio look like right now?
Watch this video to see what Rogers thinks about the
Federal Reserve
should fail, Chairman Ben Bernanke should resign and the fate of the dollar"
Ben Bernanke, Resign!
Read on to find out more about Rogers' views on gold, the dollar and commodities:
TheStreet: Will the dollar see a bottom?
Jim Rogers: Well, the dollar is a terribly flawed currency so maybe soon it's due for a rally because there are so many pessimists, including me. Whenever everyone is on the same side of the ship, it tips over and you should go to the other side. I hope I'm smart enough ... , if it rallies, to sell more of my dollars and maybe all the rest of my dollars ... The problems for the U.S. dollar are not resolved. I don't like saying this because I am an American citizen and pay America taxes just like you. I don't like saying it, I don't like saying it at all. But we have to deal with fact.
Will the U.S. return to a gold standard?
I would doubt it, but maybe if there is a panic next month people will grab for gold because there isn't anything else to use right now. They could use the euro ... but, no, I don't suspect that we are going to see a gold standard.
Is China hoarding gold?
China's had a very small percentage of its reserves in gold. In the last five years, they've doubled their holdings in gold but it's still tiny, tiny, tiny. I mean, if anyone is hoarding gold, it's the U.S. and the
International Monetary Fund. The U.S. is the largest holder of gold in the world ... China has been diversifying their holdings into gold, many people have. I have. Look at the market, many people have been putting more money into gold, but that's not a drag on commodities -- I think that's bullish. If a big buyer comes into a market, that makes the price go higher.
What will happen if the IMF sells 403 tons of gold?
The IMF is trying and they want to. They've gotten permission and they're going to start selling some of it ... They say they are going to sell it well. I don't know. If they sell it badly, of course, it'll knock down the price of gold for a while. If that happens, I hope I'm smart enough to buy more gold.
Why do you think we are experiencing inflation and not deflation?
Governments around the world are printing huge amounts of money and we have shortages developing in all raw materials, all commodities. The inventories of food are the lowest they've been in decades, not months, not years, but decades. Nobody can get a loan to open a mine and mine reserves are continuing to deplete. So you have shortages developing; on top of that you have gigantic money printing.
Wouldn't high unemployment support deflation?
If that's your view then I suggest that you short gold. Go and short all the commodities and you'll be a very, very rich person and you should buy bonds. I happen to think that down the road, all of this money and the shortages which are developing in food and minerals ... are going to lead to much higher prices. Yes, there is unemployment in the U.S. right now and it may or may not get worse. But remember, the U.S. is not the only place in the world right now.
Would you own any U.S. stocks right now?
I don't.
--
Written by Alix Steel in New York
.
Alix joined TheStreet.com TV in February 2007. Previously, she held positions in film and theater production, management, and legal administration. Alix has a degree in communications and theater from Northwestern University.