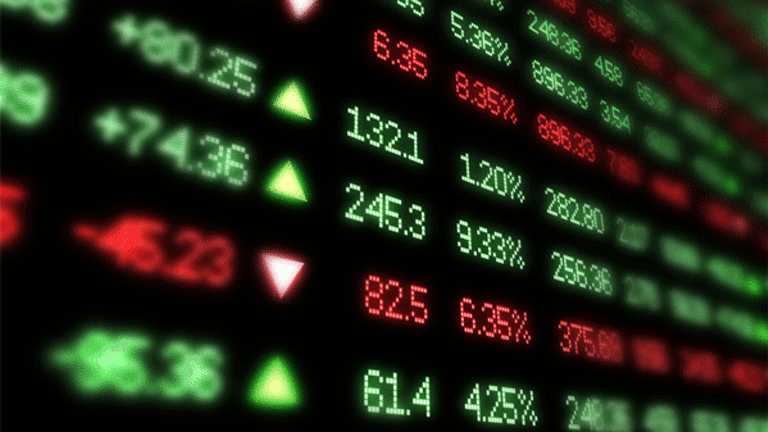 Iranian Standoff Good for Gold
Commodities advance as geopolitical tensions rise and the dollar falls.
Updated from 12:44 p.m. EDT
Gold soared to new multiyear highs Friday, rebounding from sharp declines in the previous session thanks to higher crude oil prices, dollar weakness and revived geopolitical tensions over Iran's nuclear program.
Gold for June delivery jumped $18.20, or 2.9%, to $654.50 an ounce, after touching a new 25-year intraday high at $655.50. The June contract has gained nearly $68, or 12%, in the month of April.
Silver for May delivery soared $1.04, or 8.3%, to $13.63 an ounce, marking a 17% gain for April. May copper advanced 7 cents to $3.33 a pound, after hitting a record high at $3.49 on Wednesday.
Speaking on Friday, the day a UN Security Council deadline for Iran to stop its nuclear program expires, Iran's President Mahmoud Ahmadinejad again rejected Western demands. "Those who want to prevent Iranians from obtaining their right, should know that we do not give a damn about such resolutions," the
BBC
quoted Ahmadinejad as saying.
The remarks helped lift crude oil prices 43 cents to $71.40 a barrel in recent action.
Speaking to reporters on the White House lawn, President George W. Bush said Friday the U.S. would try to work the issue through diplomacy. In early April, media reports suggested the Bush administration was considering a military attack of Iran. The administration, which neither confirmed or denied the reports, later said that "all options" were on the table.
Tensions over Iran's nuclear ambitions pushed crude futures above $75.00 last week, which had helped lift the price of gold and other metals. But with no new major developments concerning the situation taking place earlier this week, some profit-taking in the red-hot metals markets was seen.
On Thursday, gold, silver and copper came under pressure after the People's Bank of China unexpectedly lifted interest rates for the first time since October 2004. The move, aimed at cooling the fastest-growing economy in the world, sparked concerns that a slowdown in global growth would cap demand for commodities.
But the pullback in metals was "just a knee-jerk reaction," says Tom Hartmann, a metals analyst and broker at Altavest. "One rate hike isn't going to change things" in a country where first-quarter growth was north of 10%.
"Now, it's back to Iran," Hartmann says.
The International Atomic Energy Agency, the UN's nuclear watchdog, told the Security Council on Friday that Iran has failed to comply with the UN deadline to halt uranium enrichment. U.S. Secretary of State Condoleeza Rice this week said the UN must take action if Iran is found to have enriched uranium.
But Iran, the world's fourth-largest producer of crude oil, refuses to halt nuclear research, which it says is for civilian use.
Meanwhile, gold is benefiting from the standoff, as it serves as a hedge against inflation and as a safe-haven asset in times of geopolitical uncertainty. Gold, and other commodities, also benefited from renewed weakness in the dollar, which was down again in the wake of
Fed
Chairman Ben Bernanke's
dovish comments Thursday. The euro was recently trading at its highest level since May 2005. The dollar has fallen 3.9% vs. the euro and 3.4% vs. the yen in April.
A weak dollar raises the value of dollar-denominated commodities, such as gold, as it takes more of the currency to buy the same amount of commodity.
According to Peter Spina, gold analyst at goldseek.com, there's also a currency story supportive of gold behind the nuclear standoff with Iran: Iran's plans to launch a bourse to trade oil in euros instead of dollars, a move that would encourage central banks to diversify their foreign exchange reserves away from the U.S. currency.
Kamal Daneshyar, who heads Iran's Energy Commission, said last week that the oil bourse will become operational within the next two months, according to
Iran Daily
.
"All indications are that the geopolitical tensions will continue to support gold at this juncture with the breakdown in the U.S. dollar adding even more ammo to the run," Spina wrote.
He believes that gold, has now "great support" at $600 an ounce, a level it breached just a few weeks ago, and that it can reach $700 in May.
Silver, meanwhile, defied expectations that it would drop on Friday, as a silver exchange-traded fund -- the
iShares Silver Trust
(SLV) - Get Free Report
-- was officially launched. The fund, much like the
streetTRACKS Gold
(GLD) - Get Free Report
fund, should make investing in the commodity easier for retail investors. But traders expected silver, which has risen sharply in anticipation of the ETF, to be subject to profit-taking, as happened to gold after the launch of its ETF.
Silver, though, unlike gold, is also widely used as an industrial metal. The new ETF, which is being backed by physical silver, will reduce supply and eventually boost prices, according to Hartmann. "It's going to force the commercial side to buy now on expectations that supply may be tightening," he says.
Copper, meanwhile, was rebounding strongly after news that workers at
Falconbridge's
( FAL) Lomas Baya mine in Chile voted to strike after the Canadian miner rejected their demands for pay increases, according to
Bloomberg
.
In recent action, Falconbridge was rising 2.3% amid sharp gains for mining stocks.
The Philadelphia Gold and Silver index was recently up 3.4%, the Amex Gold Bugs index was up 4.1%, and the CBOE Gold index was up 4.4%.
Among the biggest gainers,
Golden Star Resources
(GSS) - Get Free Report
was rising 7.35% and
Glamis Gold
(GLG) - Get Free Report
was up 6.25% after UBS upgraded both stocks to buy from neutral.
Elsewhere,
Agnico-Eagle Mines
(AEM) - Get Free Report
was up 7.5%,
Coeur D'Alene
(CDE) - Get Free Report
was up 5.8% and
RandGold Resources
(GOLD) - Get Free Report
was up 4.8%.