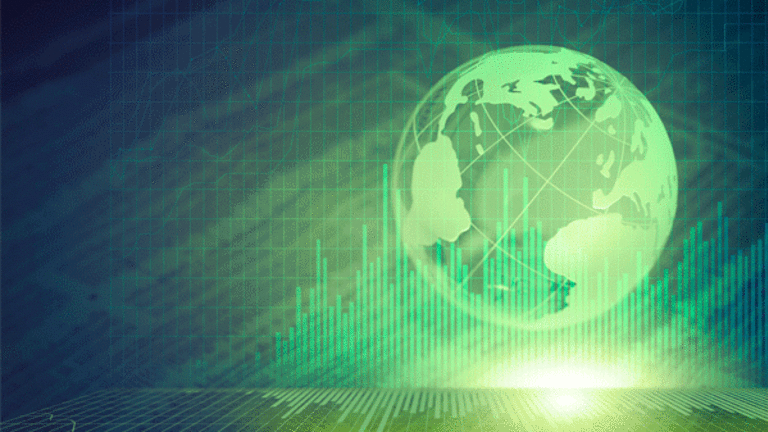 Iranian Oil Threats a Win-Win for China
China could win big oil concessions from Iran as the Islamic Republic faces the threat of losing major oil revenue from tightening Western sanctions over its controversial nuclear program.

NEW YORK (TheStreet) -- China could win big oil concessions from Iran as the Islamic Republic faces the loss of major oil revenue from the tightening Western sanctions over its controversial nuclear program.
China currently buys one-third of Iran's oil exports, according to Rachel Shoemaker, head of Asia forecasting at specialist intelligence agency Exclusive Analysis, and losing a major customer like China, as other customers bow to Western pressure, is something that Iran simply cannot afford. Oil is a major source of the country's revenue that it needs both to keep the economy going and fund social programs required to keep its population content.
"Iran still needs the revenue generated from selling oil to run its economy," says Argus Research analyst Philip Weiss.
Right now, Iran is already at risk of losing this major customer, despite their important political ties, as China comes under mounting pressures by the West to reduce its imports of Iranian oil -- as are other important Asian players such as India, Japan and South Korea.
This, as the U.S. increasingly targets Iranian banks that handle such trades and urges countries such as China to seek alternate crude supplies, which the U.S. is trying to convince the United Arab Emirates and Saudi Arabia to provide, according to Shoemaker.
Today, Japan's finance minister Jun Azumi said that Japan will take concrete steps to cut oil imports from Iran.
Ultimately, all cards could fall in China's favor.
Shoemaker and her colleague, Teymur Huseynov of Exclusive Analysis' head of global energy consulting, for instance, say that Iran is likely to reduce official sales prices to the Asia-Pacific to try to beat offers from Saudi Arabia, and possibly Iraq.
"China is happy to get alternate supply sources if the U.S. will arrange them, while also benefitting from better prices negotiated with Iran -- this is the ideal position for China as it's a double win and provides more energy sources to mitigate supply issues," says Shoemaker.
Nic Brown, head of commodity research at Natixis says that Iran is already showing some signs of yielding, as it has cut prices for February crude deliveries to Asian buyers by $2 a barrel or more versus January prices.
"China is fantastic at manipulating market situations that plays into their hands" says Rich Ilczyszyn, Chief Market Strategist and Founder of iiTRADER.com.
Still, China's negotiating power could eventually hit a limit, especially if Iran were to retaliate against sanctions through the shutdown of the crucial Strait of Hormuz that allows the passage of as many as 20 million barrels of crude oil a day on tankers.
"If oil prices rally to $125 to $150, Iran will still command a good price for their oil and they have plenty to sell," says Carl Larry, president of Oil Outlooks and Opinions. "Iran has been busy storing a lot of their production on ships and are ready to move. These ships are outside the Persian Gulf so they would not be disrupted by any sort of conflict or disruption in the Strait of Hormuz."
A member of the Iranian military takes position in a drill on the shore of the sea of Oman, on Friday, Dec. 30, 2011. Iran's navy chief has reiterated for a second time in less than a week that his country can easily close the strategic Strait of Hormuz at the mouth of the Persian Gulf, the passageway through which a sixth of the world's oil flows.
Market rumors says that Iran has about 4 million to 8 million barrels on floating storage, says Larry.
Brown, head of commodity research at Natixis, also agrees that China would be able to command lower prices only to a certain extent, but with the view that "it is very difficult to implement a water-tight embargo."
"It is inevitable that a lot of Iranian oil will continue to leak through into the market, albeit through more circuitous routes."
Also, despite the growing number of Iranian customers who are now switching to Saudi Arabian oil, there is at the moment still "plenty of other potential takers" of Iranian oil, with Russia for one, speaking out against the oil embargo, says Brown.
Like Brown and Larry, BNP Paribas' head of commodity markets strategy Harry Tchilinguirian is taking a wait-and-see approach on how much China could benefit from the tensions, explaining that the crucial driver behind how much of a reduction Iran is willing to take on its oil products will also depend on how much volume of Iranian oil comes under embargo.
"Will India and Korea follow suit is another question?," he said, in reference to Japan's announcement that it will take steps to reduce its oil ties with Iran.
Depending on the amount of oil that comes under embargo, "the more pressure on Iran to discount its crude aggressively," Tchilinguirian explains.
While many analysts think that China will play both sides of the Western-Iranian tensions to its advantage, analysts such as Gal Luft , executive director at the Institute for the Analysis of Global Security, says that the country is already showing signs of really bowing to Western pressures; Luft says China's crude imports from Iran fell by half this month and that this reduction is projected to continue.
"The Chinese leadership has finally realized that its current ties with Iran are becoming a geopolitical liability and I don't foresee them making any trade moves in the near future," he said; though Exclusive Analysis' Shoemaker points out that completely paring down its oil ties with Iran would be a very difficult decision for China, as it views Iran as a "key conduit to influence the Middle East, especially as its relations with the U.S. are poor."
Overall, says Crispin Hawes, head of Eurasia Group's Middle East and North Africa practice, any truly substantial benefits China could take away from the Western-Iran tensions would likely take place further down the road. As Brown of Natixis had said, there are still many takers of the country's oil at this moment despite the growing number customers now turning to Saudi Arabian oil. Thus, the limited oil price reductions that Iran appears to be making.
For months, Iran had largely refused to budge to Chinese requests for prices cuts, according to Hawes, forcing China to sign expensive supply contracts with Russia and Vietnam at a premium, as part of a strategy to force the Iranians to cut prices.
From an equities perspective on Iran, Morningstar energy analyst Allen Good says any oil producer would benefit from oil prices should something happen in the country -- such as the closure of the Strait of Hormuz. One example would be
BP
(BP) - Get Free Report
, which today was upgraded to buy by
Jefferies.
Analysts cited its potential to demonstrate good free cash flow growth in 2012, potentially leading to dividend increases.
Good thinks this type of oil price increase would be particularly beneficial to domestic players such as
SandRidge Energy
(SD) - Get Free Report
and
Whiting Petroleum
(WLL) - Get Free Report
as well as oil sand plays such as
Suncor Energy
(SU) - Get Free Report
and
Canadian Natural Resource
(CNQ) - Get Free Report
, given their relative political safety. Mid-continent refiners such as
HollyFrontier
undefined
and
Western Refining
(WNR)
would also get a boost if the price spread between the European benchmark Brent crude product and the U.S. West Texas Intermediate (WTI) product were to widen on any trouble in Iran.
-- Written by Andrea Tse in New York.
>To contact the writer of this article, click here:
Andrea Tse
.
Copyright 2011 TheStreet.com Inc. All rights reserved. This material may not be published, broadcast, rewritten, or redistributed.