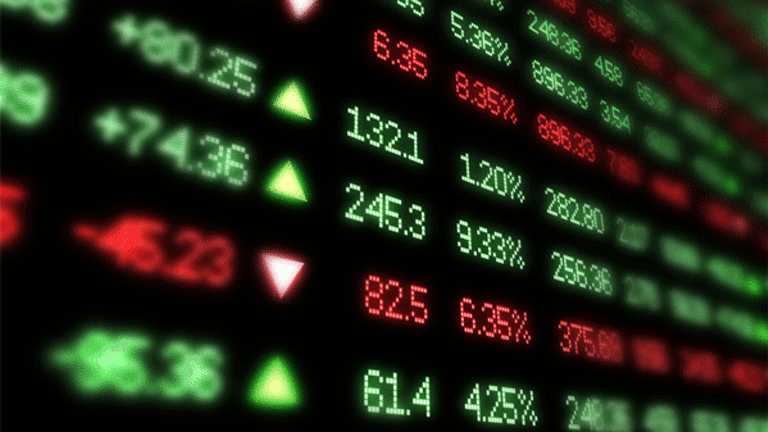 Inventory Fears Sink Crude
Oil futures plunge to a seven-month low on expectations for another big build.
Updated from 12:27 p.m. EDT
Crude futures plunged to a fresh seven-month low Tuesday as traders disregarded Venezuelan and Nigerian production cuts and focused on high fuel inventories and a reduced hurricane forecast.
Light, sweet crude for November delivery shed $2.35 to settle at $58.68 a barrel on the New York Mercantile Exchange. This week, oil futures are off more than $4 on plentiful fuel supplies.
Crude's decline was mixed in the rest of the energy market, with heating oil slipping 4 cents to $1.65 a gallon, and unleaded gasoline losing 5 cents to $1.45 a gallon. Natural gas was up 11 cents to $5.75 per million British thermal units.
Traders are looking for another increase in gasoline and distillate stockpiles in the U.S. Energy Department's weekly supply report due out Wednesday morning. Energy analysts polled by
Bloomberg
expect gasoline and distillates, which include heating oil and jet fuel, to have risen by 1.5 million barrels last week.
As refiners made more gasoline and distillates last week, crude stockpiles likely fell by 1.1 million barrels. Supplies of gasoline are rising because fewer Americans are taking vacations and distillates are high since refiners are ramping up production before the winter heating season.
Inventories of distillates are 15% higher than last year, gasoline stockpiles are 9% greater, and crude supplies are 5% above last year. Some of the increase, though, can be chalked up to lower production after Hurricanes Katrina and Rita plowed through the Gulf of Mexico last fall and shut down much of the region's petroleum industry.
Inventories will probably remain high this year because the hurricane season is almost over and no major storms are expected this year. Forecasters at Colorado State University revised their projections for the third time this year and now expect only two more tropical storms by Nov. 30, the end of the season.
There have been nine named storms so far this year, down from 28 last year. The drop in storm activity was chalked up to El Nino conditions, which have warmed the waters of the eastern and central Pacific Ocean.
Inventories will also be helped by the U.S. Energy Department's decision to delay replenishing the country's strategic oil reserve this winter. The federal government tapped the reserve last year to help supplement supplies lost after Hurricane Katrina and was supposed to buy more supplies this fall. But the Energy Department decided not to pressure the oil market.
Beginning this month, Venezuela and Nigeria have trimmed their output to help shore up sagging oil prices. The two broke from OPEC's official policy to maintain output at record levels by announcing the reductions. OPEC maintains its hold on world oil prices by limiting how much crude its 11 member countries produce.
Nigeria has reduced daily output by 120,000 barrels, or 5%, while Venezuela is producing 50,0000 fewer barrels of crude, down from 2.5 million barrels.
Militant attacks on Nigerian oil platforms and pipelines have shaved output by 800,000 barrels per day.
Reuters
reported rebels kidnapped 20 oil workers on Monday and advised oil companies to stay out of the Niger Delta, the source of much of the country's crude production.
The energy markets, though, have not been taking the cuts seriously because the two countries are already producing below their OPEC quotas. Only if a significant crude producer, like Saudi Arabia, opted to slash exports would traders likely take notice.
OPEC head and Nigerian oil minister Edmund Daukoru called on other OPEC members to reduce exports, though he said the group had not scheduled an emergency meeting to shave production.
"I hope that we've viewed the market correctly and that other countries in OPEC will respond in the same way," Daukoru told
Dow Jones
.
Meanwhile, energy shares were trading 3% lower on the Amex Oil and Philadelphia Oil Service Indices on weaker crude prices, an outflow of investor money and revised expectations for the industry. Investment bank Lehman Brothers downgraded the oil and gas sector to negative, and Merrill Lynch cut the energy sector to underweight.
Drillers and refiners,
Valero Energy
(VLO) - Get Valero Energy Corporation Report
,
Hess
(HES) - Get Hess Corporation (HES) Report
and
Sunoco
were posting the largest declines, down over 4% each.
The largest publicly traded oil company
Exxon Mobil
(XOM) - Get Exxon Mobil Corporation Report
was off 1.8% at $65.76.
Among energy stocks in the news,
Helix Energy Systems
(HLX) - Get Helix Energy Solutions Group, Inc. Report
was down 6.1% after cutting its 2006 earnings estimates while
ConocoPhillips
(COP) - Get ConocoPhillips Report
was off 3.5% after saying its third-quarter production will probably decline 5% sequentially, largely due to the problems at Alaska's Prudhoe Bay oil field.