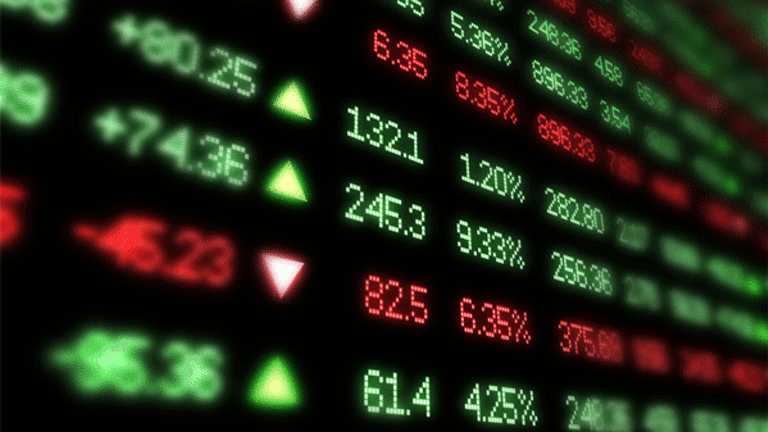 Inventories Up, Crude Dips
The DOE says oil stockpiles rose by 2 million barrels last week.
Updated from 10:58 a.m. EST
Oil futures were essentially flat Wednesday after domestic crude inventories soared last week in a government report. The increase underlined how well supplied the markets are on the first day of OPEC's production cut.
Light, sweet crude dipped 2 cents to $58.71 a barrel on Nymex. The front-month contract has been falling this week on robust supplies and the country's largest oil field returning to full production.
Wholesale unleaded gasoline finished 3 cents higher at $1.46 a gallon after supplies fell by almost triple analysts' expectations. Heating oil closed down 1 cent at $1.65 a gallon and natural gas added 17 cents to $7.71 per million British thermal units.
Crude stockpiles rose by 2 million barrels to 334.3 million barrels last week and now stand 4.6% above last year. The increase was widely expected once the Louisiana Offshore Oil Port, one of the country's largest import terminals, reopened last week. It had been closed for three days.
Inventories also climbed because many refiners are still undergoing seasonal maintenance before the winter heating season. Refining capacity was 88.9% last week, up from 86.2% the previous week.
Output of gasoline and distillates, which include fuels like heating oil, climbed last week as refiners returned to production. But the pickup in production wasn't enough, and supplies of gasoline tumbled by 2.8 million barrels and distillates fell by 2.7 million barrels. Gasoline stockpiles are a little over 2% higher than last year, and distillates are about 13% greater.
Inventories will be given a boost now that
BP's
(BP) - Get BP p.l.c. Sponsored ADR Report
Prudhoe Bay oil field in Alaska, the country's largest, is back in full production of 400,000 barrels per day. After discovering pipeline leaks and corrosion in August, BP shut down a portion of the field and didn't expect to return to full operation until February.
The oil giant has been beset with problems, ranging from a refinery explosion in Texas last year to allegations of price fixing of propane. The oil giant has recently replaced some of its top executives to clean up the problems, such as the head of BP America, and, as of today, the chief of BP's Alaska division.
OPEC's production cut likely won't affect domestic supplies until temperatures drop and reduce some of the country's high fuel inventories. As the weather grows colder, homeowners will crank up their furnaces and use more heating oil, natural gas and crude. Some utilities are powered by natural gas, and crude is refined into petroleum products such as heating oil.
The Organization of the Petroleum Exporting Countries agreed to slash inventories by 1.2 million barrels starting this month, but analysts doubt all 11 member countries will go along with it. As it stands, only five members have publicly said they would decrease output. Still, analysts here won't know the full extent of the cuts until OPEC crude makes it to the U.S.
Nigeria said in October it would shave exports by 5%, but has instead moved to increase them, according to
Reuters
. This month, Nigeria will likely export 50,000 more barrels of oil for a total of 2.09 million barrels.
Other members have made similar motions to keep crude shipments the same, which would undercut the reduction.
Last month, OPEC decided to cut back output after oil prices dipped below $60. The group, which controls around 40% of the world's crude, has long maintained that it was content for prices to stay at or above $60.
The Amex Oil Index was recently down a fraction, with declines led by
ConocoPhillips
(COP) - Get ConocoPhillips Report
,
Occidental Petroleum
(OXY) - Get Occidental Petroleum Corporation Report
,
Valero Energy
(VLO) - Get Valero Energy Corporation Report
and
Repsol
( REP).
BP
(BP) - Get BP p.l.c. Sponsored ADR Report
was the sole gainer among the index's 13 drillers and refiners, recently rising 0.2% to $67.20.
Onshore drilling company
Patterson-UTI Energy
(PTEN) - Get Patterson-UTI Energy, Inc. Report
saw profits surge 75% during the third quarter to $1.86 million, or $1.12 a share. Sales jumped 44% to $674 million, thanks to high prices and soaring demand for drillers.
Company shares were recently declining 1.4% to $22.87.
Noble Energy
(NBL) - Get Noble Energy, Inc. (NBL) Report
clocked in an 80% surge in profits to $318.1 million, or $1.75 per share vs. the same period last year. Revenue for the natural-gas driller came in at $741 million in the third quarter, compared with $632 million last year.
Noble's stock was last falling 2.3% to $47.51.
Natural gas driller,
Devon Energy
(DVN) - Get Devon Energy Corporation Report
, wasn't as lucky and saw quarterly profits inch down 5% to $705 million, or $1.59 a share. Lower natural gas prices, deferred tax benefits and other special items shaved net income during the third quarter. Revenues increased to $2.72 billion, up from $2.7 billion last year.
Devon shares were last down 0.6% to $66.43.