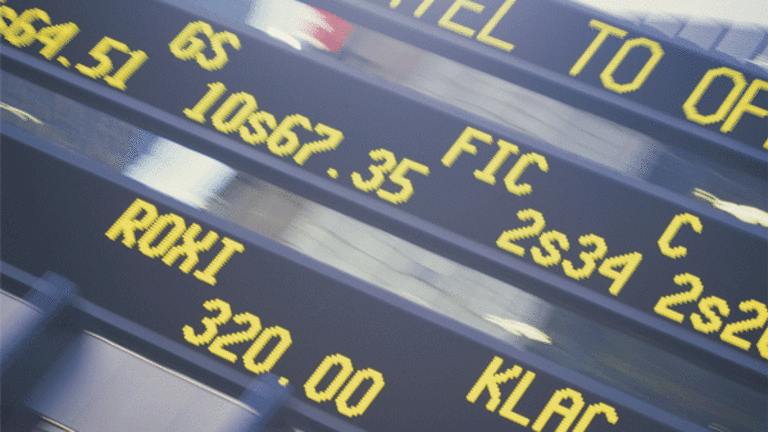 Inventories Spoil Energy Rally
Crude prices give up early gains and natural gas prices tumble.
Updated from 11:08 a.m. EDT
Oil prices fell below $64 a barrel Thursday after natural gas inventories rose more than expected last week.
Light, sweet crude for October delivery gave back 75 cents to settle at a five-month low of $63.15 a barrel on Nymex. Oil prices typically fall in September when refiners are starting maintenance work before the beginning of the winter heating season. Heating oil shed 3 cents to $1.71 a gallon, and wholesale unleaded gasoline fell 1 cent to $1.55 a gallon.
Natural gas plummeted 55 cents to eke out a fresh two-year low of $4.89 per million British thermal units after domestic supplies soared more than expected. In its weekly fuel update this morning, the U.S. Energy Department said inventories climbed by 108 billion cubic feet to 3 trillion cubic feet last week. Analysts polled by
Bloomberg
had expected an increase of 90 billion cubic feet.
"We are now sitting on over 3 trillion cubic feet of inventories, the highest level for this time of the year in almost 15 years, and the most comfortable stock going into a winter season in recent history," said Rakesh Shankar, an energy analyst at Moody's Economy.com.
With little hurricane activity and strong inventory levels ahead of the winter -- supplies now stand 12% above last year at this time -- prices, which are currently at two-year lows, have nowhere else to go but down.
"Given that energy markets are not worried about supplies and the U.S. economy is seen as slowing, we should expect additional downward pressure on already low prices," said Bart Melek, senior economist at BMO Nesbitt Burns in Toronto.
Supplies of natural gas, which is used to power electric-generating plants, have been advancing, thanks to mild summer temperatures across the country. Hurricane Florence was petering out off the coast of Newfoundland, while Gordon was upgraded to a hurricane, though it was not expected to come ashore. Tropical Storm Helene, the eighth named storm of the season, was moving west of the Cape Verde islands across the Atlantic.
In earlier trading, oil prices had been rising and traded as high as $64.65 after the International Monetary Fund raised its forecast for oil prices next year and after little progress in talks with Iran concerning its nuclear program.
The IMF forecasts oil prices will average $69.20 this year and $75.50 next year on supply threats and potential security problems in the Middle East, the source of much of the world's crude. Prices also could soar on increased demand if growth picks up as expected.
Global economies are forecast to grow by 5.1% this year, up from an April forecast of 4.9%. In 2007, growth is pegged at 4.9%, compared with a previous estimate of 4.7%, according to the bank's biannual World Economic Outlook.
However, growth could falter if inflation soars, oil prices hit new highs and the U.S. housing market enters a slowdown.
The U.S. called for immediate sanctions against Iran yesterday for its refusal to halt uranium enrichment, while France, China and Russia have counseled restraint and more negotiations. Iranian President Mahmoud Ahmadinejad said Thursday the dispute could be resolved through talks and that "we are ready for new conditions,"
Reuters
reported. He did not specify what those conditions would be.
A meeting between Iran and the European Union scheduled for Thursday was canceled Wednesday, and no reason was given for the cancellation.
Iran and the West have been locked in a tussle over the Islamic country's nuclear program since February, when Iran restarted enrichment after a two-year hiatus. Tehran maintains it needs additional power from nuclear energy for its growing population, while the West contends the move is a ruse to build atomic weapons.
Energy shares were falling up to 2% on the Amex Oil and Natural Gas Indices after posting marginal gains earlier.
Sunoco
(SUN) - Get Sunoco LP representing limited partner interests Report
,
Hess
(HES) - Get Hess Corporation Report
and
Occidental Petroleum
(OXY) - Get Occidental Petroleum Corporation Report
were leading decliners on the Amex Oil Index, down 3%.
Natural gas producers
Southwestern Energy
(SWN) - Get Southwestern Energy Company Report
,
EOG Resources
(EOG) - Get EOG Resources Inc. Report
,
Devon Energy
(DVN) - Get Devon Energy Corporation Report
and
El Paso
(EP) - Get Empire Petroleum Corporation Report
were posting the largest declines, from 3% to 6%, on the Amex Natural Gas Index.