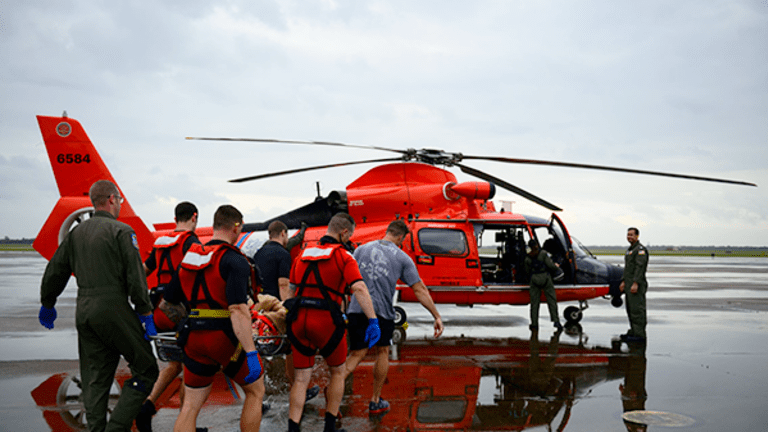 Hurricane Harvey Shuts Pipeline, Ups Gasoline Prices and Prompts Reserve Release
The move comes as U.S. gasoline prices skyrocketed Thursday morning due to an East Coast pipeline shutdown by the nation's largest gasoline transporter, Colonial Pipeline Co.
Oil prices were rebounding Thursday after the U.S. Department of Energy said it would release 500,000 barrels of crude oil from the Strategic Petroleum Reserve to help mitigate the effects Tropical Storm Harvey is having on motor fuel supply and prices. 
West Texas Intermediate crude contracts for October delivery were up more than 2% to $47.06 a barrel, while Brent futures climbed about 3% to around $52.35 a barrel by 3 p.m.
Refiner Phillips 66 Co. (PSX) - Get Phillips 66 Report will take delivery of the oil at its facility in Lake Charles, La., which has not been affected by Harvey. It is possible the U.S. DOE reaches further arrangements with other area refiners, as the U.S. consumes roughly 20 million barrels of petroleum products daily and more than a fifth of the country's refining capacity has been taken offline by the storm.
The Strategic Petroleum Reserve, set up in the early 1970s after the Arab oil embargo caused panics over fuel supply, contained 684 million barrels of oil in May.
"The Department will continue to provide assistance as deemed necessary, and will continue to review incoming requests for SPR crude oil," DOE spokeswoman Jess Syzmanski said in an emailed statement. "Should the Secretary decide to approve additional requests for an emergency exchange of crude oil from the SPR, the public will be notified."
According to some industry followers, the immediate impact of Harvey will be a rapid draining of Atlantic Basin product stocks. 
"European gasoline flows to the U.S. can offset what the country needs for now, but we expect wide product cracks for some time," said Jeff Quigley, director of energy markets at consulting and analytics firm Stratas Advisors. "We think the market slow played this and that product prices and cracks have more room to run."
The news comes as gasoline futures were trading at their highest point since mid-2015 on Thursday. The movement in gas is largely due to Wednesday remarks from one major gasoline pipeline operator, Colonial Pipeline Co., which has shutdown its facilities west of Lake Charles and said it would temporarily suspend service of its pipeline delivering gasoline from Houston to Linden, N.J. 
"Due to supply constraints caused by storm-related refinery shut-downs and the impact to Colonial's facilities west of Lake Charles, Colonial's Line 2, which transports primarily diesel and aviation fuels, will suspend service this evening," the company wrote in a Wednesday evening statement. "For the same reasons, we expect that Line 1, which transports gasoline and is currently operating at reduced rates, will suspend service tomorrow (Thursday)."
The Alpharetta, Ga.-based company said once it able to ensure its facilities are safe to operate and refiners in and east of Lake Charles, La. have the ability to move product to Colonial, it will resume operations. 
"The operability of the Colonial pipeline is obviously a huge issue," Quigley told TheStreet. "If the refineries are able to get back online before Colonial, Jones Act waivers could be granted (like they were in Hurricane Sandy) to barge volumes up to [New York Harbor] or other major demand centers. But again, this is only if there is a supply backup - the supply needs to come back first.
Next week, Stratas expects the EIA to report a draw of 13 million barrels of gasoline and up to 10 million barrels of diesel. 
Colonial posted an update Thursday stating its pipelines should return to full service by Sunday. 
Tropical Storm Harvey, formerly a Category 4 hurricane, has resulted in thirteen refinery closures so far, including the largest plant in the U.S., Motiva with 603,000 barrels per day of capacity. Motiva, formerly a joint venture between Royal Dutch Sell plc (RDS.A) and Saudi Arabian Oil Co., is now fully operated by an affiliate of Saudi Refining Inc.
Motiva is one of three mega-refineries to be shuttered in the Port Arthur/Beaumont region of Texas, according to analysts. Valero Energy Corp. (VLO) - Get Valero Energy Corporation Report and Exxon Mobil Corp. (XOM) - Get Exxon Mobil Corporation Report also have shuttered their refineries in the area, both with between 350,000 and 400,000 barrels per day of capacity.
Colonial said that 13 of the 26 refineries that connect to the its system are located between Houston and Lake Charles. 
And several Gulf Coast refinery and chemical plant operators have reported leaks and explosions at facilities in recent days, including Exxon Mobil and Arkema SA. 
The extent of damage to Gulf Coast refineries and the duration of outages is uncertain at this point, but Goldman, Sachs & Co. estimated Thursday that 10% of the currently offline capacity could remain unavailable for several months. 
In the meantime, analysts are betting refiners in the Midwest and Mid-Continent will see elevated stock prices, including CVR Refining LP (CVRR) , Delek US Holdings Inc. (DK) - Get Delek US Holdings Inc Report and HollyFrontier Corp. (HFC) - Get HollyFrontier Corporation (HFC) Report ; Marathon Petroleum Corp. (MPC) - Get Marathon Petroleum Corporation (MPC) Report and PBF Energy Inc. (PBF) - Get PBF Energy, Inc. Class A Report and Valero.
Hurricane Harvey sends gas prices soaring nationwide.
More of What's Trending on TheStreet:
--This story has been updated.