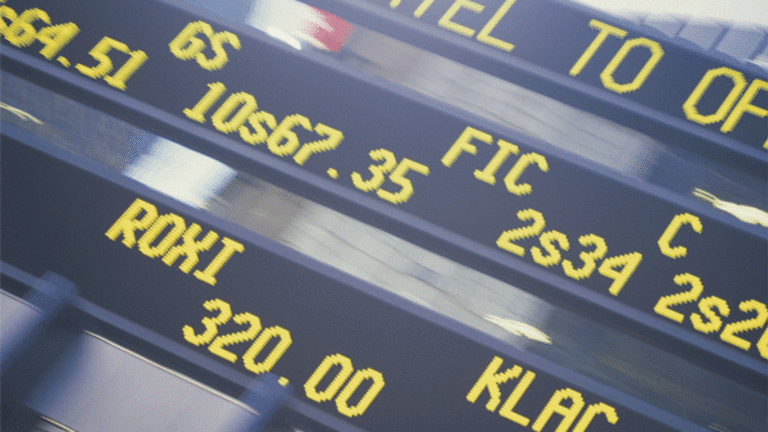 How to Play a Possible Drop in Corn Prices
The rise in prices -- 60% in just a few weeks -- may be overdone.
NEW YORK (TheStreet) -- The grain complex hasn't been lacking in excitement in recent weeks.
This summer's drought across the Midwest has caused huge spikes in the complex across the board, with wheat, soybeans and corn all shooting higher. Corn has recorded new all-time highs, topping out at $8.49 per bushel on Aug. 10 (December futures contract).
Following that day's USDA crop production, supply and demand report, corn made new highs, only to close lower by the end of the session. Although there are a lot of fundamental factors affecting this market now, from a technical standpoint that could possibly be interpreted as a top. Maybe not long term but quite possibly short term.
Corn has risen over 60% in a matter of weeks. In my experience, markets don't typically go straight up or straight down. Therefore, I feel there is a strong likelihood of some back-and-fill trade. There is also a gap on the daily chart down at 675-683. At some point, odds are good that this gap will fill.
Because the market has not been able to extend highs recently, I feel a short position taken here could potentially have a large profit potential in the coming weeks. For those who agree and think a retracement in this market is likely, here is one way to potentially take advantage of this retracement should it occur. Please note today is Aug. 28, and the trade is based on the most recent data: 1. Sell 1 December corn futures contract at $8.00 or better good-until-canceled 2. Place a protective stop above yesterday's high of $818 good-until-canceled 3. Target the gap fill down in the $675-683 area
Stop may be trailed based on an individual's risk tolerance and money management preferences.
Risk-on trade: $945 including a $45 R/T commission inclusive of all fees.
Profit potential: theoretically unlimited down to zero. If target stated above is reached, profit would be $6,205 after subtracting a $45 R/T commission inclusive of all fees.
Please note that mini-corn contracts may be used, in which case risk and profit potential would be one-fifth of above amounts.
Please note: Futures and options trading is inherently risky and isn't suitable for all investors. Past performance isn't indicative of future results. Stop-loss orders meant to limit losses may not be effective because market conditions may make it impossible to execute such orders.
Matt Zeman is a trader at
. He began his trading career as a runner in the grain pits at the Chicago Board of Trade before becoming an arbitrage clerk. Eventually he started trading equity options and stocks. Matt now is a full-time futures broker. He has been a frequent guest on CNBC, Fox and Bloomberg, and provides his views on the stock, bond and futures markets for financial media including Dow Jones, the L.A. Times and The Associated Press. Matt is a member of the Chicago Board of Trade, and carries series 3, 7 and 66 licenses.