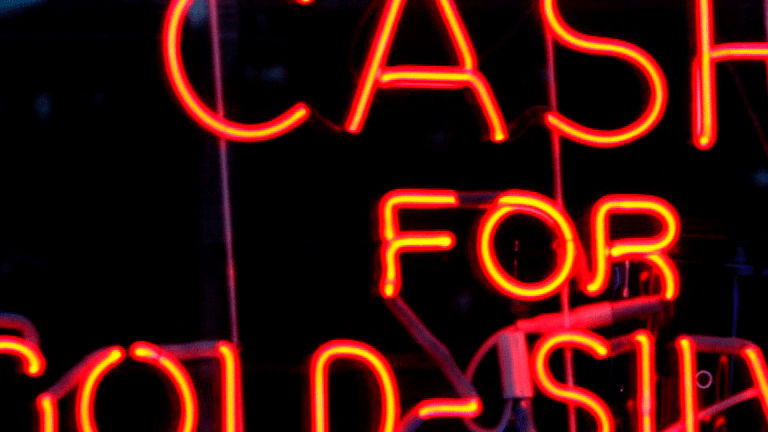 How Gold Prices Have Reacted During Trump's Tumultuous First Year
Gold prices have been on a roller-coaster ride during Trump's first year in office.
When it comes to gold, the yellow metal is a little more resilient to Trump's Twitter rants than his other targets.
Looking at a daily chart since Trump was elected president, gold saw its biggest spike the day the election results came out. The unprecedented win took markets by storm and investors flocked into the safe-haven metal, pushing it up nearly 5% even if the gains were short-lived.
It wasn't until May that the metal saw another notable spike, pushing up nearly 2% as geopolitical uncertainty rose following news that Trump had shared sensitive information with Russia. The metal traded around $1,258.70 an ounce at the time.
And who can forget heightened tensions with North Korea, which saw gold rally some 1.6% in early April.
On the flip side, gold has also seen significant dips during Trump's presidency, most notably in November, shortly after his win.
The 5% election gains were brief, with prices dropping about $40 an ounce on November 11. Investors were quick to jump back into equities as Trump promoted his plans to "make America Great Again."
However, when you look closely, it seems President Trump's approval - or disapproval - ratings might have a stronger correlation with gold prices than his tweets do.
Gold's biggest spikes - from opening prices to intraday high - typically correlated with stronger disapproval ratings for President Trump. For instance, on May 17, gold rallied nearly $25 from its open to its high. According to fivethirtyeight.com, Trump's disapproval rating stood at nearly 55% that day.
Meanwhile, on gold's biggest down days, which were shortly after Election Day, the President's approval rating stood at 42%, according to Gallup.
More recently, gold prices have caught a nice bid as investors fear rising inflation thanks to Trump's to new tax plan. Overall, gold prices have risen about 12% since Trump's inauguration. 
Get ready for another crazy year.
By Sarah Benali for Kitco News
TheStreet's feature series "Inside Trump's First Year" looks at the biggest stories in business over the last year fueled by one of the most unpredictable presidents in history. Most importantly, TheStreet offers a glimpse into what could happen in 2018 on a range of issues -- and stocks -- in what will probably be an equally chaotic second year for Trump. Read more by tapping the photo below.