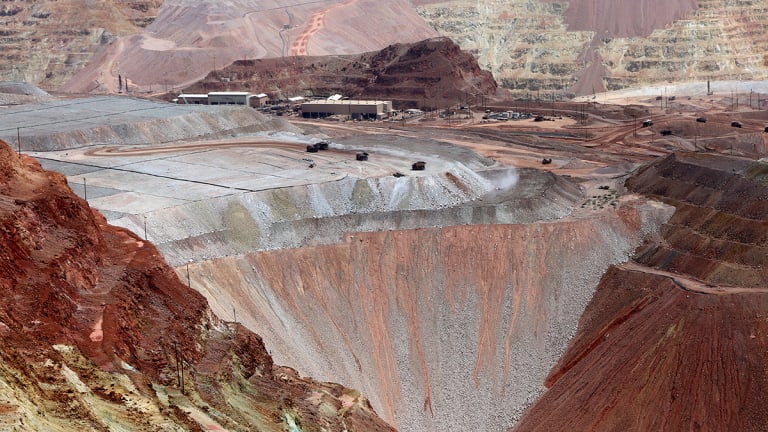 How Just 5 Copper Mines Determine Global Supply
With production down, miners are having to search farther and dig deeper to access copper.
On June 7, copper prices hit a four-and-half-year high of more than $7,300 a tonne. Just ten weeks later, on Aug. 15, the price of copper languished at below $6,000 a tonne, down 19 percent from June and the lowest level since July 2017.
Amidst the hurly burly of screens updating in nanoseconds it is difficult to focus on what ultimately drives prices: supply and demand. Copper supply doubled between 1994 and 2014. Year-on-year growth peaked in 2012, but has been falling sharply since (see the chart below). The immediate supply concerns of the summer have been resolved. The labor disputes at Escondida and another Chilean mine, Caserones, ended in August. But the medium-term supply picture is less bright.
The Five Mines
Freeport-McMoRan's (FCX) - Get Freeport-McMoRan, Inc. (FCX) Report Grasberg mine in Indonesia is expected to contribute around 1 percent of global copper supply in 2019, down from 6.5 percent in 2002, according to analysts at Bank of America Merrill Lynch. New supply is concentrated in just five mines -- Escondida, Cobre Panama, Quebrada Blanca, Spence and Kamoto. The BAML analysts calculate that these mines will account for 80 percent of base case output increases between 2018 and 2022. If prices were to fall below $5,000/ tonne around 80 percent of this new production would be unprofitable with an internal rate of return (IRR) target of 15 percent.
The sharp production decline at Grasberg is typical of the problems increasingly faced by copper miners. It began as an open pit mine which made extraction easy. Future production will largely come from a deep cave deposit, the Deep Mill Level Zone. Hydraulic fracking is used to extract the copper which, as well as being more expensive for the producer, attracts the ire of governments and environmentalists. Seismic activity has already been reported at the Grasberg mine.
Production Down
When Freeport updated markets on Grasberg production on July 25, its stock fell by 6.2 percent. But the geological and environmental issues at Grasberg are far from unique. The mine at Caserones in northern Chile is high in the Andes, more than 4,000 meters above sea level in the Atacama region, one of the most arid places on earth. It has consistently failed to meet production targets in its ramp up stage. Impairment charges incurred by its Japanese owners, JX Nippon Mining and Mitsui & Co, have totaled more than $2.5 billion.
Miners are having to search farther and dig deeper to access copper. Recent price falls may see producers questioning their capital expenditure commitments. Predicting the price of any commodity in the near-term is notoriously difficult. But the supply issues faced by copper miners may mean that copper is now getting close to its bottom.
Written by Andrew Capon. Read more from the author here.
Read more stories like this on OpenMarkets. And for trader tools and resources visit: https://activetrader.cmegroup.com
(This article is sponsored and produced by CME Group, which is solely responsible for its content.)
Read more stories like this on OpenMarkets. And for trader tools and resources visit: https://activetrader.cmegroup.com