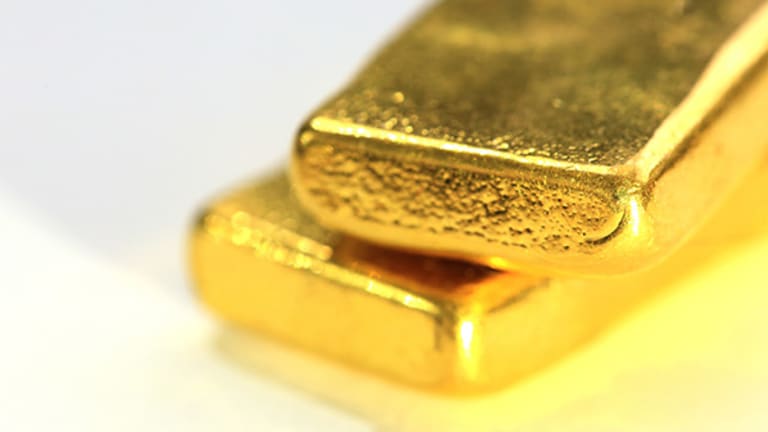 How a 'Bad Moon Rising' Could Break Gold's Breathtaking Fall
Should you be worried by the precipitous decline in gold prices this fall? Not if you're pessimistic about the future of the global economy, says Simon Constable.
Ouch! Gold prices hit the skids recently.
The question is simple: Is this a normal pullback, or is something bigger afoot?
The answer depends on how much global turmoil you see on the horizon, given Britain's decision to leave the European Union, slowing growth in China and Donald Trump's noncommittal stance on accepting the results of the U.S. presidential election.
Together, they offer enough portents to justify another cover of Credence Clearwater Revival's apocalyptic Bad Moon Rising. None of them, however, have been enough to hold up the precious metal's price in the past month; it has fallen from $1,340 per troy ounce in September to a recent low of $1,252.40, according to data from Kitco. That partially reverses a rally from $1,050 which started last December.
The SPDR Gold Shares exchange-traded fund (GLD) - Get SPDR Gold Shares Report , which holds bars of solid bullion moved similarly.
A bear case
Some of the primary drivers of investment in the metal, frequently used as a safe haven during periods of volatility, don't seem to be playing out as expected.
"Inflation has yet to materialize," and many central banks remain wary of the negative rates in Europe and Japan that fueled much of gold's appeal," says Adam Johnson, author of the Bullseye Brief newsletter. "The Gloom Crew would have us believe fiat currency is doomed, and only gold provides a long-term store of value. They are wrong."
Worries about the future of the U.S. dollar and its spending power are much exaggerated, Johnson says; it's still king of currencies and doing quite well, thank you very much.
Certainly the evidence on inflation provided by government statistics doesn't suggest an immediate withering of the greenback's purchasing power is in the cards. The Consumer Price Index, one widely used measure, is running considerably below the Federal Reserve's target 2% level, and the core rate, which excludes the volatile food and energy components, is only slightly higher than the target.
Johnson recommends shorting mining stocks, such as those in the VanEck Vectors Gold Miners ETF (GDX) - Get VanEck Gold Miners ETF Report , which holds producers such as Newmont Mining. Short-selling involves the sale of borrowed stock in the expectation that its price will drop, enabling the buyer to purchase enough to cover the sale at a lower price and pocket the difference.
A bull case
The bull case for gold, on the other hand, sees an increasingly unstable world in the future.
"2017 will likely be a period of global upheaval, and with the elections in the U.S. and Europe leading to a more uncertain future -- economically and geopolitically -- it seems prudent to be more fully protected," says Vinny Catalano, global investment strategist at Blue Marble Research.
During the 1980s and 1990s, when there were relatively few major wars, the price of gold fell from a high of $850 an ounce down to less than $300 in 2001, before rallying as the Middle East became a major conflict zone.
Unlike Johnson, Catalano is concerned about the money-printing programs that the Fed and its peers have conducted.
"Central bank monetary activism is also part of the equation, the consequences of which no one, literally no one," can gauge with certainty, he said.
That seems fair, too. No central bank has the experience of unwinding such unprecedented monetary policy programs.
Catalano recommends allocating as much as 4% of a total portfolio to gold, "as insurance against the increasing uncertainty that lies ahead." Investors wanting to follow suit should establish their position in stages rather than one purchase, because it isn't clear whether the recent decline is over.
A longer view
An alternative strategy that may suit long-term investors is devoting a fixed portion of your portfolio, usually between 5 % and 15%, to precious metals. If the world doesn't go to hell, than the gold will perform badly, but the other components, such as stocks and corporate bonds, should appreciate.
And if a crisis does occur, gold does well and you're protected. For instance, when Iranian revolutionaries stormed the U.S. embassy in Tehran and took diplomats and others hostage for more than a year, gold surged to $850. Less than a decade earlier, before president Nixon took the world off the gold standard, the metal had fetched just $35 an ounce . 
This article is commentary by an independent contributor. At the time of publication, the author held no positions in the stocks mentioned.