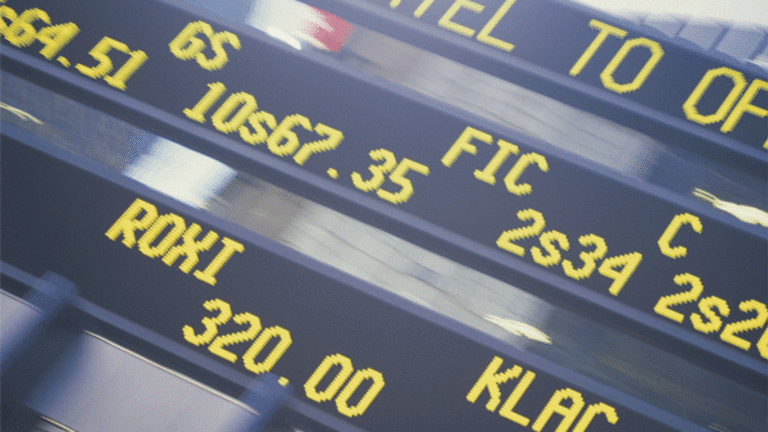 Natural Gas Wins, Bond Yields Rise: Market Bits
Natural gas was the top commodities gainer Friday while treasuries reversed course, pushing yields higher.

NEW YORK (TheStreet) -- Natural gas was a top commodities gainer this past week as nuclear energy suffered another public relations setback.
Natural gas for May delivery finished Friday at $4.50 per million British thermal units, up 4%.
According to reports, workers at one of the damaged nuclear plants in Japan were exposed to radiation levels 10,000 times higher than normal, sparking fears of wider radiation problems in the country. The workers were also suffering from burns.
This, as French President Nicholas Sarkozy said on Friday that French nuclear plants that didn't pass stress tests would be shut down -- France has 58 of them.
"The nuclear setback in Japan is adding to the bullish momentum," said Phil Flynn, a senior market analyst with PFG Best. "With Nick Sarkozy talking about closing French nukes that fail stress test and the coming backlash that is building against nuclear power, no one wants to be short over the weekend."
Although both natural gas and nuclear power have been touted as cleaner energy sources than coal, the recent events in Japan have given natural gas a great public relations boost.
Nat gas plays
Kinder Morgan Energy
(KMP)
and
BP
(BP) - Get Report
finished the trading session up 0.6% and 0.1% respectively.
Treasury bonds fell on hawkish inflation rhetoric from Federal Reserve policymaker Charles Plosser. During a talk in New York, the president of the Federal Reserve Bank of Philadelphia said the central bank must hike interest rates and reduce its balance sheet sooner than later to prevent the adverse economic impact of inflation.
The two-year note was down 2/32, while the yield rose to 0.736%; the 10-year note fell 9/32, with the yield up to 3 .441%. The 30-Year Bond fell 9/32, pushing the yield up to 4.499%.
Leading hedge fund managers including
Paulson & Co,
DoubleLine Capital LP,
Avenue Capital Group
and
Oaktree Capital Management
are interested in bidding on subprime-mortgage bonds that almost brought down insurer
American International Group
(AIG) - Get Report
and were taken into custody by the Federal Reserve to prevent AIG's downfall,
CNBC.com
reported.
Pacific Investment Management Company (PIMCO), manager of the world's biggest bond fund
Pimco Total Return Fund
(PTTRX) - Get Report
, was also interested in bidding, according to
CNBC.com.
Investment management firm
BlackRock
(BLK) - Get Report
has been asked by the
Federal Reserve
to consult on the central bank's potential auction of the large portfolio of subprime-mortgage bonds following AIG's offer to buy them for $15.7 billion, the
Wall Street Journal
reported. The Maiden Lane II portfolio is valued about $30 billion. The
WSJ
report said banks
Barclays
(BCS) - Get Report
and
Credit Suisse
(CS) - Get Report
were also rumored to be interested in the bonds.
Grain prices settled in negative territory on technical profit taking ahead of the weekend after climbing on forecasts of tight supply and strong demand.
Corn for May delivery settled the trading session at $6.90 1/2 a bushel, down 1.7% and wheat for May delivery fell 0.9% to $7.33 1/4 a bushel.
"A lot of this week's buying in those two grains was from hot, dry weather in the south and plains," MaxYield Cooperative Grain Solutions Team Leader Karl Setzer explained. "Traders don't want to be left holding these positions over the weekend in case we see a shift in forecasts to cooler and wetter. Instead, they will re-establish them next week if needed."
Setzer also noted some position squaring ahead of next Thursday's Department of Agriculture acreage and stocks numbers.
The analyst has heard that some exports out of the Pacific Northwest were being canceled Friday as port congestion was preventing them from being shipped in a timely manner. "Given the fact corn is cheaper from India than the U.S., buyers are quick to wash out of U.S. bookings if possible. Indonesia did this overnight."
The International Grains Council predicted that global grain consumption will increase by 28 million metric tons to 1.788 billion metric tons from the previous year, due to rises in food, industrial and feed use.
However, this is 2 million metric tons below the February forecast, reflecting lower predicted feed use in the European Union and Russia.
Global grain production in the 2010 to 2011 period is estimated to have fallen by 4% to 1.726 billion metric tons, 2 million metric tons lower than forecast previously.
The organization said increased economic uncertainties following the political unrest in parts of North Africa and Near East Asia, coupled with Japan's earthquake and tsunami disaster, led to large-scale speculative selling of futures contracts in the second week of March and a $50 drop in export prices of wheat and corn.
This was then followed by a renewed surge in values, recapturing a sizable portion of earlier losses.
"With global carryover stocks set to fall to their lowest level in three years, a significant upturn will be required in production in 2011/12 to prevent another fall in end-of-season inventories," the International Grains Council said. This, despite expectations that global grains production will climb 4% from the 2010 to 2011 production period.
"The subsequent partial recovery in prices was triggered as the bullish underlying grain fundamentals reasserted themselves," said International Grains Council in their report.
The Australian dollar soared to its highest post-float levels Friday.
The currency, floated in 1983, was rising 0.4% to USD 1.02526 after hitting the record high of $1.0294. It last hit a high on Dec. 31 at $1.0257. A multitude of forces were driving the Australian dollar higher, including the country's strong mining sector amid soaring commodity prices.
The Aussie dollar's strength -- despite Europe's debt problems, Japan's nuclear crisis following the massive earthquake and tsunami, and violent social strife in the Middle East and North Africa -- is a sign that the currency has become a safe-haven asset in the eyes of many.
>> Aussie Dollar Enjoys Safe Haven Appeal
The U.S. dollar was gaining against other major currencies, including safe-haven currencies such as the Swiss franc, after the government reported better-than-expected economic growth.
The U.S. dollar was rising 1.3% at CHF 0.91997 and 0.6% at GBP 0.62405.
The dollar was also gaining against the euro, up 0.7% at EUR 0.71050 even as it becomes clear the European central bank policymakers will raise interest rates next month. "The euro zone's money supply data for February will do nothing to discourage ECB policymakers from raising interest rates when the Governing Council next meets on 7 April," according to Monument Securities.
The real gross domestic product increased at an annual rate of 3.1% during the fourth quarter, which was higher than the Bureau of Economic Analysis' second estimate last month of 2.8% and closer to its first estimate of 3.2%. The final estimate was also higher than the 2.9% economists were expecting, according to consensus estimates from
Briefing.com.
>> Fourth Quarter GDP Estimate Rises to 3.1%
>>Search for Highest Dividends by Rate or Yield
--
Written by Andrea Tse in New York
.
>To contact the writer of this article, click here:
Andrea Tse
.
>To follow the writer on Twitter, go to
.
>To submit a news tip, send an email to:
.
Copyright 2010 TheStreet.com Inc. All rights reserved. This material may not be published, broadcast, rewritten, or redistributed.