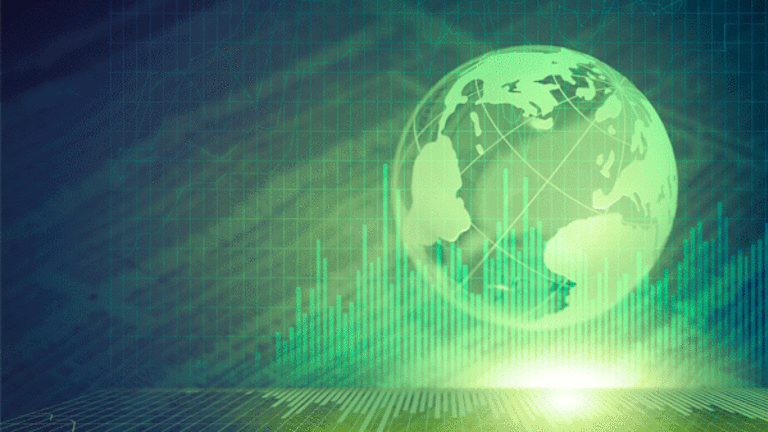 Gold's Sparkling Ascent Interrupted
The metal trades back below $600 an ounce as oil stabilizes.
Updated from 2:05 p.m. EDT
Gold finished below $600 an ounce on Tuesday after pulling back from the 25-year high that had been reached amid rising uneasiness over Iran's nuclear ambitions.
The June gold contract fell $2.40 to $599.40 an ounce after earlier hitting its most expensive point in a quarter-century at $608.40. Gold, which can serve both as a safe-haven asset and as a hedge against inflation, again took its cues from oil prices.
Crude reached an intraday high of $69.45 a barrel before pulling back to finish at $68.98 on Nymex, up 24 cents on the day.
While gold dropped, other metals fared better. Silver achieved a 22-year high of $13.01 an ounce but ended at $12.60, up 4 cents. Copper rose 1.25 cents to $2.7215 a pound after touching an all-time high of $2.73.
Tensions between the U.S. and Iran, the world's fourth-largest producer of crude, have again driven oil close to $70 a barrel in recent sessions. Energy and metals surged Monday following media reports that the U.S. has been considering military strikes in Iran, including the targeting of nuclear facilities. The Bush administration has downplayed the reports but hasn't denied them outright.
On Tuesday, former Iranian president Akbar Hashemi Rafsanjani told Kuwait's
Kuna
news agency that Iran has operated 164 centrifuges for the first time.
A now familiar combination of geopolitical tensions, inflation concerns, supply and demand fundamentals and speculative fervor has been driving up metals such as gold, silver and copper to their best levels in decades, if not all time, in recent weeks.
For gold, strong jewelry demand from India is normally expected to last until May in anticipation of that nation's wedding season, according to Amaury Conti, an equity trader for Austin Calvert & Flavin, an investment adviser based in San Antonio, Texas.
However, there are signs that some of the biggest investors in metals are more and more willing to pull part of their money off the table, he says. "There's so much attention being placed on the metals that some of the smart money may be seeing too much bullishness," Conti says.
Recent days have seen the stock indices that track the metals concerns falter late in the session, indicating a willingness from hot-money players to pocket a portion of their gains, Conti says.
Tuesday showed the same pattern. After strengthening in morning trading, the Philadelphia Gold and Silver index finished the day 2.5% lower. The Amex Gold Bugs index fell 2.3%, and the CBOE Gold index lost 2.5%.
The culprits included some of the most stellar performers of recent weeks, such as
Hecla Mining
(HL)
. Hecla has jumped nearly 40% since early March, but lost 6.1% for the day.
Royal Gold
(RGLD)
fell 4.2% even after the company, which collects royalties on properties where metals are mined, said its gold reserves increased by 760,000 ounces in 2005. Reserves of silver rose by 2.5 million ounces, and copper reserves grew by 2.2 billion pounds.
Contrarians could argue that a pullback in gold and other metals is on the horizon now that the strength in commodities is front-page news practically every day, while at the same time Wall Street analysts are upgrading mining companies almost as frequently going into the first-quarter earnings season.
Just this week, the
Financial Times
highlighted the bright prospects of commodities, and
The Wall Street Journal
ran a front-page story on investment flows into gold and silver.
With the earnings reporting season at hand, analysts have been playing catch-up to soaring commodities prices. It was, after all, thanks to strong aluminum prices that
Alcoa
(AA)
reported that first-quarter earnings had doubled from the year earlier, easily exceeding the average estimate of analysts polled by Thomson First Call. Alcoa shares finished up 3.8%.
On Tuesday, Merrill Lynch upgraded gold and copper mining giant
Freeport-McMoran
(FCX)
to buy from neutral. The stock, however, finished down 0.7%. Merrill also reiterated a buy rating on
Phelps Dodge
(PD)
and lifted its 2006 earnings forecast to $13.95 a share from $10.60. The stock advanced 0.3%.
The day before, Prudential analyst John Tumazos raised his rating on
Newmont Mining
(NEM)
to neutral from sell. Newmont fell 2.7% Tuesday.
Conti believes the trend can continue thanks to the enthusiasm being generated before the planned launch of a silver exchange-traded fund, which should create demand for the metal. The new ETF should be bullish for silver, similar to what the
streetTRACKS Gold
(GLD)
ETF did for that commodity.
An ETF is a security that tracks an index, commodity or group of assets like a mutual fund, but that trades like a stock.
Still, Conti notes that the price of gold gave up some of the gains it had posted in anticipation of the rollout of the gold ETF. The same might very well happen to silver -- and other metals -- when the silver ETF is launched, he says.