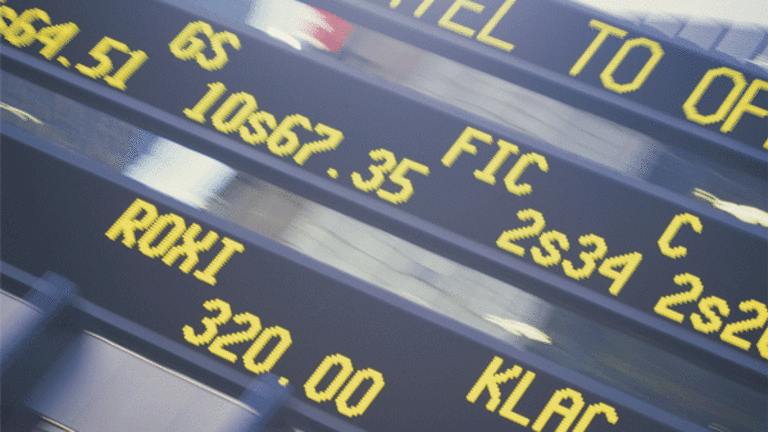 Gold's Losing Streak Ends at Four
The yellow metal struggles but manages a rebound. Still, the bears are in control.
Updated from 11:41 a.m. EDT
A choppy day trading saw gold snap its four-day losing streak with a weak greenback winning out over rumors of heavy central bank selling.
Benchmark contracts for December delivery of gold whipsawed their way through the session to close up $2 at $596.50 an ounce on the Comex division of the New York Mercantile Exchange.
Late session dollar weakness against the euro may have provided the boost needed to take gold from negative territory midday to positive by the session's end. The euro was trading at $1.2702, compared to $1.2691 a day ago. The dollar was also weaker against the yen, recently buying 117.53 yen, down from 117.95 yen late Tuesday, after remarks a day ago that Bank of Japan "policy makers remain committed to gradually raising interest rates," according to wire service reports.
Investors frequently switch into currencies in anticipation of higher interest rates, and gold tends to move inversely with changes in the dollar.
Some observers, however, downplayed the mini rally.
"I think after so many straight days of down it's little more than a knee-jerk reaction," says longtime market watcher Peter Grandich, editor of
The Grandich Letter
. "Gold is likely to remain on the defensive through the end of September, as it's becoming widely believed that a good chunk of the selling is from the European Central Bank."
The ECB may be trying to exhaust the remainder of its sales quota that expires Sept. 26. Until then Grandich, a strong bull for gold over the longer term, expects a trading range of $575 to $620 an ounce.
Shares of the exchange-traded funds that hold gold bullion,
streetTRACKS Gold Shares
(GLD) - Get SPDR Gold Shares Report
and
iShares Comex Gold Trust
(IAU) - Get iShares Gold Trust Report
, were gaining slightly, mid-afternoon.
Technical analysts aren't giving the upswing much credence either, and instead see a market in retreat for the short term.
"We call that a dead cat bounce," says Rich Ishida, president of Pasedena-based MarketVane. "It's relieving a short-term oversold situation. Overall the pattern seems pretty bearish."
Elsewhere in precious metals, some market watchers have noticed the absence of a flight to bullion as a safe haven despite the ongoing threat of a nuclear Iran.
"They have no intention of stopping their search for nuclear energy, and there is very little the world can do to stop them," notes Randy Diamond, an analyst at Miller Tabak in New York.
He fully expects gold to rally when, inevitably, Iran's volatile president, Mahmoud Ahmadinejad, makes inflammatory remarks, as he has done in the past.I
In the same vein came news that another U.S. effort to get North Korea talking about curtailing its nuclear program sputtered out, and failed to garner much interest from bullion traders.
At the retail level, the recent volatility is taking its toll on the bullion coin market.
"It's a strange phenomenon that in the U.S. people buy when the prices are going up," says Bill Haynes, president of coin dealer CMI Gold & Silver in Phoenix. "When the prices broke in May, buying by customers slowed, and since then we do not have near the business of what we had from February to May," which saw a huge price rally from $567 to over $700 an ounce.
That's reflected in sharply lower sales of the U.S. Mint's bullion coins to dealers. So far in September it sold no 22 karat (91.7% pure) Eagle coins. That compares to 4,000 ounces in August and 38,000 for the whole of September 2005.
In addition, the Mint's new 24 karat (99.99%) one ounce Buffalo coins seem to be quickly losing their appeal. Merchants have purchased only 6,000 so far this month, compared to 22,000 for August and 117,500 for July. The coin became available at the end of June.
Among the miners,
Newmont Mining
(NEM) - Get Newmont Corporation Report
and
Barrick Gold
(ABX)
were lifting by 1.6% and 2%, respectively.
In base metals, copper rebounded slightly, with contracts for December delivery closing up 0.8 cents at $3.3810 a pound on the Comex.
Copper miners
Freeport-McMoRan Copper & Gold
(FCX) - Get Freeport-McMoRan, Inc. Report
and
Phelps Dodge
(PD) - Get PagerDuty, Inc. Report
were rallying in line with the metal price, up 1.2% and 2.6%, respectively.
In other news,
BHP
(BHP) - Get BHP Group Ltd. Report
is reported to have made an offer to buy Swedish copper producer
Boliden
, according to
Bloomberg
. The stock was rallying 2.7% recently.