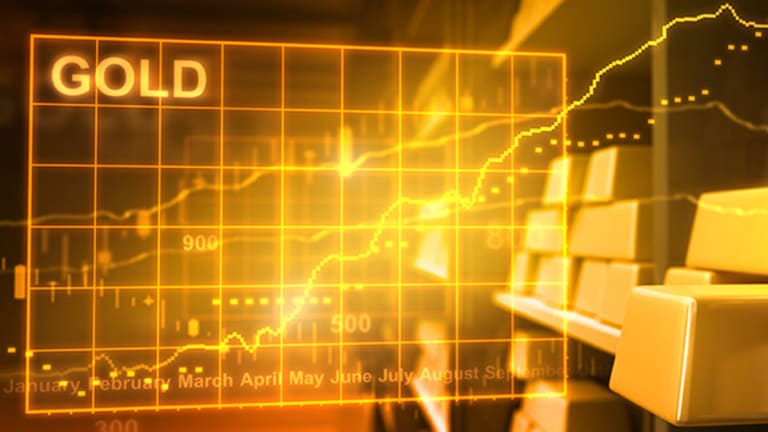 Why You Should Avoid Goldcorp For Now
Here's why this gold mining stock is a poor choice for your money.
After the Brexit vote in June, gold prices spiked as uncertainty ruled the market. With it, it took the likes of Goldcorp (GG) and other gold mining stocks like Newmont Mining (NEM) and Barrick Gold (ABX) . However, the party now seems to be over for gold and markets have regained their composure and investors are shunning gold for riskier bets.
While all the miners are sailing in the same boat, one particularly seems to be struggling: Goldcorp.
And with the impending interest rate hike by the Federal Reserve, matters likely won't get any better anytime soon. Here are the reasons why the "safe" hedge of Goldcorp is actually a risky bet now.
Rising Interest Rates
Whispers for a September rate hike are growing louder with Federal Reserve officials such as Vice Chairman Stanley Fischer and New York and Atlanta Fed presidents William Dudley and Dennis Lockhart all suggesting the possibility of an interest rate hike in September.
Interest rate hikes tend to push gold prices downward. Higher interest rates make bonds and government securities more attractive investment options than gold, which is seen as a safe-haven investment when the economy is in turmoil. Also, interest rate action would be taken when the economy displays signs of strength, reducing the appeal of safer investments like gold in favor of riskier investments like equities.
All eyes will now be on the Federal Open Markets Committee Chairman Janet Yellen who is set to deliver a speech at the Jackson Hole Symposium at Wyoming this week.
Strong Dollar
The U.S. dollar is already seeing strength, in the backdrop of lower interest rate regimes in Europe and Japan and may move further up.
With interest rate action expected as early as next month, the value of the dollar is set to swell as foreign demand for high yielding U.S. government securities, and thereby the US dollar, will drive up prices.
Gold and the dollar also move in opposite directions. When the dollar weakens, dollar-denominated gold becomes cheaper for holders of other currencies, driving up demand for the yellow metal, and thereby price. However, the dollar is strong now, causing gold prices to move downward.
Peer comparisons
While gold price fluctuation affects all miners, Goldcorp is trailing peers NEM and ABX in their recoveries since they fell off a cliff in 2011. Even after the rallying since the start of this year, Goldcorp is still down almost 65% while Barrick is down close to 60% and Newmont is down less than 30%.
However, when it comes to valuations, Goldcorp is trading at a higher price to earnings multiple compared to its peers. At 26.6x, Goldcorp is more expensive than Newmont at 21.84x and Barrick Gold at 20.72x.
Investors would thus be paying more for a stock that is in deeper losses, so far. That doesn't seem like a prudent thing to do.
The earnings picture is also bleak for Goldcorp, with analysts expecting negative earnings growth of 25% versus 31.62% for the industry and 8.9% for the S&P 500 (SPY) .
Goldcorp, like its peers, is trying to make improvements to its all-in sustaining costs (the amount it costs to mine one ounce of gold). It plans to keep costs capped at $850 this year after touching $836 in the first quarter. However, any slump in gold prices, which is quite likely, may erode this plan. In comparison, Barrick managed to pull down these costs to $831 in 2015 from $864 a year earlier and Newmont's costs also stood at $850 in the first half of 2016.
Investing in precious metals companies is a smart way to diversify, but there are better options out there than Goldcorp.
---
How many times have you heard someone on CNBC say, "I actually think the economy is fine here in the United States. Buy stocks!"? If you're like many Americans, you've probably heard it more than once. But just because they're saying it, doesn't make it true. Because I can tell you with absolute certainty it's not. America is in deep trouble. And the crisis looming on the horizon has the potential to make 2008-2009 look like child's play. The window to protect yourself is rapidly closing. I'll show you how here.
This article is commentary by an independent contributor. At the time of publication, the author held no positions in the stocks mentioned.