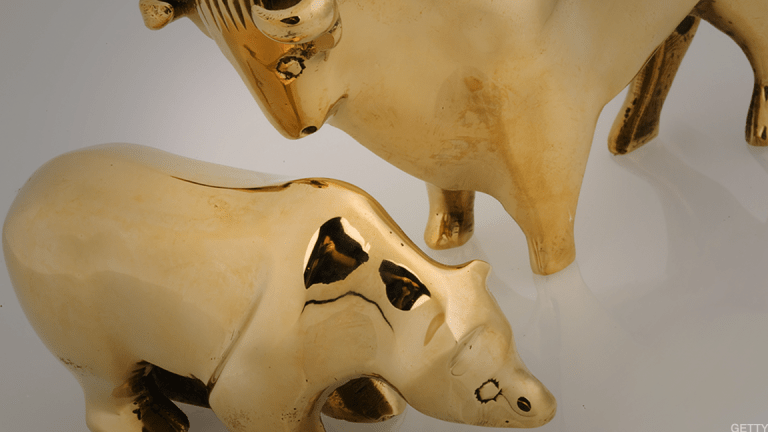 The gold bugs have still not thrown in the towel, despite bullion being a disappointing performer for a couple of months now.
And that's not a good sign from a contrarian point of view.
To review: From a mid-February high of $1,354, spot gold fell last week to as low as $1,272 -- a 6% drop in less than three months' time. Despite this sizeable decline, the short-term gold timers I monitor are, on balance, relatively sanguine. Instead of becoming pessimistic and dejected, which is their usual pattern in the face of pronounced market weakness, they have only modestly and begrudgingly reduced their recommended gold market exposure levels.
As a result, gold market contrarians remain on the sidelines, patiently waiting for the timers' aggressive bearishness -- a "Wall of Worry," if you will, that constitutes a fat pitch contrarian buy signal.
Consider the average recommended gold market exposure level among the gold timers I monitor, as measured by the Hulbert Gold Newsletter Sentiment Index (HGNSI). This average currently stands at minus 2%, which means that the typical gold timer is allocating 98% of his gold-oriented trading portfolio to cash and just 2% to going short. (Full disclosure: A division of my company calculates the HGNSI and offers the data by subscription.)
In other words, the average gold timer is almost completely out of the market. Though the timers' average exposure level is a lot lower than the +65% reading that was registered in mid-February, it still is well above the minus 30% readings that, historically, have accompanied the best trading opportunities.
In case you think that this recitation of recent history is nothing more than contrarians playing Monday-morning quarterback, let me remind you that in early February, just two weeks before what turns out to be gold bullion's high for the year to date, I reported that a contrarian analysis of gold market sentiment led to the conclusion that gold bulls "have reason to worry," given that the gold timing community had become "irrationally exuberant."
Let me go out of my way to emphasize, however, that contrarian analysis isn't always right. And, even when it is right, its explanatory power is best measured in weeks rather than months or years. That means that current gold market sentiment tells us nothing about where gold may end calendar 2019, much less in 2020 and beyond. It could very well be that gold is going much, much higher, for example.
But, to the extent contrarian analysis is right, a better, lower-risk buying opportunity on the path to those higher levels is still in our future.
Introducing TheStreet Courses: Financial titans Jim Cramer and Robert Powell are bringing their market savvy and investing strategies to you. Learn how to create tax-efficient income, avoid top mistakes, reduce risk and more. With our courses, you will have the tools and knowledge needed to achieve your financial goals. Learn more about TheStreet Courses on investing and personal finance here.