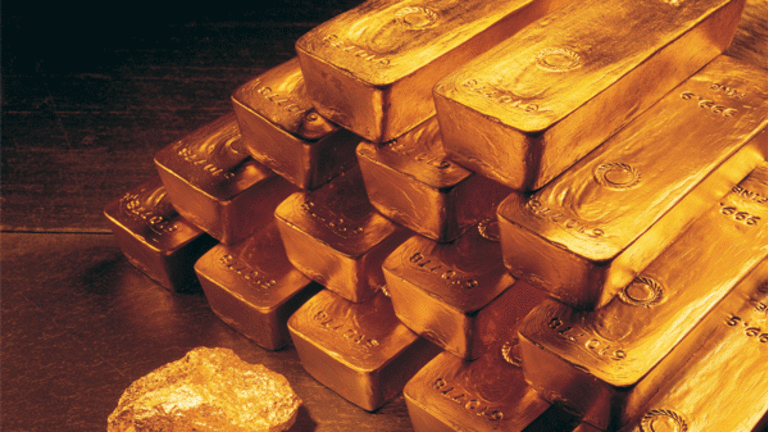 Publish date:
What Wall Street Is Saying Gold Prices Will Do in the Second Half of 2014
Gold prices rose more than 9.5% in the first half of 2014, and this is what Wall Street expects during the second half.
Gold prices rose more than 9.5% in the first half of 2014, and this is what Wall Street expects during the second half.
NEW YORK (TheStreet) -- We here at TheStreet don't claim to know where the gold price is headed tomorrow or next week, but we talk enough to the Wall Street pros to give you a sense of which direction the yellow metal is trending.
The first half of 2014 was surprisingly strong for gold.
We say "surprisingly" because gold is coming off its worst full-year performance in more than three decades after a market crash in April 2013 fueled a 30% drop.
But a drop of more than 9.5% from January through June of 2014 left many retail investors to wonder if the rise was a sign that $1,900 gold -- where the market topped out in September 2011 after a decade-long bull run -- was soon to return.
While positive fundamentals suggest gold could be poised for some more gains, there are other reasons Wall Street is betting that the second half won't be as good as the first half of this year. That means if you didn't get into the precious metal at the start of the new year, now may not be the best time to jump in with the hope of turning a sweet profit.
"Looking ahead, we believe that gold's current shine is unlikely to last and the downtrend, which started in 2013, is likely to resume as we move into the second half of the year. First, U.S. economic data indicates that economic activity has picked up in recent months, pointing to stronger growth in the second quarter. … We are therefore likely to see continued tapering of the Fed's asset purchase program, and, later on, a gradual normalization of the policy, weighing on gold's safe haven appeal," Societe Generale precious metals analyst Robin Bhar wrote last week in a note.
"Net speculative positioning in COMEX gold has continued to rise in recent weeks, with last week capping off a one-month streak of increasing net speculative positioning. In summary, investor demand has been strong lately, but we would caution against interpreting this as a longer-term change in investor sentiment," Barclays analysts Christopher Louney and Suki Cooper wrote in a note to clients on Friday.
"I would not be surprised to see gold trade within a range between $1,400 on the upside and maybe $1,200 on the downside," Jim Wyckoff, senior analyst at Kitco.com, said in a phone interview. "Maybe the recent low of $1,240 that might be the strong technical support that might be the year's low. Fundamentally, I am a little bit more positive."
Thomson Reuters GFMS, in partnership with Societe Generale ,earlier this week released a report that showed in the first quarter of 2014 the first increase in hedging by gold producers for the first time since 2012.
"For the year as a whole, net hedging on the part of producers is anticipated for the first time since 2011. In other words, some producers clearly do not expect gold prices to rise noticeably in the future," Commerzbank wrote on Tuesday in a note to clients.
Others, though, remain optimistic about improvements in the gold market.
"In contrast to a bearish consensus, prices have rallied year-to-date, reinforcing our expectations that gold is bottoming out this year. Our view is influenced by a confluence of factors, including a lack of mine supply growth and steady emerging market demand. In addition, we believe the continued monetary easing, accompanied by asset price inflation in many countries causes some apprehension that should bring investors back into the market," Bank of America wrote Thursday in a note to investors.
Possible bank troubles in Portugal or European Central Bank monetary stimulus could fundamentally push the gold price higher, but an end to the Federal Reserve's economic stimulus program and continued U.S. economic growth could trigger a pullback.
It's up to investors to make the final decision. Hopefully this helps.
-- Written by Joe Deaux in New York.
>Contact by Email.