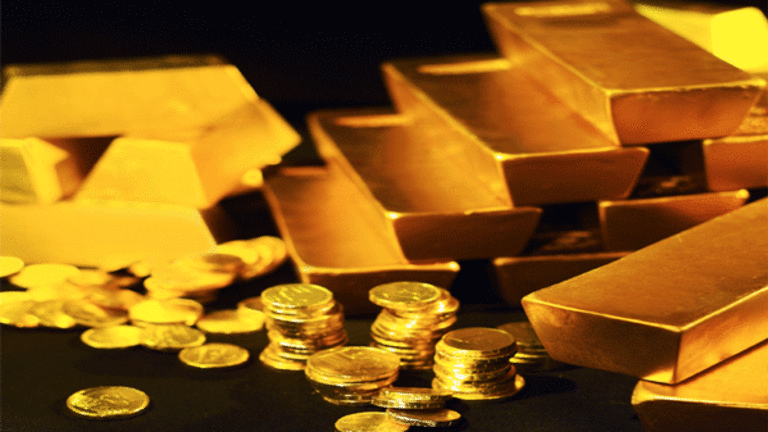 Weak Euro Weighs on Gold Prices
Gold prices were weighed down Tuesday by a stronger U.S. dollar as Greece failed to secure a debt deal with private bondholders, but prices were clawing their way higher in after hours trading.
NEW YORK (
) --
were weighed down Tuesday by a stronger U.S. dollar, as Greece failed to secure a debt deal with private bondholders, but traders stepped into to "buy the dip" in after hours trading.
Gold for February delivery closed down $13.80 to close at $1,664.50 an ounce at the Comex division of the New York Mercantile Exchange. The
has traded as high as $1,680 and as low as $1,661 an ounce while the spot price was still down $10, according to Kitco's gold index.
lost 29 cents at $31.97 an ounce while the
was up 0.08% at $79.86.
Gold prices initially lost steam Tuesday as a weaker euro dragged down prices. Markets were disappointed that Greece failed to reach a deal with private bondholders. The issue now is not the current haircut on bonds, but the loss bondholders would take swapping in old debt for new debt. The problem is the interest rate on the new bonds. Bondholders want a 4%, rate while Greece and other European countries want 3.5%.
Vote: Where will gold prices finish in 2012?
Gold also butted up against some key resistance levels, and prices had climbed more than $20 in the past two trading session, triggering some profit taking.
"I think this $1,670 to $1,680 area is going to be resistance," says Phil Streible, senior commodities broker at RJO Futures. "The last time we were doing this grinding pattern in about 6 trading sessions we fell about $200." Future traders bought back gold in after hours trading, while buying in the physical market remained muted.
Traders are also anticipating jumpy gold prices headed into options expiration Thursday, where traders either let their options expire worth less or turn their options into long or short positions. "That tends to create some additional movement that is adverse," says Streible.
Longer term investors will also be watching the Federal Reserve at it begins its two day Federal Open Market Committee meeting. Any hints of more monetary easing, QE3, or low interest rates past the current end date of mid-2013 will be good for gold. If inflation outpaces a rise in interest rates, the result is negative real interest rates where a dollar in the bank is literally worth less than a hard asset, which makes gold more appealing as a safety play.
Experts don't think that any grandiose plans will be set into action at this meeting. "These first FOMC meetings of the year tend to be more muted," says Streible. "I think as the FOMC meetings go throughout the year you are going to see more action."
"We do not expect the FOMC to strongly signal QE3," says
Bank of America/Merrill Lynch
in a recent note. "The market is currently pricing in the first rate hike to begin February 2014," says the investment bank. "We think the Fed will not be as aggressive with the first hike
coming in Q3 2014." A rate hike in mid-2014, even if inflation stays subdued, would mean real interest rates would be a negative 2% for an extended period of time.
The Fed could also give specific inflation targets, giving the central bank more flexibility later in the year to launch another round of quantitative easing. Due to the Fed's last two bond buying programs, the M2 supply in the U.S. -- money in circulation plus bank deposits, savings accounts and travelers checks -- rose 9.6% to more than $9.6 trillion.
Banks, however, are holding an excess $1.5 trillion at the Federal Reserve along with the $84 billion that is required, which means that even though the Fed has tried to pump money into the system, a lot of it has wound up back at the central bank. If more of the money makes it out into circulation while the Fed has low interest rates, the more appealing gold becomes as a safe haven asset.
There are some fundamentals of note for gold. According to bullion dealer GoldCore, the Tokyo Commodity Exchange's December gold contracts climbed as high as 4,167 yen per gram, its biggest gain since mid-December. "Japan has been notably absent in the gold market in recent years. This may be changing as concerns about the Japanese economy and continuing debasement of the yen may be leading to Japanese diversification into gold."
There were also rumors that India was buying oil from Iran with gold in order to avoid trading in U.S. dollars. Of Iran's total oil exports, 13% went to India in the first half of 2011 while 22% went to China. If both parties buy oil with gold, it would mobilize gold as a currency, not just a commodity and increase its appeal to investors.
were struggling Tuesday.
Kinross Gold
(KGC) - Get Report
was down 0.75% at $10.59 while
Yamana Gold
(AUY) - Get Report
was 2% lower at $15.42.
Other gold stocks,
Agnico-Eagle
(AEM) - Get Report
and
Eldorado Gold
(EGO) - Get Report
were down at $34.48 and $13.31, respectively.
--
Written by Alix Steel in
New York.
>To contact the writer of this article, click here:
Alix Steel
.
Related Articles:
Do Gold Prices Have Room to Rise?
Disclosure: TheStreet's editorial policy prohibits staff editors and reporters from holding positions in any individual stocks.