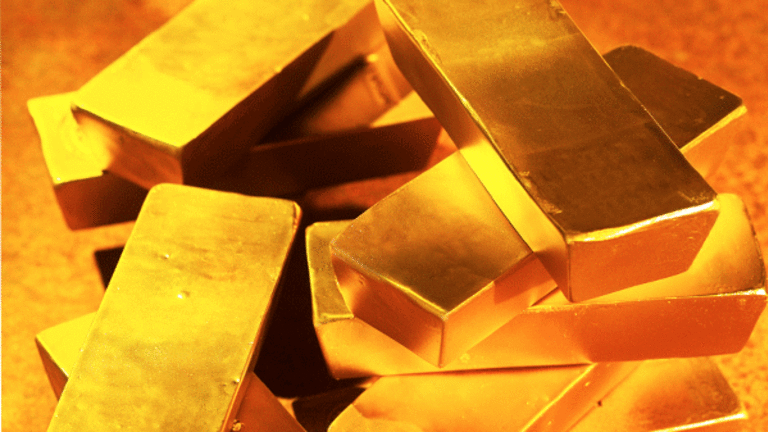 The Wacky World of Gold and Silver
Gold and silver prices are collapsing, the gold stock-sector's bullish-percent index plunged to zero. What's happening?
NEW YORK (TheStreet) -- As I write, the price of gold has plunged 5% in one morning to $1,486 and silver is down nearly 4.6% to $26.17. From their highs during the last two years, silver has corrected nearly 50% and gold has given back almost 22% since it hit $1,911 in 2011.
Now here's the strange and wacky part of all this. The
has been conducting its massive quantitative easing for nearly four years now. March's miserable jobs report with growth of just 88,000 jobs and a sharp drop in workforce size, brought the realization that the central bank's super-supportive monetary easing and ZIRP (zero interest rate policy) would be needed more than ever.
It's also been widely reported
that the Central Banks around the globe have been buying
massive amounts of gold since the crisis of 2008. Why would China's, Russia's, Brazil's and Turkey's Central Banks as well as The Bank for International Settlements be buying lots of gold, if indeed they truly are?
Also see: Obama's Muni-Market Tinkering Could Ding Everyone >>
As the Cheshire cat in "Alice in Wonderland" would say, "Things are getting curiouser and curiouser." International analyst and financial editor
Keith Fitz-Gerald of The Money Map Press
had the following observations on April 11, on this heated and controversial topic.
"A lot of people say gold has lost its shine in recent months and they're right ... it has. Right now, gold is trading down 12.75%, off its recent high of $1,791.75 set October 4, 2012, and it could go lower."
But so what? Wouldn't we all rather buy gold (and silver too) when it's on sale versus at new highs?
"Given my perspective as an investor rather than a speculator, that's an easy question with any asset, but especially with gold and especially when I know that:
Central banks are net buyers right now having increased gold purchases by 16% to 532 tons in 2012, adding more than 15 million ounces to their reserves. This year, they'll probably add even more as a means of diversifying the inherent risks associated with the United States dollar, the Japanese yen and the euro... all of which are hanging on by their fingertips at best. Goldman Sachs (GS) - Get Free Report is publicly flogging gold, which is a contrarian signal in and of itself. The firm almost never says something without trading in exactly the opposite direction. Interest rates are at near historic lows, and three of the world's major currencies are in danger of failing: The U.S. dollar, the euro and the Japanese yen. That means a lot of money has to find its way to safety and the preservation of value. The bears are buying. Insiders are buying. And investors like us -- not speculators -- are buying."
Jim Cramer and Stephanie Link actively manage a real money portfolio for his charitable trust- enjoy advance notice of every trade, full access to the portfolio, and deep coverage of the latest economic events and market movements.
At this point, I'd like for you to see a price chart of the
Market Vectors Gold Miners ETF
(GDX) - Get Free Report
and let's see what conclusions we can come to.
data by
Intraday on Friday the 12th, GDX hit a 4-year low going back to the spring of 2009 of $32.17! Great gabs of gold shenanigans! Are we in some kind of an international financial fiasco again? Now let's look at the
Global X Silver Miners ETF
(SIL) - Get Free Report
and see if it looks dismally similar.
data by
SIL only goes back to its inception around June of 2010, less than three years ago, and we're currently down to an intraday low of $16.15, a price we haven't seen since the summer of 2010. How does one explain this and does
Goldman Sachs really have something to do with all this?
I like how Jim Cramer sometimes calls them "Golden Slacks."
All I know is that the precious metals stocks sector's bullish percent index hit "zero" on Friday when
Royal Gold
(RGLD) - Get Free Report
plummeted more than 4%, to $60.62. Let's look at RGLD's price chart below. It's not suffered as much as others in the sector because it's a royalty-streaming company that, as you can see, has done very well when it comes to its quarterly revenue-per-share growth.
data by
I'm no precious-metals sector expert, but to the best of my knowledge, the last time the gold stock sector's bullish percent index hit zero was in October 2008 and the United States and most of the world was melting down in the worst financial crisis in over 70 years.
Also see: The Mystery of Herbalife Deepens >>
The wacky world of gold, silver and the mining stocks became a little weirder this week. One of my old mentors Bill Bonner recently was quoted as saying, "The time to buy gold stocks is when nobody wants to buy them...when even you don't want to buy them," Well Bill, we're finally there!
DISCLOSURE: As of the time of publication the author is long GDX and RGLD but does not own any other stock or ETF mentioned in this article.
Make smarter trading decisions and provide investment ideas that could help make you richer. Bryan Ashenberg does the dirty work so you don't have to!