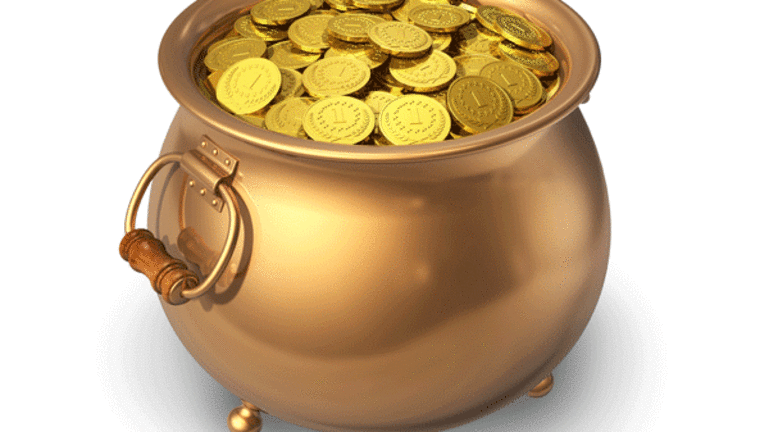 Greece Debt Woes Hammer Gold Prices (Update 1)
Gold prices were getting hammered Friday as Greece was unable to secure its second bailout, as violence erupted in Athens and as China imports slowed in January.
NEW YORK (
) --
were hammered Friday as Greece was unable to secure its second bailout, violence erupted in Athens and as China imports slowed in January.
Gold for April delivery shed $15.90 at $1,724.10 an ounce at the Comex division of the New York Mercantile Exchange. Gold managed to close off of its session lows. The
has traded as high as $1,737.20 and as low as $1,706.40 an ounce while the spot price was down $10, according to Kitco's gold index.
lost 31 cents at $33.60 an ounce while the
was up 0.62% at $79.13.
The bad news mounted for gold Friday. Leading the charge was a weaker euro and stronger dollar as uncertainty swirled around Greece's ability to commit to its debt deal. This weekend is shaping up to be D-day for the country. Its parliament must pass austerity measures, agreed upon by leadership, in order to secure its second bailout. European leaders need to see the government approve these measures before they will give the green light for the second 130 billion euro bailout, which Greece needs by March 20th when it has 14.5 billion euros of debt maturing.
Vote: Where will gold prices finish in 2012?
"Failure of eurozone ministers to approve the bailout and headlines of strikes and continued worries about banks having to raise capital temporarily removed buyers who were looking to add to positions," says George Gero, senior vice president at RBC Capital Markets. Gold is still trapped between a range of $1,700 and $1,750 an ounce, he says.
Standard & Poor's
also downgraded the credit rating of 34 Italian banks, which further exacerbated the anxiety in the market as well as traders' needs to even out gold positions on a Friday. "The relationships of gold, the euro, crude and base metals like copper are beholden to an economic recovery," says Gero, "which could be impacted by a Greek default."
Adding more pressure on gold was news that China's imports slowed 15.3% in January while exports fell 0.5%. On the one hand, imports most likely slowed because of the Lunar New Year holiday which basically shuts down business for a week. However, it also underscored fears that Chinese growth is slowing. With China a big buyer of gold, slowing growth could be a problem.
Adrian Ash, head of research for the BullionVault.com, says the number wasn't much of a shock as there is typically "an economic pause for China because everyone is on holiday for the New Year." Ash does think the bigger issue for China will be how to shift from being an export-led economy into an economy led by internal demand. Ash thinks there will be a "shift towards a higher proportion of GDP going to households."
If China wants to stoke domestic demand, people need more money, says Ash, and in the absence of a welfare state those "people are going to make their own provisions," that is they will buy gold as a wealth preserver. The downside to this is China is forced to import a lot of gold. The country consumes all its gold produced internally and still must rely on imports, 427 tons in 2011, which essentially amounts to exporting GDP to "satisfy internal demand," says Ash.
Ash thinks the thirst for gold will outweigh any downside for now as the country is still in the accumulation phase. Indeed China still has a trade surplus with the U.S. of $23.1 billion, which could spur even more gold buying from China's central bank.
Local companies that trade with the U.S. wind up with dollars. Those companies then exchange dollars for yuan with the central bank. Then the central bank winds up buying a lot of Treasury bills with that money. The more dollars it accumulates, the more gold the country will have to buy in order to keep its asset ratio consistent. This buying will be key in supporting higher gold prices.
What gold is ignoring Friday was the news that the CME lowered margin requirements on trading gold futures contacts by 12% to $10,125. The move makes it cheaper to trade gold. The CME typically raises rates when there is a lot of volatility and it wants to shake out speculators, and conversely lowers rates when it wants to induce buying.
"Gold and silver volumes have both be down the past quarter into this year," says Jeffrey Wright, senior research analyst at Global Hunter Securities. "The CME is now more concerned with their own volumes, revenue and profitability margins and less with contra-party risk of smaller speculators."
Wright says this will be a mild positive over the long run for gold but that it would not create a big rush into the metal. Margin moves, however, can create more volatility in the metal. When the CME raised margin requirements on gold in August of 2011, gold fell 7% on the day.
were struggling Friday.
Kinross Gold
(KGC) - Get Report
was down 1.69% at $10.78 while
Randgold Resources
(GOLD) - Get Report
was almost 1.65% lower at $112.57.
Other gold stocks,
Agnico-Eagle
(AEM) - Get Report
and
Eldorado Gold
(EGO) - Get Report
were trading lower at $34.72 and $13.47, respectively.
--
Written by Alix Steel in
New York.
>To contact the writer of this article, click here:
Alix Steel
.
Related Articles:
Do Gold Prices Have Room to Rise?
Disclosure: TheStreet's editorial policy prohibits staff editors and reporters from holding positions in any individual stocks.