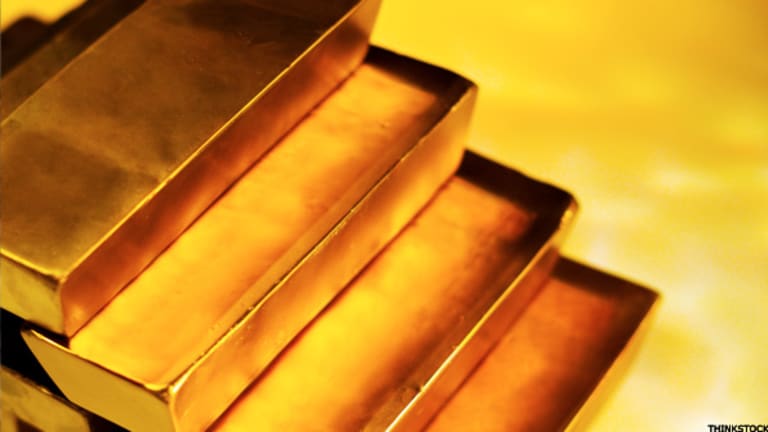 Publish date:
Gold's Bearish Knife Is White Hot
The yellow metal gets hammered after the Fed puts another round of quantitative easing in serious doubt.
The yellow metal gets hammered after the Fed puts another round of quantitative easing in serious doubt.
(Gold trading story updated with additional analyst commentary)
NEW YORK (
) -- Somewhere in the world, Warren Buffett is smiling.
The investment he
recently called out as being the No. 1 speculative bubble enemy -- gold -- is cratering on Tuesday's
Federal Reserve
commentary that another round of quantitative easing is likely only if the economic recovery falls off track.
Gold futures trading on the Chicago Mercantile Exchange were selling off by $47.90 in the afternoon, and touched a level not seen since early January, at an intraday low of $1,613. Gold spot prices were recently down $26.80 and had fallen as low as $1,611, according to
Kitco.com
.
The action in gold was not a surprise to metals traders, who expected that at least in the near-term, the
Fed had killed the gold trade in its commentary on Tuesday that another round of quantitative easing would not be merited unless the economy stalls.
"Fed policy has essentially been the fuel pushing this bull market. It's been about liquidity and that has an impact on all commodities' prices," said Phillip Silverman of trading firm Kingsview Capital, who noted the big spike in the dollar on Tuesday. The big move up in the dollar can only result in a downward pressure on gold.
The U.S. dollar continued on an upward trajectory, rising near 0.4% to $79.76 in trading on Wednesday.
Jan Nadler, senior metals analyst at Kitco, called the Fed commentary the "SCUD" that hit the gold market and added that most investors are beginning to realize that way too much had been whipped up premium-wise in metals based on a never-ending (Fed accommodation) story.
"The best thing to hope for is that $1,600 proves not to be made of butter. The bearish knife is white-hot right about now. Darn Fed! Can't it just give, and give, and give???" Nadler wrote in a report on Wednesday morning.
In fact, many market pundits continue to believe that the Fed will give, just later rather than sooner, taking the position that Tuesday's commentary merely suggests that QE3 won't occur in June when Operation Twist ends, but
will be enacted later in the year by the Fed if the economy gets sluggish, and the economists, as well as market traders, expect that will be the case.
"Leading economic indicators suggest a slowing later in the year and the hope that Bernanke will move on QE3 could put a floor under valuations," Kingsview's Silverman said. However, he added, "the market doesn't see QE3 coming in the April meeting, so if it's still on the table it's been pushed out and right now this market is so short-term focused, wanting to know when it's getting the next shot of adrenaline."
Jeffrey Nichols, managing director of American Precious Metals Advisors and senior economic advisor to Rosland Capital, wrote on Wednesday that "recovery or not, I disagree that more Fed stimulus is necessary if gold is to resume its upward path."
Nichols provided several macro reasons why the gold trade can counter the Fed commentary and resume its move up:
The U.S. economy remains vulnerable to a renewed and visible setback in business activity and employment.
The unusually mild winter across the United States together with inaccurate seasonal adjustments has painted an overly rosy picture of recent U.S. economic performance.
In addition, slowing business activity in Europe, China, India, Latin America and virtually everywhere else is cutting demand for American exports.
Meanwhile, higher petroleum and gasoline prices are taxing the American consumer and cutting into purchases of other goods and services.
In past business cycles, a recessionary economy would generally be countered by aggressive short-term fiscal stimulus. But U.S. fiscal policy is moving in the opposite direction - and it is likely to continue in the wrong direction at least until the November national elections.
In addition, election-year uncertainties, a depressed housing sector, cutbacks in state and local government spending, more public-sector lay-offs, and the heavy burden of debt will continue to take its toll.
Nichols argued, "We are continuing to suffer from the heavy burden of unprecedented public and private debt...America's inability to get its fiscal house in order will continue to compel the Fed to pursue an aggressive accommodative monetary policy. But printing more money will, sooner or later, result in a resumption of the U.S. dollar's long-term downtrend both at home and overseas . . . and, as night follows day, a substantial and unprecedented appreciation of the dollar-denominated gold price."
Nadler is less certain, but said this much is obvious:
Gold has always been a directional trade and the renewed volatility reflects that syndrome.
It's the gold fear factor that has had a dent put into it, though; gold as a long-term portfolio anchor or market insurance policy is still relevant to investing.
However, the metals analyst said there are fundamental reasons to be concerned, leaving to the side the Fed speak and even the continued problems for the U.S. economy.
Gold ETFs have been on a recent pace accumulating their lowest tonnage of physical gold since they launched in 2004.
The S&P 500 was on its best run since 1998, at least before Wednesday, and hedge fund managers had already been moving from hard assets to equities.
The Indian government is looking to clamp down on gold prices by implementing taxes, a plan that sent Indian jewelers on strike nationwide, though the government said it would delay those plans this week.
If China's economy is also also slowing that could cut into gold buying in another key emerging market for physical demand of the metal.
The price range to support gold based solely on physical demand is not something that the gold market has had to contend with in some time.
Pimco, the biggest U.S. dollar bear in recent history, changed course this year and has become more constructive on the U.S. dollar outlook, and anything good for the dollar is not good for gold prices.
"The epiphany, that when underlying fundamentals and actual physical offtake are lackluster to say the least (bullion dealers' phones are not ringing much at all even after gold was aiming to $1,680 -- according to my informal sweep survey conducted last week) then the gains in the futures market are only good for certain geese and not the public at large, is upon us," Nadler wrote on Wednesday.
-- Written by Eric Rosenbaum from New York.
>To contact the writer of this article, click here:
Eric Rosenbaum
.
>To follow the writer on Twitter, go to
.
Follow
TheStreet
on
and become a fan on