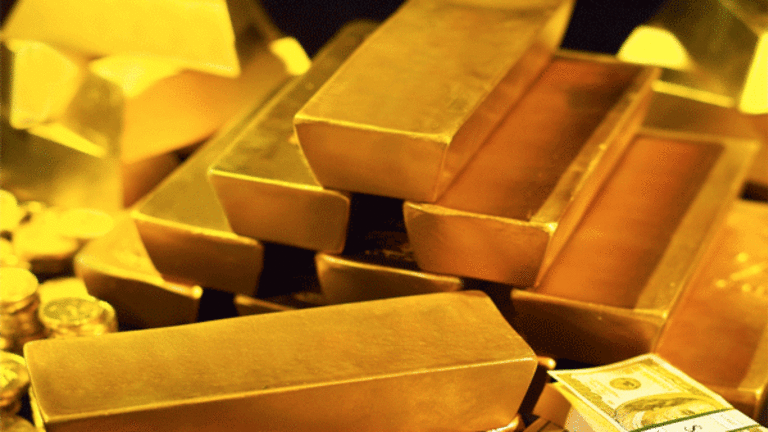 Gold Will Plummet if U.S. Strikes Syria
Here's why you should sell, not buy, gold if the U.S. launches an airstrike over Syria.
NEW YORK (
) -- Don't buy gold if Western powers militarily intervene in Syria.
Many investors view the yellow metal as an asset hedge against crises, but it's important to interpret Syria as a much more dynamic situation.
"The risk premium for Syria is already built into the price currently, and there would normally be a flight to dollars should conflict arise," said Graham Leighton, a trader at Marex Spectron.
Gold's 2% rise on Tuesday afternoon resulted from traders pricing in the likelihood that the United States and other Western powers would act in Syria, following Secretary of State John Kerry's comments.
At COMEX gold's current price of $1,397.80, the precious metal has fallen 1.6% since Tuesday. This doesn't mean gold is entering a correction period during which it will fall an additional 7% -- an elimination of the total gains in August -- but it does suggest that traders felt the asset may have been overbought.
In interviews with traders since gold's bounce on Tuesday, most mentioned three different scenarios with two likely outcomes for the gold market.
The first is if the West engages in a limited airstrike on Syria; the second is if there isn't any action taken; and lastly is if the airstrike turns into a broader operation with troops in the country.
If the United States or another Western country launches a limited airstrike -- one that lasts a few days or less -- traders said it's probably best to sell gold positions whether they're in gold exchange-traded funds, gold mining stocks or futures.
"The likelihood is that when we see those missiles fly some of the uninformed
investors will come rushing in and they'll be late to the party," Jon Najarian, senior economic advisor at Capital Gold Group, said in an interview. "They'll pull the chairs away,
and when the music stops those guys won't have a place to sit."
A limited airstrike is what the market initially expected when it popped on Tuesday, and a fulfillment of those expectations would trigger profit-taking among traders as they would see little else to fuel the gains that had been based on a short-term military intervention.
If there is no military action taken in Syria, then gold could plummet.
"I really think the market factored in: 'Hey, there's going to be airstrikes, just missiles from above, no boots on the ground,'" said Michael Smith, president of T&K Futures and Options. "If it's anything less than that, the market collapses."
No action would negate Tuesday's 2% surge that was prompted by rumors of military action in Syria. Additionally, the gold market would return to the fundamentals it had been trading on before Syria became a factor. At last week's end, economic data and
Federal Reserve
policy were the main drivers of the gold price. Economists and analysts forecast that if economic data remains positive -- especially the monthly nonfarm payrolls report -- then the central bank will begin to taper its economic stimulus program. Gold, beyond being an appealing asset hedge in times of crisis, is also seen as a hedge against inflation. So if the Fed pulls back on its monthly purchases of longer-term Treasuries and mortgage-backed securities, the market would view such action as a retreat from inflationary policy.
Finally, if an airstrike turns into a boots-on-the-ground operation, gold may rally. A limited Syria strike likely wouldn't affect broader markets as Syria produces just 50,000 barrels of oil a day -- its major economic driver. Saudi Arabia, for comparison, produces 8 million barrels per day.
Boots on the ground could engage a broader number of actors, including Iran, Russia and China. This isn't to suggest that Syria would become a stage for war between Western powers and others, but the deliberation to expand the force would elicit condemnation from Russia and China -- two countries that sit as permanent members on the U.N. Security Council alongside the U.S., the U.K., and France. And a threat by Iran to engage in the situation would leave many questions as to the stability of the Strait of Hormuz, which is a critical choking point for shipping in the Persian Gulf. The instability that would occur from these events would leave much uncertainty in markets, making gold an appealing hedge against prolonged crisis in an important economic region.
"Syria itself doesn't produce a lot of oil. Syria is not critical for oil -- that's not what people are worried about," said Adrian Day, chairman and CEO of Adrian Day Asset Management. "People are worried about some kind of conflagration affecting other countries in the Middle East where oil is much more important; and the refiners and the shipping lanes."
In technical trading, $1,400 an ounce became a key level of price resistance before Syria gripped markets, and at about $1,398 an ounce on Friday it may mean the gold market is returning to a pre-Syria environment.
-- Written by Joe Deaux in New York.
>Contact by
.