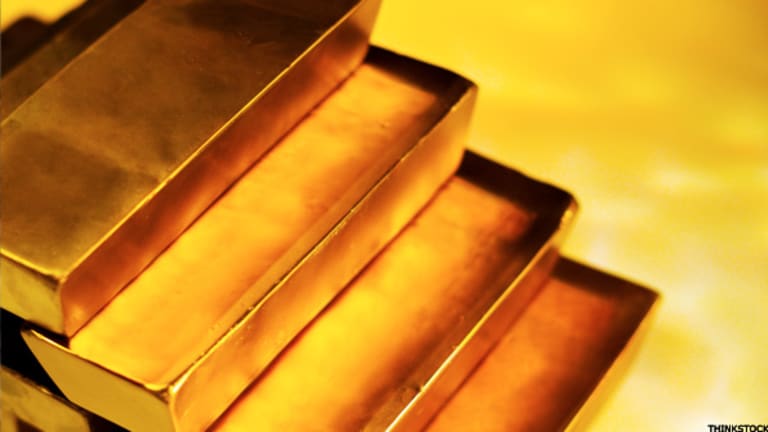 Gold Bounces Off Fresh Year Low Exiting Dismal 2013 (Update 1)
Gold prices retrace from early losses on Tuesday as the yellow metal is poised for its worst performance since 1981.
Updated from 9:15 a.m. ET with price swing and trader comments
NEW YORK (TheStreet) -- Gold prices were retracing from early morning losses on Tuesday, reclaiming a key level of price support as investors cheered the yellow metal on the final day of a dismal trading year.
Gold for February delivery at the COMEX division of the New York Mercantile Exchange was adding $3.20 to $1,207 an ounce. The gold price traded as high as $1,214 and as low as $1,181.40 an ounce, while the spot price was increasing $8.40, or 0.7%.
Gold prices tumbled more than $20 at one point in morning trading, but a round of so-called short covering brought buyers back into the market to support the price back near $1,200 an ounce -- a level that technical analysts say is key for gold to hold in order to avoid a big selloff.
"Once we attained a level under $1,200 we made a new low for the year, and certainly saw a volume spike down this morning," Eric Zuccarelli, an independent metals trader, said in an interview. "Unfortunately, most everybody did get short at those levels, and the market is unforgiving at times ... and we had a nice little $30 pop out of that area."
Gold has tumbled more than $450, or 28%, in 2013 as a market crash in April and concerns that the Federal Reserve would scale back its economic stimulus program. The Fed reduced so-called quantiative easing in mid December -- a move that is seen as anti-inflationary. Many market participants buy gold as an asset hedge against inflation.
Silver prices for March delivery were decreasing 10 cents to $19.52 an ounce, while the U.S. dollar index was adding 0.09% to $80.08.
Gold mining companies were moving higher, in-line with gains in gold futures. Barrick Gold was up 2.1% to $17.46 a share. 
Gold ETF SPDR Gold Trust GLD was up 0.78% to $116.30, while iShares Gold Trust IAU was off 0.78% to $11.69. The GLD is one of the most commonly followed gold-backed ETFs and has played a role in significantly shifting the price of so-called paper gold prices in 2013. The ETF is down more than 28.2% year-to-date.
-- Written by Joe Deaux in New York.
>Contact by Email.