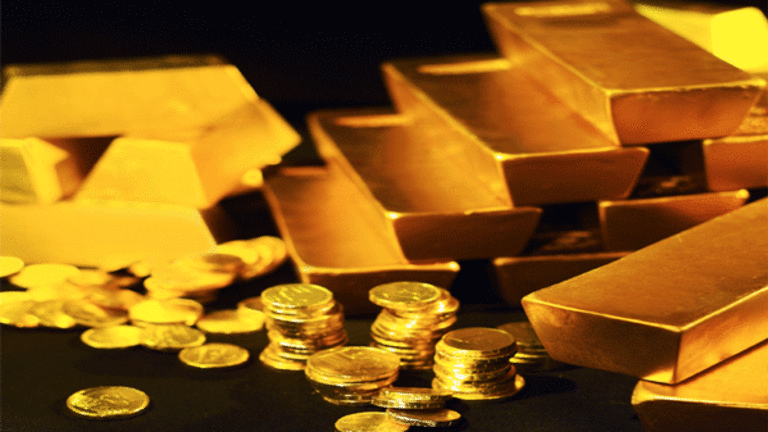 Gold to Rally Through 2012, S&P Says
Gold and mining companies remain in a bull market, the rating agency's equity unit says.
BOSTON (TheStreet) -- Standard & Poor's is recommending gold and gold miners as top investment picks only days after downgrading U.S. Treasuries, which sparked a firestorm in financial markets worldwide that boosted the price of the precious metal.
S&P's Equity Research Services unit made the recommendation Wednesday. It is independent of the firm's Ratings Services division, which lowered its long-term credit rating on the nation's debt to AA-plus from triple-A with a long-term negative outlook Friday.
after
CME Group
, owner of the world's biggest futures market, increased margins on gold contracts by 22%. Gold had soared 8% in the previous three days, bringing a one-year gain to 49%, on U.S. and European debt concerns and a slowdown in global economic growth. Safe-haven investments, such as gold, Treasuries and the Swiss Franc, have benefited the most.
"We believe that gold is in a bull market," writes S&P analyst Leo Larkin in a research note, because demand will outstrip supply "for the foreseeable future.
"Gold's price still has room to run despite its stellar advance and we believe that the precious metal could also continue to carry the prices of certain gold-related equities right along with it," he added.
That's because current global output remains stagnant while there is huge central-bank buying by emerging-market countries and a wide range of investors due to the current market turmoil.
S&P expects gold prices and earnings for gold producers to continue rising through 2012, because the metal is seen as a safe-haven alternative to other assets in uncertain times.
"Weak economic data, possible sovereign-debt defaults and general financial market instability" have all contributed to acceleration in buying by investors, it said.
For mutual fund investors seeking to invest in gold producers, S&P recommends:
Oppenheimer Gold & Specialized Minerals Fund
(OPGSX) - Get Report
,
Van Eck International Investors Gold Fund
(INIVX) - Get Report
and
Tocqueville Gold Fund
(TGLDX) - Get Report
.
It targets three gold-industry stocks that it says are poised to outperform the market over the next 12 months:
Barrick Gold
(ABX)
,
Newmont Mining
(NEM) - Get Report
and
Randgold Resources
(GOLD) - Get Report
.
In his argument in support of gold-producer stocks, Larkin said: They "have not been following the metal's meteoric rise. The reasons for the disparity are three-fold: share dilution, rising expenses and new ways to play gold."
"But the wide disparity between the precious metal and the companies that produce it is about to narrow for two reasons," he said. First, because gold companies are now generating enough free cash flow to fund internal expansion and external growth via acquisitions without having to resort to dilutive financing." And, second, because "gold is now rising faster than mining-input costs so there will be greater earnings per share leverage to the higher gold price."
Here is a summary of those three companies' prospects:
Barrick Gold
(ABX)
, S&P's top pick, is the world's largest gold company in terms of both production and reserves. S&P has it rated "strong buy," with five stars, its highest ranking. It said Barrick is attractively valued at a recent multiple of about 10 times projected 2012 earnings per share estimate.
S&P also likes its long-term strategy, which is to increase its reserve base through the development or acquisition of low-cost, long-life mines. "With new production from lower-cost mines and its output fully exposed to spot gold, Barrick is well-positioned for a rising gold price," according to Larkin.
Barrick has a market value of $48 billion and has a projected dividend yield of 0.98%.
Its shares are down 6.2% this year, through Aug. 10, but have gained 7.4% over the past month. The S&P 500 Index is down 9.8% this year and 16.5% over the past month.
According to a FactSet review of 25 analysts' ratings, there are 16 "buys," five "outperforms" and four "holds."
Newmont Mining
(NEM) - Get Report
, the world's second-largest gold producer, has a mine-acquisition strategy similar to Barrick's. In April, it fortuitously announced a comprehensive plan for the development of its current global portfolio of assets that would increase annual gold production to about 7 million ounces.
But Newmont missed analysts' second-quarter earnings estimates, which prompted S&P to lower its 12-month target price on the stock to $67 from $75 and trim its 2011 and 2012 estimates. Nevertheless, Larkin says he thinks the shares remain attractively valued since they sell at 12.5 times his 2012 earnings per share estimate and carry a dividend yield of 2.1%.
Newmont has a market value of $28 billion. Its shares are up 2.5% in the past three months, but are down 1.6% this year. Over the past 10 years, it has an average annualized return of 11.5% versus the S&P's 1.3% gain.
Randgold Resources
(GOLD) - Get Report
, based in the U.K.'s Channel Islands but with its mining operations in Africa, seeks to invest in assets or companies where there is potentially hidden value in the resource base, and in countries where the tax regime and political situation are favorable.
S&P's Larkin favors it for its strong balance sheet and healthy cash flow from existing operations, which will enable it to increase its exploration spending to find and develop new deposits, but cautions that it's the riskiest of the three stocks. He said its shares are attractively valued, recently trading at about 16 times S&P's 2012 earnings estimate of $6.22 per share.
Shares of Randgold, which have a market value of $9 billion, are up 24% in the past month and 26.4% this year. Over the past five years, its shares have an average annual return of 36%.
Disclosure: TheStreet's editorial policy prohibits staff editors and reporters from holding positions in any individual stocks.