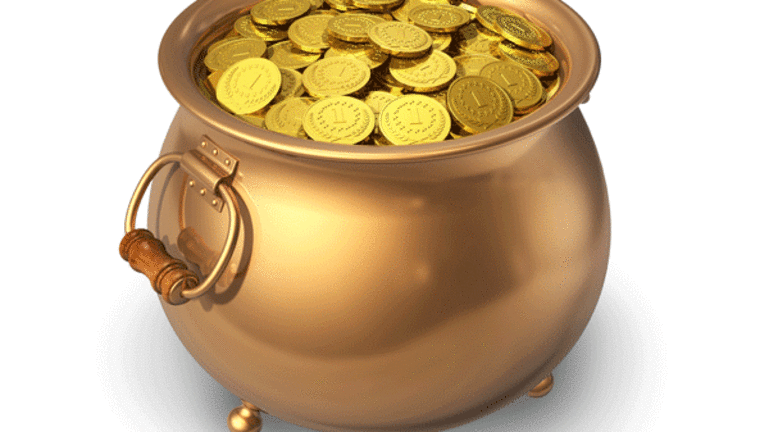 Publish date:
Gold Prices Stall as Inflation Holds Steady (Update 2)
Gold prices slipped slightly Thursday as inflation in the U.S. stayed in check and lent support to the U.S dollar.
Gold prices slipped slightly Thursday as inflation in the U.S. stayed in check and lent support to the U.S dollar.
NEW YORK (
) --
slipped slightly Thursday as domestic inflation stayed in check, lending support to the U.S dollar.
Gold for February delivery closed down $5.40 at $1,654.50 an ounce at the Comex division of the New York Mercantile Exchange. The
has traded as high as $1,670.60 and as low as $1,649.20 an ounce during the session, while the spot price was down $6, according to Kitco's gold index.
lost 3 cents to close at $30.50 an ounce while the
was down 0.36% at $80.20.
Gold prices were choppy Thursday at first, buoyed by a weaker U.S. dollar. The currency had been coming under pressure from a stronger euro, which gained steam after Spain and France both raised cash.
Spain borrowed almost €7 billion at strong demand while average borrowing costs were slightly lower at 4.65%. France raised almost €8 billion. Demand was very strong and yields fell. France's auction was significant as it was the country's first attempt at raising cash since
Standard & Poor's
downgraded its triple A credit rating one notch.
Vote: Where will gold prices finish in 2012?
Gold's upswing was short lived after a report that showed consumer prices in the U.S. rose just 3% in 2011. It was the highest level since 2007, but below the 3.9% level from September. Food prices continue to fall, which represents 14% of the CPI, according to Credit Suisse.
Inflation can go two ways for gold. Low inflation might give the Federal Reserve more reason to initiate a third round of quantitative easing (QE3), as many analysts forecast will happen in the first half of the year. Credit Suisse thinks the Fed is in the "talking" stage of a QE3 and thinks a new program will be launched in a few months with a bent towards buying mortgage backed securities.
More money in the system is typically good for gold as it raises inflation expectations. But if the money isn't making it into the mainstream market -- European banks have parked more than €500 billion with the European Central Bank rather than lending it out -- then inflation stays low and investors have less need to own gold as a wealth preserver.
Jon Nadler, senior analyst at Kitco.com, thinks the Fed will raise interest rates prior to its mid-2013 target date. "If, in fact, conditions continue to improve at the pace that they are improving at in the U.S.," says Nadler, qualifying the remark. He would change his opinion, however, if the economy experiences a true stall out and if there is any deflation panic.
George Gero, senior vice president at RBC Capital Markets, says the trade in markets currently is "risk on," which means investors want to buy riskier assets like stocks rather than gold. Gold had been moving along with stocks but broke from that correlation Thursday. People filing for unemployment benefits fell to 352,000 in the week ending January 14th, which was a blowout number and helped lift equities.
"Open interest is now at 438,000," says Gero which refers to long positions on the Comex, "a great increase from 415,000 two weeks ago." Gero says new buyers are becoming more active in the market and that those holding European currencies like the euro have also been buying gold.
Another factor that could help gold was the news that China would push its 5 largest banks to ramp up lending by 5% in the first quarter. The expectation is that China will also lower the amount of cash banks have to keep in their coffers in another attempt to spur growth. China might also lower capital requirements for lenders to help pump more money into the system.
"Additional Chinese easing -- even if largely anticipated -- is positive for risk assets and therefore for gold prices," says James Steel, analyst at HSBC Capital Markets. China has ramped up buying in 2011, importing 389 tons in the first 11 months of the year with 103 tons coming in November alone. Many experts, however, are worried that demand will peter out after the Chinese New Year, which starts January 23rd.
Steel says he doesn't see a short-term catalyst for gold prices, with the latest move attributed to a stronger euro due to short covering, but that strong buying out of China can continue to support gold over the longer term. "Data from the National Bureau of Statistics show that of China's 1.35 billion people, 51.3% lived in urban areas at end-2011," says Steel. "Historically, a country's gold consumption tends to increase with urbanization, which promotes rising living standards and gains in real income."
Wells Fargo says that by 2025, 62% of China's population will live in cities and they will have money to spend. The average minimum wage has soared 20% from 2009 to 2010, household income is growing 9% a year, while consumption is growing 11%. A growing middle class will also help. By 2015, 44% of China's population will be middle class, according to Credit Agricole Securities.
Steel also says that India's real output per person in 2012 is expected to be 34% compared to 2007, while China's will increase 50%. Typically the more money people have in emerging market countries that have a tradition of buying gold, the more bullish that is for gold. But demand in India has suffered of late as the rupee fell 15% vs. the dollar in 2011 with gold prices up 25% in rupee terms from July to December.
The latest effect of higher import taxes on gold, now 2% of the price, also remains to be seen. Jewelry demand in the country fell only 3% in 2011 due to strong buying in the first half of the year, which offset significantly weaker demand in the third and fourth quarter, but that trend might be crimped due to these higher taxes.
"Much lower volatility I think would help" Indian gold consumption, says Neil Meader, research director at Thomson Reuters GFMS, "something in an improvement in the dollar rupee would also be significant ...and that would especially be the case if general market consensus says we are looking at far stronger prices towards the back end of 2012 so people would be accelerating their purchases in the first half to get ahead of far higher prices."
Meader does say that 2012 has less wedding festivals than 2011, which might leave consumers will less reasons to buy gold.
were struggling Thursday.
Kinross Gold
(KGC) - Get Report
was falling 3.85% at $9.99 while
Yamana Gold
(AUY) - Get Report
was shedding 2.09% at $15.21.
Other gold stocks,
Agnico-Eagle
(AEM) - Get Report
and
Eldorado Gold
(EGO) - Get Report
were trading down at $35.93 and $13.70, respectively.
--
Written by Alix Steel in
New York.
>To contact the writer of this article, click here:
Alix Steel
.
Related Articles:
Do Gold Prices Have Room to Rise?
Disclosure: TheStreet's editorial policy prohibits staff editors and reporters from holding positions in any individual stocks.