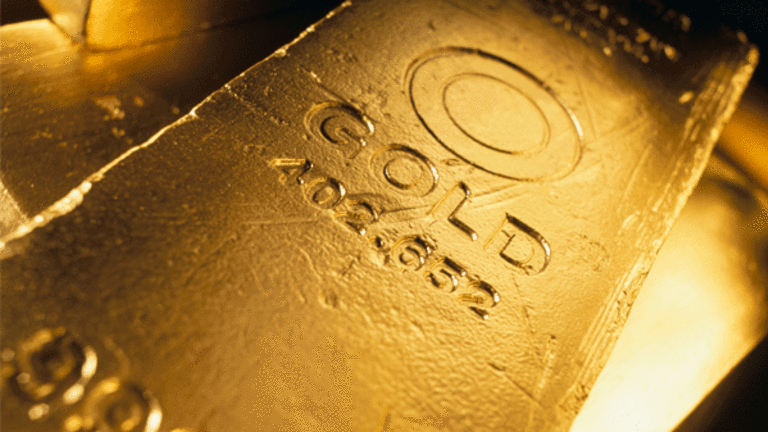 Gold Prices Close Flat as Investors Take Profits
Gold prices took a breather Friday after mounting a rally of almost 8% in the past week.
NEW YORK (
) -- Investors took modest profits in
Friday after the metal popped almost 8% in the past week.
Gold for December delivery closed down 50 cents to settle at $1,747.20 an ounce at the Comex division of the New York Mercantile Exchange. The
has traded as high as $1,754 and as low as $1,733, while the spot gold price was down $1.10, according to Kitco's gold index.
settled up 17 cents at $35.28 an ounce. The
was flat at $75.04.
"Anything less than a 0.5% move can be chalked up to normal market activity," said Oliver Pursche, co-portfolio manager of the GMG Defensive Beta Fund. Gold, for the most part, has been moving in tandem with stocks with both assets lower on profit-taking Friday.
The
S&P 500
is on track for its best monthly gain since 1974 and investors have less need to dump gold to raise cash. On a fundamental basis, the concern that Europe's grand plan to save the region from its debt crisis is short on details also spurred safe-haven buying into gold.
India's festival of lights, which typically ignites gold jewelry buying, is also contributing to gold's recent rally, says David Morgan, founder of Silver-Investor.com. "I'd say probably about half or so could be physical demand." Morgan thinks the market will lose some of that support as India's Diwali season comes to an end but that preparation for the holiday season in the U.S. might help prop up prices.
Some experts are also worried that leveraging the bailout fund to €1 trillion still isn't enough to prevent the debt crisis from spreading and that the European Central Bank will be forced to pump more money into the system to save the economy.
"Gold is still going to be treated as an alternative currency," said David Banister, chief investment strategist at TheMarketTrendForecast.com, "and its unlikely to see more downside from here."
Banister previously said that gold would rally to $1,705-$1,725 then suffer a seven-to-eight month correction before regrouping in April 2012 to mount another big rally to $2,360 an ounce. He has now revised his forecast.
"I think what we will see near-term is a rally up in the $1,775 level, a little bit of consolidation and then we move up into the $1,800s," he said. Banister still stands behind his $2,360 an ounce long-term price target. "There's absolutely a big debt problem that is not resolved overseas in Europe ... you really can't put out a fire with more paper ... but eventually this is going to flame back up again come early spring late winter."
Banister thinks it will be a combination of actual money printing as well as the leverage which Europe is expected to use to almost triple the size of the European bailout fund. Banister also thinks there will be a "backdoor" quantitative easing program in the U.S.
"You're seeing the money supply really growing rapidly in the last several months," he said. Banister does think that gold and equities can move together "I think you will see gold attacking the $1,900 highs in the next few months" even if the stock market moves higher.
GMG's Pursche, on the flip side, said the European Central Bank, or ECB, has already been funneling money into the system but that investors need to start caring about inflation for gold to mount a big rally. "They are doing it, they just don't talk about it ... actions of the ECB are not that different than the U.S.
Federal Reserve
."
Pursche said the ECB has been giving money to local central banks who then buy bonds of distressed countries, which has been helping prop up bonds prices in Spain and Italy. But Italy's lackluster bond auction Friday where it borrowed €500 million less than it had hoped at higher borrowing rates, proved there is more risk ahead.
"
It will take another quarter of slightly above expectation data for people to start talking about inflation again," estimated Pursche. "Gold will be investor demand driven for the end of the year and beyond that the inflation picture will have to take hold for prices to appreciate further."
were mostly higher Friday.
Kinross Gold
(KGC) - Get Report
was down 0.34% to $14.80 while
Yamana Gold
(AUY) - Get Report
was adding 1.83% at $15.59. Other gold stocks,
Agnico-Eagle
(AEM) - Get Report
and
Eldorado Gold
(EGO) - Get Report
were trading higher at $43.64 and $19.75, respectively.
--
Written by Alix Steel in
New York.
Disclosure: TheStreet's editorial policy prohibits staff editors and reporters from holding positions in any individual stocks.