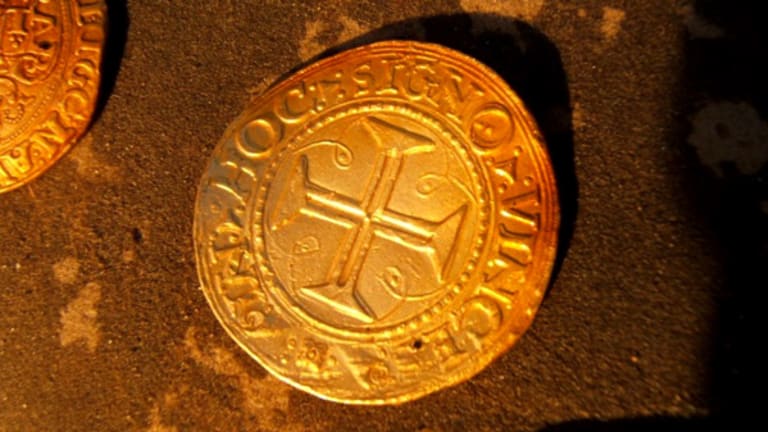 Gold Prices Reverse Losses After Fed Announcement (Update 1)
Gold prices reverse losses after the Federal Reserve announces a rates update.
Gold prices reverse losses after the Federal Reserve announces a rates update.
Updated from 12:45 p.m. EDT with settlement prices
NEW YORK (
) --
Gold prices were slightly higher Wednesday after the
Federal Reserve's
policy-making arm said it would leave interest rates effectively unchanged and continue quantitative easing.
Gold for December delivery was up $1.30 to $1,702.90 an ounce at the Comex division of the New York Mercantile Exchange. The
gold price settled down earlier in the day $7.80 at $1,707.20. The gold price had traded as high as $1,715.20 and as low as $1,698.90 an ounce, while the spot price was dipping $4.90, according to Kitco's gold index.
"All eyes on the FOMC at the moment, that two-day meeting comes to an end today; nobody's really expecting anything new out of that," said Tim Harvey, senior vice president at ETF Securities U.S. "So I think that's just taken the focus off gold slightly in the short term."
Silver prices for December delivery fell 17 cents to $31.62 an ounce, while the
U.S. dollar index was adding 0.01% to $79.93.
The Fed's implementation of an open-ended, mortgage-backed security purchasing program in September launched gold prices into their highest trading range in 2012, and offered enough positive sentiment to push the yellow metal near $1,800 an ounce. But uncertainty as to whether Spain would request a bailout from the European Central Bank, along with questions about Greece, a possible China slowdown and some improving economic indicators -- particularly in housing and an unexpected dip in unemployment -- have weighed on the precious metal.
A
from Europe trounced the gold price on Tuesday.
"The market as a whole has been under a bit of pressure the past few sessions; we sort of failed to conquer $1,800
an ounce and I think a lot of people were expecting sort of the bullish momentum to continue higher," said James Moore, an analyst at FastMarkets.com. "So I think we've run into some stale liquidation."
Harvey and Moore, among many other analysts, believe that gold prices are still due for a climb in the near- to long-term. Continued quantitative easing by the Fed is viewed by many as an inherently inflationary policy, which would make gold the hedge. And many market analysts suggest that Spain will eventually ask for a bailout, though there is not a firm prediction on when it would occur.
Mixed economic news from China has made it difficult for investors to guess as to whether more easing from that country's central bank or more government stimulus policies would be on the docket over the coming weeks and months.
Harvey and Moore both noted that gold ETF demand has remained healthy, despite the recent retreat in gold prices. The suggestion on solid ETF demand is that investors are still willing to buy gold.
Technically, the fact that the gold price has held above the psychological level of $1,700 an ounce could mean sentiment in the yellow metal isn't quite ready to fall further.
Gold mining stocks were mostly lower on Wednesday. Shares of
Goldcorp
(GG)
fell 3.5%, while shares of
NovaGold Resources
(NG) - Get Report
dipped 2.8%.
Among other mining stocks,
Kinross Gold
(KGC) - Get Report
closed down 2.2%, and
Barrick Gold
(ABX)
was off 1.1%
Gold ETF
SPDR Gold Trust
(GLD) - Get Report
shed 0.34%.
-- Written by Joe Deaux in New York.
>Contact by
.