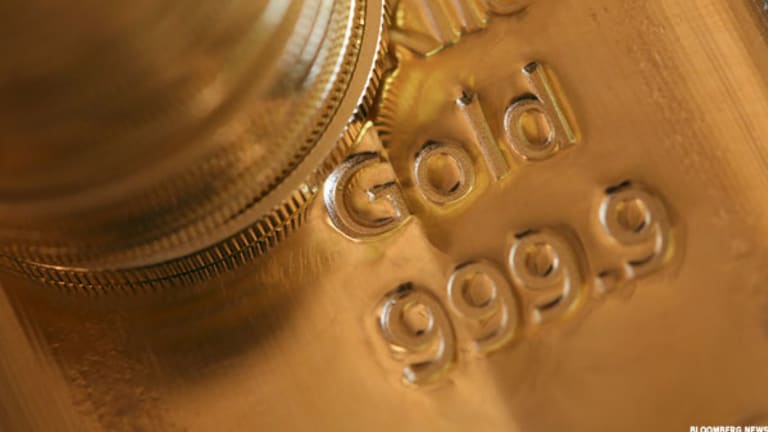 Gold Prices Sink on Global Economic Concerns (Update 1)
Gold prices plummet as recession concerns in the U.S. and Europe stoke a selloff of the yellow metal.
Gold prices plummet as recession concerns in the U.S. and Europe stoke a selloff of the yellow metal.
Updated from 12:21 p.m. with settlement prices
NEW YORK (
) --
Gold prices tumbled Wednesday as uncertainties in the United States and Europe were stoking the biggest selloff since early November.
Gold for December delivery dropped $25.80 to settle at $1,716.50 an ounce at the Comex division of the New York Mercantile Exchange. The
gold price traded as high as $1,743.10 and as low as $1,705.50 an ounce, while the spot price was slumping $26.20, according to Kitco's gold index.
"Due to a lot of the uncertainty just in general of what the tax code will look like next year -- specifically with realized gains, or anything investment-gain related -- that you're probably seeing a little bit more selloff," said Anthem Blanchard, chief executive of Blanchard Vault.
Silver prices for December delivery lost 30 cents to close at $33.68 an ounce, while the
U.S. dollar index was lowering 0.01% to $80.33.
negotiations hit a snag late Tuesday, when Senate Majority Leader Harry Reid (D., Nev.) said he was disappointed with how the talks had thus far proceeded.
"They talked some happy talk about doing revenues, but we only have a couple weeks to get something done," Reid said in public remarks. "So we have to get away from the happy talk and start talking about specific things."
Reid's remarks hold some value in them as the so-called fiscal cliff -- when tax relief measures and deep spending cuts will automatically go into effect -- is scheduled to trigger at the beginning of 2013. But various political and market analysts have said that they expect Congress will delay the need to address long-term deficit reduction and implement broad-reaching spending cuts and taxes until later in 2013, instead of risk a full cliff occurring right after December.
A full-fledged fiscal cliff,
according to the Congressional Budget Office
, likely would thrust the United States into a recession, which would hurt the price of gold.
"If it brings on a recession, as opposed to inflation further on, then gold is not the hedge," George Gero, precious metals strategist at RBC Wealth Management, told
TheStreet
on Nov. 15.
Various business CEOs met with President Barack Obama on Wednesday to discuss the fiscal cliff, but it's unclear as to what may come from these talks.
"The heads of business that are meeting ... have already been having to make plans and hold off on certain activities for next year already, because of the cliff, regardless of how it gets worked out," said Richard Weeks, a managing director at HighTower Advisors.
January crude oil contracts were tracking lower with gold as futures were shedding $1 to $86.18 a barrel.
Gold prices dipped on Tuesday after eurozone finance ministers finally reached a bailout agreement with Greece to help make that country's debt more manageable. Steps included cutting interest rates on bailout loans and extending the deadlines on loan repayments and Greek bond buybacks.
The news didn't excite investors as the euro declined Tuesday against the U.S. dollar. The euro continued its retreat against the greenback on Wednesday to $1.2932, down from the prior day's settlement at $1.2944.
Gold mining stocks were mixed Wednesday. Shares of
NovaGold Resources
(NG) - Get Report
were losing 2%, while shares of
Randgold Resources
(GOLD) - Get Report
were popping 0.67%.
Among volume leaders,
Barrick Gold
(ABX)
was ticking up 0.17%, but
Goldcorp
(GG)
was off 0.20%.
Gold ETFs
SPDR Gold Trust
(GLD) - Get Report
and
iShares Gold Trust
wereoff 1.5%.
-- Written by Joe Deaux in New York.
>Contact by
.