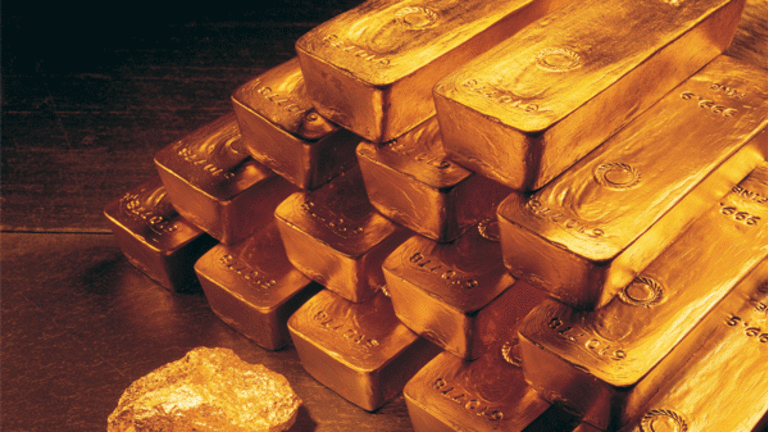 Gold Prices Slip as Merkel Speaks (Update 1)
Gold prices fall as German Chancellor Angela Merkel suggests the ECB may need to raise rates for Germany.
Updated from 8:53 a.m. ET with settlement prices and analyst comments
NEW YORK (
) --
fell on Friday after German Chancellor Angela Merkel suggested that the European Central Bank may need to raise interest rates for Germany as it would have to provide greater liquidity for struggling eurozone members.
COMEX Gold for June delivery dipped $8.40 to $1,453.60 an ounce. The
traded as high as $1,484.80 and as low as $1,447.3 an ounce, while the spot price was down 8.70, according to Kitco's gold index.
"Heavy selling around 12 p.m. ET caused sharp reversal in gold and silver after some Euro Zone remarks from
Merkel about interest rates in Germany," George Gero, precious metals strategist at RBC Capital Markets, said in an afternoon note.
Merkel's comments came days after reports emerged that the ECB was considering reducing interest rates in its next policy-making meeting. German savers and banks -- one of the strongest financial sectors in Europe -- continue to suffer from the environment of low rates that the central bank has put into place to offset the negative effects of the recession that has plagued the continent for years.
for May delivery were sliding 38 cents to $23.76 an ounce, while the
was sliding 0.31% to $82.51.
The yellow metal has retraced half of the losses it suffered after a two-day collapse that witnessed prices fall more than $200, or about 13%.
Despite the reversal this week, many traders and analysts are still skeptical that gold has shaken the bearish momentum.
"With gold's fall gaining mass headline exposure and attracting short sellers, a bounce was necessary before the next 'unexpected' drop," Yoni Jacobs, chief investment strategist at Chart Prophet, wrote in an email. "I expect the retracement to struggle as it approaches the $1500 to 1550 level, which is now resistance, and at the maximum $1650 to 1700, which is unlikely."
Jacobs said that he believes the September 2011 high in gold prices is probably locked in.
Shares of gold miner
Barrick Gold
(ABX)
were losing 2.4%.
Gold ETF
SPDR Gold Trust
(GLD)
was losing 0.45%, and
iShares Gold Trust
(IAU)
was off 0.46%.
>Contact by
.